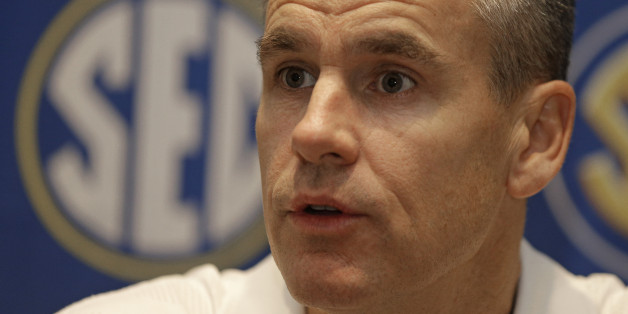 Kevin Durant and Russell Westbrook have a new coach.
The Oklahoma City Thunder have hired Florida Gators basketball coach Billy Donovan as their next head coach. In a press release, the team confirmed the news and said Donovan was perfect for the "ever evolving role" of NBA head coach.
"We are thrilled to welcome Billy and his family to the Oklahoma City Thunder organization." Sam Presti said. "While we created a comprehensive analysis regarding the qualities we were looking for, it became quite evident that Billy was the ideal fit for the Thunder as we look to transition our team into the future."
News: Thunder names Billy Donovan Head Coach. #ThunderBasketball pic.twitter.com/sC5boT73Uj

— OKC THUNDER (@okcthunder) April 30, 2015
Donovan, 49, leaves the Florida Gators for Oklahoma City after 19 years, two national championships and a number of previous sniffs at NBA head coaching jobs that didn't go anywhere. (In 2007, he actually accepted a head coaching job with the Orlando Magic before ultimately deciding against it.)
"I am honored and humbled to be named the head coach of the Oklahoma City Thunder," Donovan said in a release. "I knew that it would take a unique opportunity to leave the University of Florida and that is clearly how I look at this situation."
"It is of course bittersweet as the University of Florida will always hold a very special place in my heart and in my family's," he added. "I have a deep appreciation for what the University of Florida will always mean to me and I'll forever be a Gator."
Donovan replaces Scott Brooks, who was fired this month after seven seasons with the team. Donovan was the only "serious candidate" for the Thunder job, but reportedly received the support of Durant, according to CBS Sports.
The upcoming season is an important one for the Thunder, as Durant will become an unrestricted free agent in the summer of 2016, which will inevitably send Thunder fans (and the entirety of the NBA) into an all-out panic. Oh, and Westbrook becomes a free agent one year after that. So yeah, big stakes.