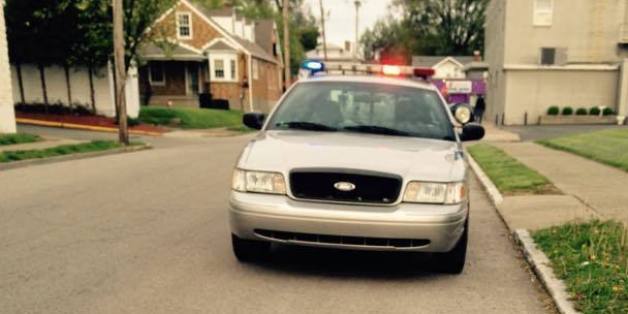 When officer Bill Mayo pulled over Jaxon Arbuckle last week, it wasn't exactly the end of a hot pursuit.
Jaxon, a 2-year-old who lives in Louisville, Kentucky, had been playing in his toy car, when his mom, Ashley Crawford, decided to call in the cops, hailing an officer from a nearby fender-bender for a photo op.
"I thought, 'How cute would it be if I got a picture of Jaxon pulled over?'" Crawford recalled to Yahoo. "I waited for [the officer] to finish up with his incident report and asked him if he wouldn't mind turning the lights on and pulling Jaxon over."
Sure enough, Jaxon dutifully pulled his red Little Tikes car over to the side of the road. Whereas any adult rues the day they're pulled over, the toddler -- despite having no license, registration or working lights -- had a great time, his mom said.
Crawford told WHAS Jaxon very much enjoyed the interaction, and she has the photos to prove it. In one of the pictures, the toddler (pacifier in mouth) even gives the long arm of the law a high-five.
(Story continues below photos.)
PHOTO GALLERY
Jaxon Arbuckle
"Officer Mayo deserves a huge thank you and I think these pictures prove that not all cops are like the ones you hear about in the news," Crawford added to the station.
If Mayo expects to pull over more toy cars, he might want to compare notes with police elsewhere in the country. In American Fork, Utah, officers jokingly slapped an "abandoned vehicle" tag on a girl's toy Barbie Jeep in 2013 after it ran out of batteries in the street near her house.
And in March of this year, a deputy in Union County, North Carolina, had some fun pulling over two girls in a toy sports car:
RT this! @mikeszj sent this in of a #UnionCounty deputy having some fun on this gorgeous day http://t.co/2ggq0HTayd pic.twitter.com/Wzuv5i9JHI

— WSOCTV (@wsoctv) March 9, 2015
BEFORE YOU GO
PHOTO GALLERY
Kindness Quotes