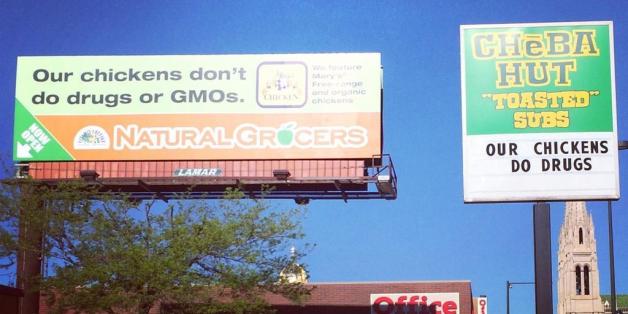 A Denver location of Cheba Hut, a chain of marijuana-themed sandwich shops, threw down the gauntlet recently with a sign poking fun at a neighboring health food store.
Natural Grocers' billboard advertises its chickens are free from antibiotics and genetically modified feed. "Our chickens don't do drugs or GMOs," it says.
Cheba Hut, which sells toasted subs in sizes like "nug," "pinner" and "blunt," fired back on its sign with: "Our chickens do drugs."
The sandwich shop location opened several weeks ago, according to The Denver Post, and briefly had a sign posted during its construction that said, "THIS S**T IS TAKING FOREVER." It was replaced after 12 hours with a sign reading, "SO CLOSE YOU CAN SMELL IT."
Marijuana activist Sean Azzariti tweeted the photo of the billboard above on Thursday. Azzariti, an Iraq War veteran, was the first person to buy legal pot in Colorado.
BEFORE YOU GO
PHOTO GALLERY
Top 50 Most Influential Marijuana Users