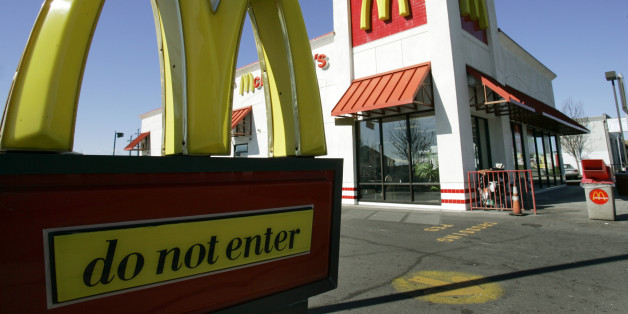 The teens of Altoona, Pennsylvania, can now add McDonald's to the list of places -- like R-rated movies and liquor stores -- at which they're not allowed to hang out.
A McDonald's franchisee in the central Pennsylvania town announced this week that no one under the age of 18 would be allowed in his restaurant without being accompanied by an adult, CBS Philadelphia reports.
The franchisee, Gerald Harrington, made the move days after he was allegedly assaulted by a group of about 40 teenagers whom he had refused to allow into the restaurant. According to the Associated Press, Altoona police were called to the scene and charged four of the teens with simple assault, defiant trespass and other unnamed offenses.
The Altoona Mirror reports that police maintained a presence at the McDonald's on Tuesday, where two local teens stood outside the restaurant holding signs protesting the ban. Few other teens apparently showed up at the restaurant that day, perhaps because there are four other McDonald's locations within Altoona city limits.
BEFORE YOU GO
PHOTO GALLERY
Gorgeous McDonald's In Batumi, Georgia