Vegan people will have to go hungry at any Domino's-catered pizza party. At its annual shareholder's meeting last week, the company rejected a proposal from the People for the Ethical Treatment of Animals to add vegan cheeses and vegan meat substitutes to its menu.
PETA's idea of incorporating cruelty-free food in the kitchen was more than handily nixed: Fewer than 0.28 percent of votes from Domino's shareholders supported the vegan proposal, the Detroit Free Press reported.
Tim McIntyre, Domino's vice president of communications, said that the company has tested vegan cheese before, but it didn't perform. He also said there are no signs that Domino's customers want vegan options.
"The Board of Directors did recommend that shareholders vote against it, as there has been no consumer interest in vegan toppings from Domino's," McIntyre wrote to The Huffington Post in an email, adding, "We believe we know more about testing and rolling out products for our brand than PETA does, and we know how to run our business better than PETA does."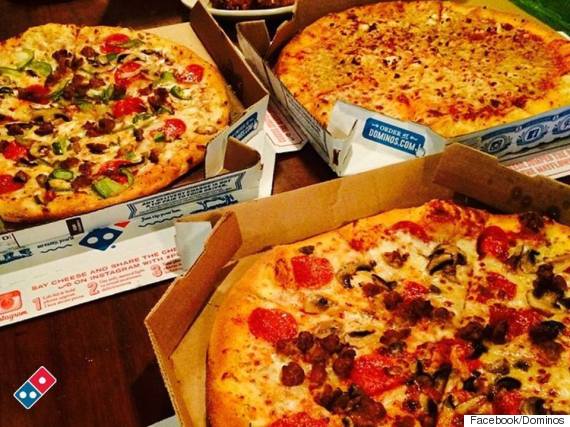 PETA owns 39 shares of Domino's stock worth about $3,000, which McIntyre referred to as "basically the minimum amount of shares you need to own to put a resolution on a public company's proxy."
In the past few years, the animal welfare advocates have made an impact with other companies. The organization moved Chipotle to incorporate more humane slaughtering practices, and pushed IKEA and Subway to include vegan offerings on their menus.
"Other companies are responding and we think Domino's needs to look to the future if it wants to rebrand itself," said David Byer, a senior corporate liaison for PETA. "Domino's has an opportunity to reduce the suffering of animals in its supply change while offering a healthier option."
Pizza chain Blaze Pizza offers vegan cheeses on its menu, but has fewer than 100 locations in the U.S. There are more than 5,000 Domino's locations across the country, and the company does offer a handful of vegetarian options.
"I would like to note that neither our dough nor our pizza sauce contain animal products," McIntyre said. "There are plenty of vegetarian options among the 34 million possible combinations of pizza at Domino's."
That's true. The ingredients in Domino's pizza sauce are all vegan: Tomato puree (water, tomato paste), sugar, salt, spices, garlic, soybean oil, and citric acid. On its website, PETA provides a guide for ordering "veganized" pizza at most chain pizza restaurants, including Domino's. PETA writes that most chain restaurants' dough and sauce is vegan, so ordering a cheese-less pie with veggie toppings can suit an herbivore.
However, the hearty marinara sauce at Domino's contains chicken juices and chicken fat, which is clearly neither vegan or vegetarian. (This sauce is primarily used for Domino's pasta offerings.) Veg heads might want to remember that the next time they order from the chain.
BEFORE YOU GO
PHOTO GALLERY
Vegan Instagram Accounts