A New York woman who claims her fiance was the victim of a tragic kayaking accident has now been accused of killing him.
Angelika Graswald, 35, was charged with second-degree murder on Thursday for the alleged killing of Vincent Viafore, 46, the Poughkeepsie Journal reported.
According to the outlet, police said the Poughkeepsie couple was kayaking on the Hudson River on April 19 when Viafore's kayak tipped over in the choppy water. Viafore has been missing ever since.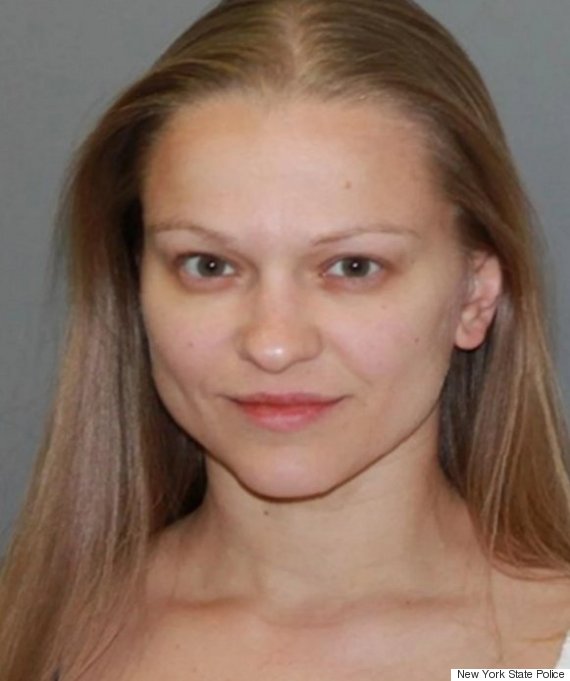 Angelika Graswald has been arrested in connection with the death of her fiance.
"He was trying to figure out how to paddle the waves … and then I just saw him flip. Right in front of me," Graswald told Westchester's News 12 last week, before she was arrested. "I keep paddling towards him saying, 'Just hold on, hold on.' And he said, 'I don't think I'm gonna make it.'"
In a follow-up interview from the Orange County Jail, Graswald told News 12 that she was arrested after police found her diary. In it, she said she wrote about Viafore's preference for rough sex and about him pressuring her to take part in threesomes. She wrote that sometimes she wished he was dead. But, she told the station that she wrote down those thoughts during tumultuous times and that she never actually planned to kill him.
Graswald told News 12 that police now think she tampered with her fiance's kayak so that he would die on the river.
New York State Police have been fairly tight-lipped about the reasons for Graswald's arrest.
"She made statements that implicated herself in this crime -- enough to certainly have reasonable cause to have made the arrest," New York State Police Maj. Patrick Regan said at a press conference on Thursday, CBS New York reported. "There is a lot of work that remains to be done, but we felt there was enough to make the charge."
A spokesperson for the New York State Police did not immediately return a request for comment.
At the press conference, authorities declined to say what the incriminating statements were that lead them to charge Graswald, according to CBS New York.
The outlet also reported that in the days preceding her arrest, Graswald posted various comments on Facebook lamenting the loss of her fiance.
According to CBS New York, in one post, Graswald wrote, "Those we love don't go away, they walk beside us every day. Unseen, unheard but always near. Still loved, still missed and very dear."

BEFORE YOU GO
PHOTO GALLERY
Marriages That End In Murder