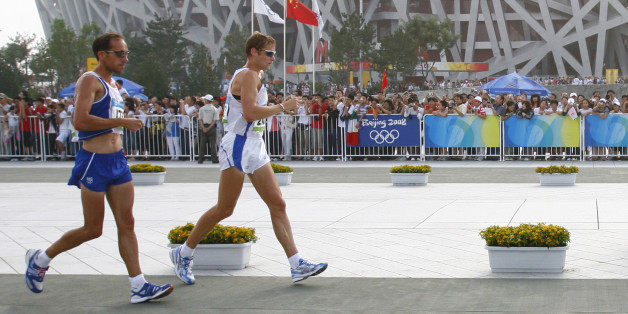 It turns out the Beijing Olympics were about more than just spectacle. A new analysis that examined the lower levels of air pollution leading up to the weeks-long event suggests that the global games also benefitted an unlikely group -- China's unborn citizens.
In preparation for the 2008 Olympic and Paralympic Games, the Chinese government agreed to temporarily improve air quality for the thousands of global spectators and athletes coming to watch the events. They did this, in part, by restricting vehicle use, closing or relocating factories and temporarily postponing construction projects. The measures resulted in an estimated drop of 18 to 59 percent in pollutant levels by the time the games rolled around from Aug. 8 to Sept. 24 of that year.
These policies meant slightly clearer skies and more breathable air for the Olympic participants and fans. And the slightly improved air standards also seem to have been a boon for babies born in Beijing shortly after the games as well: An analysis of over 83,000 Beijing births by researchers at the University of Rochester Medical Center found that these babies were, on average, eight ounces heavier than the local babies born around the same month in different years, both before and after the Olympics.
Low birth weights -- that is, birth weight less than 5 pounds, 8 ounces -- are linked to growth abnormalities and restrictions in the womb, as well as infections or birth defects, according to the March of Dimes.
The slight improvement in birth weight was clear, explained researcher and University of Rochester epidemiologist David Rich, despite the fact that the anti-pollution policies were only able to reduce levels from "very high" to "moderately high."
"I think it demonstrates for any mega city around the world that even a very short-term air pollution reduction can have a pretty large public health benefit," Rich told The Huffington Post. "The fact that we can demonstrate any benefit on birth weight suggests that if we can reduce air pollution levels even further or extend the time period, that you could potentially see a much larger change."
Beijing babies who were lucky enough to spend their eighth gestational month in the womb during the Olympics benefitted most of all, while fetuses who spent months one through seven in the womb seemed to derive no birthweight benefit from the clearer Olympic air. Rich thinks that this finding dovetails with the fact that the eighth month of pregnancy is typically the period with the most rapid fetal growth, so it would make sense that fetuses in this month would put on more weight.
There is an emerging body of research about the link between air pollution and its effects on fetal health. For instance, recent studies have shown that late-term prenatal exposure to air pollution is linked to higher systolic blood pressure in newborns and a modest increase in the risk of stillbirth.
There are also studies, similar to Rich's, that examine a specific period in time -- say, the temporary closure of a steel mill -- and that showed moms were less likely to give birth prematurely if they were pregnant during the closure. Rich is also planning to publish other analyses about the Beijing Olympics birth cohort in the future. However, it's currently unclear just how a mother's exposure to air pollution ends up affecting the developing fetus. But to Rich, the benefits, even though unexplained, are clear.
"All of this work suggests lowering pollution in any city should have such a high public health benefit," said Rich. "Imagine what we could do if we could do these kind of reductions of longer periods of time, in all the cities around the world."
Rich's study was published online Tuesday in the journal Environmental Health Perspectives.
BEFORE YOU GO
PHOTO GALLERY
Listen To Your Nana