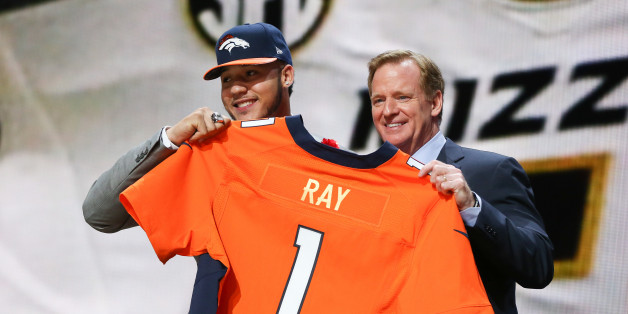 Prior to the NFL Draft this week, Shane Ray, a defensive end from Missouri (and a then-projected first round pick), was cited for possession of marijuana after he was pulled over for speeding just outside of Columbia, Missouri.
"All I can do is learn from my mistakes as a person just like everyone else and continue to grow, that's the most important thing," Ray, 21, told reporters on Thursday, ahead of the draft.
Well, Ray was selected 23rd by the Denver Broncos during Thursday's draft. Yes, that's right. Denver. As in Denver, Colorado. The same Colorado that became one of the first states to legalize the recreational use of marijuana.
Of course, this was not lost on ESPN's Michelle Beadle, who fired off this gem of a tweet just moments after the pick:
Shane Ray to Denver. Perfection. #420Everyday

— Michelle Beadle (@MichelleDBeadle) May 1, 2015
Unfortunately, it won't exactly be "420Everday" for Ray as marijuana is still a banned substance within the league. The NFL did ease its policy last fall, increasing the threshold amount and reducing punishment if a player is in violation.
The Bronco's mandatory offseason minicamp begins June 9. Ray is due in court on June 30, according to NFL.com.
Bronco's general manager John Elway expressed confidence in Ray when explaining his decision to select the pass rusher.
"I think he was a 21-year-old kid who made a mistake. I felt good after talking with him that it won't happen again," Elway said, according to the Denver Post. "Having a chance to get to know him, we feel good about it. He was very remorseful."