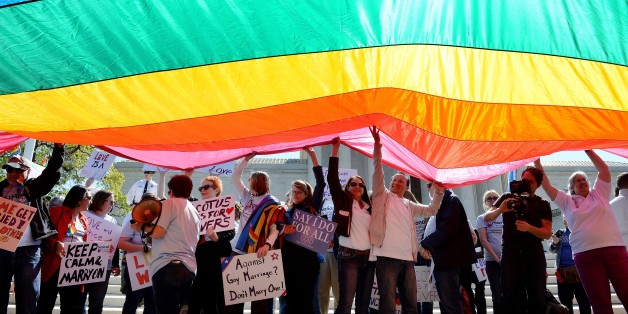 Pollsters measure and contemplate the rapid rise in support for same sex marriage. Democrats continue to dominate among Millennials. And there's a "reality gap" in perceptions of the ACA. This is HuffPollster for Friday, May 1, 2015.
SUPPORT FOR SAME-SEX MARRIAGE REMAINS HIGH - Quinnipiac University Poll: "American voters support same-sex marriage 58 - 34 percent, with strong support from every party, gender and age group except Republicans, who are opposed 59 - 33 percent, and voters over 55 years old, who support same-sex marriage by a narrow 48 - 43 percent....By a smaller 58 - 35 percent margin, voters say businesses should not be allowed to refuse service to gays and lesbians, even if it violates a business owner's religious beliefs. Again, there is strong agreement among all groups except Republicans, who say 56 - 37 percent a business owner should be allowed to deny service based on religious belief." [Quinnipiac]
Americans choose religious freedom over gay rights, but.. - Emily Swanson: "Most Americans think the government should protect religious liberties over gay rights when the two come into conflict, a new Associated Press-GfK poll finds, though fewer think most businesses should be allowed to turn away gay couples because of religious beliefs.....Americans are more likely to say that religious liberties are more important for the government to protect than the rights of gays and lesbians, by a 56 percent to 40 percent margin, the poll found. Just a quarter of Americans call gay rights a very or extremely important issue to them personally, while half call religious liberties a very or extremely important issue. But fewer Americans — just 40 percent — think most business owners should be allowed to refuse service to gays and lesbians on religious grounds. That finding goes to the heart of the significant political fallout over Indiana's Religious Freedom Restoration Act, which critics charged was intended to allow businesses discriminate against gays and lesbian." [AP]
Religious Americans support same-sex marriage - Robert Jones: "Although public opinion has shifted dramatically, especially among religious Americans, many leaders of the conservative Christian political movement continue to act as if public opinion were frozen in the 1970s. But in fact, more religiously affiliated Americans now support same-sex marriage than oppose it....84 percent of Buddhists, 77 percent of Jews, approximately six in ten white mainline Protestants (62 percent), white Catholics (61 percent) and Hispanic Catholics (60 percent), and 56 percent of Eastern Orthodox Christians now support allowing gay and lesbian couples to marry legally. Conceding the loss of some religious groups in their ranks, many conservative religious leaders nonetheless continue to assert that religious Americans overall continue to oppose same-sex marriage. Even among religiously affiliated Americans, however, supporters today actually slightly outnumber opponents. Among all religiously affiliated Americans, 47 percent favor allowing gay and lesbian couples to marry, compared to 45 percent who oppose. (The survey's huge sample-size makes even this narrow margin statistically significant.)" [The Atlantic]
Majority of Republicans would attend a gay wedding - Jeff Mason: "A majority of U.S. Republicans would attend the same-sex wedding of a loved one, a Reuters/Ipsos poll showed on Wednesday, highlighting the political risks for Republican presidential candidates who stake out positions against gay marriage....The poll showed 56 percent of Republicans would attend the gay wedding of a loved one if invited. That compares with 80 percent of Democrats and 70 percent of independents, who said they would go.Overall, 68 percent of Americans would attend, the poll showed, while 19 percent would not and 13 percent were unsure." [Reuters]
There's 'no going back' - Mark Mellman (D): "Years ago, I argued that opinions on gay rights generally, and same-sex marriage in particular, were changing faster than those on almost any subject in the history of polling. That revolution continues...Why the sudden and dramatic change? A combination of factors seems to be at work. What I euphemistically call 'the inexorable forces of generational replacement' contributed significantly. Younger people have long been more supportive of same-sex marriage than their elders....Increased contact propelled support among young and old. As more people have come out in recent years, more of their friends and relatives have become aware of the fact that people they know and love are part of the LGBT community....Politics also had an impact. As I've regularly demonstrated, voters often follow their political leaders on issues. An ABC/Washington Post poll found support for gay marriage increasing 18 points among African-Americans just after President Obama announced his support....Whatever the cause of the change, the effect has been nothing short of seismic." [The Hill]
How many Americans are in same-sex marriages or partnerships? - Gary J. Gates and Frank Newport: "Approximately 0.3% of adults in the U.S. are married to a same-sex spouse, and another 0.5% identify as being in a same-sex domestic partnership. In examining the total population of 243 million U.S. adults, these survey estimates suggest nearly 2 million adults are part of a same-sex couple, of whom 780,000 are married. The Census Bureau, however, has cautioned that the ACS estimates of married same-sex couples may not be reliable as they have determined that a large portion of recorded married same-sex couples may actually be married heterosexual couples who miscoded the sex of one of the spouses." [Gallup]
NEW RESEARCH ON GENERATIONS & PARTISANSHIP - Pew Research: "Over the past decade, there has been a pronounced age gap in American politics. Younger Americans have been the Democratic Party's strongest supporters in both vote preferences and partisanship, while older Americans have been the most reliably Republican...Using the more than 25,000 interviews conducted over the course of 2014 that allowed for a deep dive into party identification released April 7, we are able to see variations within generations as well as between them....Millennials generally are more likely than other generations to lean Democratic. The Silent Generation is more likely to lean Republican. The partisan preferences of the two generations in between – Generation X and the Baby Boomers – are closer to the average partisan leanings of the public." [Pew]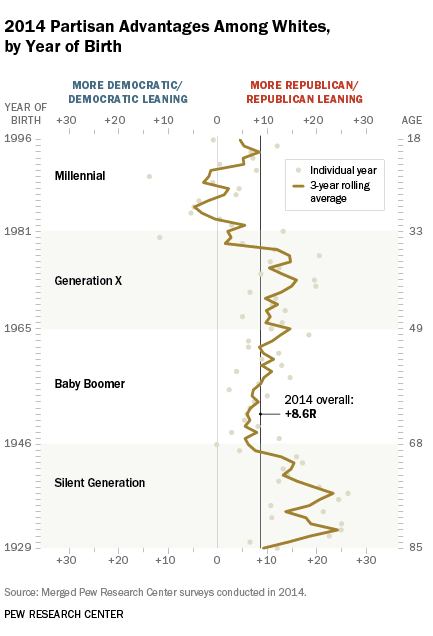 Differences among Millennials - More Pew: "[T]he differences within generations are as notable as the differences among them....Millennials of all ages favor the Democratic Party by large margins, though the [Democrats'] advantage in leaned identification is greater among the oldest Millennials. Among Millennials born between 1981 and 1986 (28 to 33 in 2014), the Democratic Party leads by 18 points (51% Dem/lean Dem, 33% Rep/lean Rep). Among the youngest adult Millennials (18 to 23 in 2014) the Democratic Party's advantage is a still sizeable, though slightly narrower, 14 points (51% Dem/lean Dem, 37% Rep/lean Rep)." [Pew]
Harvard IOP: Hillary dominates among Millennials - "A new national poll of America's 18- to 29- year-olds by Harvard's Institute of Politics (IOP)...finds no front-runner among prospective Republican candidates in a still-emerging presidential primary race – with no candidate capturing more than ten percent. Hillary Clinton is in command of a hypothetical Democratic presidential primary with 47%... Overall – a solid majority of 18- to 29- year-olds prefer a Democrat (55%) winning the 2016 campaign for president over a Republican (40%)... Among potential Republican primary voters (definite, probable or 50-50; n=486), not one of 16 prospective Republican presidential candidates garnered more than ten percent of the vote." [Harvard release]
MORE OF THIS WEEK'S NATIONAL POLLS
-Gallup: Fewer Americans now identify as middle class - "Currently, 51% of Americans say they are middle class or upper-middle class, while 48% say they are lower class or working class. In multiple surveys conducted from 2000 through 2008, an average of more than 60% of Americans identified as middle or upper-middle class." [Gallup]
-HuffPost/YouGov: GOP now seen as more extreme - HuffPollster: "In a shift of opinion since the 2014 midterms, Americans now consider the Republican Party more extreme than the Democratic Party, a new HuffPost/YouGov poll finds. In the days just after the GOP retook the Senate last November, Americans were evenly split as to which party they thought was more extreme. They now say by an 8-point margin that Republicans are further from the mainstream. Half of Americans now say the GOP is too extreme, up 7 points since November....Forty-eight percent of independents now say the GOP is too extreme, up 9 points from last year. The percentage of Republicans calling their own party too extreme also rose by 6 points." [HuffPost]
-Pew: Americans split on views of union membership -"Over the past three decades, the share of wage and salary workers in the United States who belong to labor unions has fallen by about half. The public expresses mixed views of the impact of the long-term decline in union membership on the country: 45% say this has been mostly a bad thing, while 43% see it as mostly a good thing." [Pew]
HuffPost/YouGov: Republicans say their party was justified in opposing Lynch - HuffPollster: "Senate Republicans who opposed Loretta Lynch's nomination as attorney general lost the battle to keep her from being confirmed, but many Americans, including the vast majority of their party, think they were justified in disputing her nomination for political reasons…In a new HuffPost/YouGov poll, 41 percent say senators are justified in voting against a nominee if they disagree with that nominee's political opinions. More than 70 percent in the GOP agree that senators should have the discretion to oppose cabinet nominees. Three-quarters of Republicans say it was appropriate for GOP senators to oppose [Lynch's] nomination because she supported President Barack Obama's executive actions on immigration. Just 19 percent of Democrats agree. [HuffPost]
-Pew: A mobile majority - "At the start of 2015, 39 of the top 50 digital news websites have more traffic to their sites and associated applications coming from mobile devices than from desktop computers, according to Pew Research Center's analysis of comScore data."[Pew]
BERNIE SANDERS' BIG CHALLENGE - Harry Enten: "Let's be real right out of the gate: Sen. Bernie Sanders of Vermont is almost certainly not going to be the Democratic nominee for president in 2016....Polls show Sanders doesn't match up well against Clinton. He trails her by nearly 57 percentage points nationally, 54 percentage points in Iowa and 40 percentage points in New Hampshire. More than that, there seems to be very little desire on the left for a challenger to Clinton. She regularly earns 60 percent support among self-described 'liberal' and 'very liberal voters, according to national polls. And Sanders's colleagues in the Senate with the most liberal voting records — those who would be key to starting a mutiny against Clinton — have already endorsed her."[538]
Not enough liberals among Democrats - Nate Cohn: "[T]here is another, strangely simple reason Mrs. Clinton will have an easy road to the nomination: The left wing of the Democratic Party just isn't big enough to support a challenge to the left of a mainstream liberal Democrat like Mrs. Clinton...The majority of Democrats and Democratic primary voters are self-described moderates or even conservatives, according to an Upshot analysis of Pew survey data from 2014 and exit polls from the 2008 Democratic primary." [NYT]
THE OBAMACARE PERFORMANCE 'REALITY GAP' - Jonathan Cohn and HuffPollster: "In a new [YouGov] survey, more than half of self-identified Republicans said they didn't think the Affordable Care Act is increasing the number of people with health insurance, with a fifth of respondents saying it has actually reduced the number of people with coverage. For the record, the evidence suggests these people are flat-out wrong....Among Democrats, 77 percent said the number of people with insurance had risen, while just 9 percent said it had decreased. But among Republicans, just 43 percent thought the number of people with insurance had increased, while 21 percent said it had decreased… Every major study -- including official estimates by the federal government and analyses by independent researchers -- has shown that the number of people with health insurance has risen substantially since the Affordable Care Act took full effect...It's likely that perceptions of the Affordable Care Act are affecting the way some people assess its performance, rather than the other way around." [HuffPost]
HUFFPOLLSTER VIA EMAIL! - You can receive this weekly update every Friday morning via email! Just click here, enter your email address, and click "sign up." That's all there is to it (and you can unsubscribe anytime).
THIS WEEK'S 'OUTLIERS' - Links to the best of news at the intersection of polling, politics and political data:
-Jeb Bush isn't winning the invisible primary. [538]
-President Obama continues to be the more trusted economic actor in Washington. [Gallup]
-Americans are slowly and steadily warming up to Obamacare. [YouGov]
-Ed Kilgore sees some gold in early polls; Jonathan Bernstein responds. [Washington Monthly, Bloomberg]
-Bill McInturff (R) sees no real growth in "hard" independents. [POS]
-DeepRootX (R) shares an interactive visualization of 2012 Republican primary ads. [National Journal]
-Karlyn Bowman summarizes recent polling on income inequality. [AEI]
-Alex Tribou and Keith Collins chart America's fast social evolution. [Bloomberg via @joshuatopolsky]
-The Census Bureau explains why the American Community Survey (ACS) asks so many questions about our lives. [MarketingResearch.org]
-The Roper Center for Public Opinion Research wins the "Data Seal of Approval." [Roper]
-American Viewpoint, the firm of Republican pollster Linda Divall, celebrates its 30th year anniversary. [AmView]
-What the probability of precipitation really means. [WashPost]

BEFORE YOU GO
PHOTO GALLERY
Supreme Court Proposition 8 Case