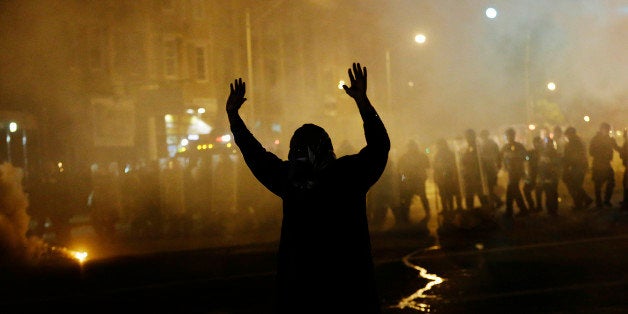 Wayne County Assistant Prosecutor Teana Walsh resigned Friday, according to a spokeswoman for the prosecutor, whose jurisdiction includes Detroit.
"During her tenure in the office Teana Walsh has been known for her great work ethic and her compassion for victims of crime and their families," spokeswoman Maria Miller said in an emailed statement. "Her post was up online briefly and she immediately took it down. The post was completely out of character for her and certainly does not reflect the person that we know."
According to Fox 2 Detroit and The Detroit News, Walsh posted the comment to her personal Facebook page Monday evening, as heated and at times violent protests were taking place in Baltimore over the death of Freddie Gray, who died last month of a spinal injury sustained in police custody. Walsh's post, an image of which was shown on Fox, read:
So I am watching the news in Baltimore and see large swarms of people throwing bricks etc at police who are fleeing from their assaults ... 15 in hospital already. Solution. Simple. Shoot em. Period. End of discussion. I don't care what causes the protestors to turn violent...what the "they did it because" reason is...no way is this acceptable. Flipping disgusting.

The post was later deleted.
Miller confirmed to The Huffington Post that the text of Walsh's Facebook post has been accurately reported.
Lonnie Scott, executive director of liberal advocacy group Progress Michigan, said in a statement Friday that Walsh's comments represented "a mentality that has to be purged from the criminal justice system as a whole."
"These remarks are particularly dangerous and irresponsible in light of protests taking place right now in Detroit in the wake of yet another shooting death of a young black man by law enforcement," Scott also said in a separate statement.
Walsh posted her message to Facebook the same day that Terrance Killom, a 20-year-old black man, was fatally shot in Detroit by a federal immigration officer involved in a fugitive task force. The incident is being investigated. Detroit Police Chief James Craig initially said Killom was wielding a hammer as a weapon when the officer shot him, but Killom's father said his son was obeying orders and was empty-handed.
BEFORE YOU GO