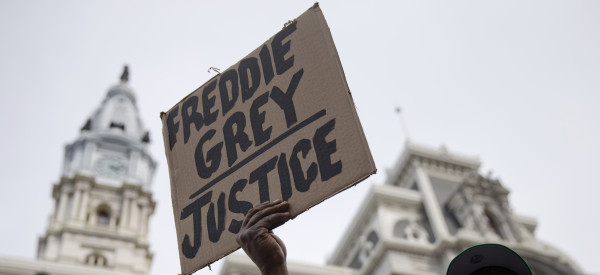 TOP STORIES
To get The Morning Email, HuffPost's daily roundup of the news, in your inbox, sign up here.
'ROUGH RIDE' COULD BE TO BLAME FOR FREDDIE GRAY'S DEATH Gray was "handcuffed and put in leg irons, but left without a seat belt during his trip to the station." Take a look at the history of the police "rough ride" and an updated timeline of Gray's arrest and the aftermath. [Nick Wing and Jason Cherkis, HuffPost]

NEPAL EARTHQUAKE DEATH TOLL TOPS 6,000 Many Nepalese-Americans are still waiting for news of their relatives and friends. [AP]
THE DRUGS THAT ACCOUNT FOR A QUARTER OF MEDICARE'S SPENDING "Costly drugs for diseases, such as cancer and multiple sclerosis, account for more than a quarter of spending on prescriptions for America's elderly and disabled, despite being used by relatively few patients, according to newly released data from Medicare's prescription-drug program." Check out the 100 costliest drugs. [WSJ]
THE THWARTED GERMAN 'BOSTON BOMBING' "German authorities foiled what they believe may have been an imminent Boston Marathon-style attack on a professional cycling race planned for Friday, seizing a cache of weapons, including a pipe bomb, and chemicals that can be used to make explosives in a raid on a suspected Islamic extremist's home outside Frankfurt." [AP]
OBAMA'S PRESIDENTIAL LIBRARY FINALLY HAS A LOCATION The South Side of Chicago. [Marina Fang, HuffPost]
VISION LOSS AND JOINT PAIN PLAGUES EBOLA SURVIVORS Hearing loss and fatigue often also afflict survivors. [WSJ]
FEMA DEMANDING SOME HURRICANE SANDY AID REPAID, WITH INTEREST "Thousands of families whose homes were destroyed by Hurricane Sandy are being ordered to repay some of the compensation they received from the government. The Federal Emergency Management Agency (FEMA) is not only demanding interest on what it says were overpayments, but Washington is ready to call in debt collectors to recoup the cash." [Telegraph]
TESLA INTRODUCES SOLAR BATTERY Each "Powerwall" has a 10kWh capacity. [Ed Mazza, HuffPost]
WHAT'S BREWING

THE WINNERS AND LOSERS OF LAST NIGHT'S NFL DRAFT Of course Jameis Winston got picked first. [ESPN]
KENTUCKY DERBY PRIMER Who to bet all your money on while you're wearing a silly hat. [The Courier-Journal]
TURNING AN 'AMERICAN IDOL' LOSER INTO A CONGRESSIONAL CANDIDATE Spoiler alert: he still lost. [HuffPost]
ALL ABOUT THAT DAD BOD After Clemson University student Mackenzie Pearson's piece on the merits of the "Dad Bod" went viral, Slate circled back to ask her to explain the manly physique. [Slate]
HOLLYWOOD REPLACED MAE WHITMAN FOR 'INDEPENDENCE DAY 2' We (and Anna Kendrick) are not happy 'bout it. [HuffPost]
WHEN YOUR BUSINESS MODEL BREAKS THE LAW Hello, Uber and Airbnb. [The Economist]
BRUCE JENNER'S EX-WIVES SHOW SUPPORT Jenner's first two wives, Linda Thompson and Chrystie Crownover Scott, were pictured smiling with Jenner after his "20/20" interview. [HuffPost]
WHAT'S WORKING
STUDENTS, THE POLICE, AND BALTIMORE "Nikkia Rowe, the principal of Renaissance Academy [in Baltimore], is more interested in making sure that the students at her low-income school, which abuts the city's recent tensions, have the resources they need at this moment to become well-informed contributing members of society." [HuffPost]
ON THE BLOG
MARTIN O'MALLEY: WE ARE CAPABLE OF MORE "All of us who love Baltimore have experienced a week of profound sadness and tears. The images of these last days are now seared into our collective memory as a people -- a new senior citizen center engulfed in flames, a new drugstore burning. Small neighborhood grocery stores looted and burning. Police cars and neighbors' cars vandalized and burning." [HuffPost]
BEFORE YOU GO
~ A first look at a "Spectre" car chase through the streets of Rome.
~ "Peter Pan" was a lot darker than we remembered.
~ Where has Amal Clooney been hiding her stylish older sister?
~ Addressing rogue drones.
~ We have the first teaser for "Fifty Shades Darker," and it's well, darker.
~ This website replaces New York Times photos with cat gifs -- you're welcome.
~ Meet this two-headed calf.
~ All hail the king of man buns.
~ How old do you look?
~ Welcome to drone vandalism.
~ Pressure's on Kate: Prince Charles wants a granddaughter.
~ They won't be there for you: The "Friends" co-creator killed all hopes for a reunion movie.
~ Reese Witherspoon's daughter is her adorable clone.
Send tips/quips/quotes/stories/photos/events/scoops to Lauren Weber at lauren.weber@huffingtonpost.com. Follow us on Twitter @LaurenWeberHP. And like what you're reading? Sign up here to get The Morning Email delivered to you.