David Goldberg, the CEO of Survey Monkey and the husband of Facebook COO Sheryl Sandberg, has died. He was 47.
Goldberg's brother, Robert, announced the news Saturday morning on Facebook, saying David "passed away suddenly last night":
Facebook founder Mark Zuckerberg shared the post, adding, "Dave Goldberg was an amazing person and I am glad I got to know him. My thoughts and prayers are with Sheryl and her family."
Twitter CEO Dick Costolo called the news "heartbreaking" in a tweet, and described Goldberg as "one of the truly great people on the planet … of almost unimaginably remarkable character."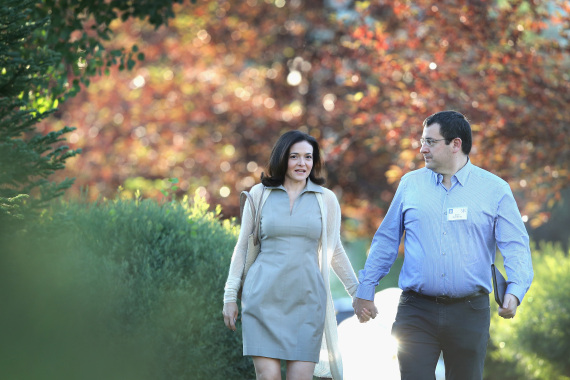 Sandberg and Goldberg in Sun Valley, Idaho, in July 2014. Photo credit: Scott Olson via Getty Images
"Dave's genius, courage and leadership were overshadowed only by his compassion, friendship and heart," Survey Monkey said in a statement following the news. "His greatest love was for his family. Our sympathy goes out to them and to all who were touched by this extraordinary man. We are all heartbroken."
Arianna Huffington also shared Robert's post on Facebook, adding, "So deeply saddened and shocked by the death of Dave Goldberg. I was blessed to get to know him through his beloved wife Sheryl and to see firsthand what an amazing father, son, innovator, and caring friend he was."
Recode's Kara Swisher mourned the "incomprehensible" loss with a remark on "His unfailing kindness toward everyone, endless generosity with his time, insights and advice and basic great-guy personality made Dave — no one called him David, really — the heart and also soul of the tech and media community."
Remembrances also poured in on social media Saturday:
Love your family + your friends. Be thoughtful. Work hard. Strive to improve. Help others. Dave Goldberg aced all of these. Love ya Goldie.

— Jason Hirschhorn (@JasonHirschhorn) May 2, 2015
My friend @davegoldberg kindest, most generous, loving father, loyal husband, great ceo, & sweetest friend. May his memory be a blessing.

— Marc Benioff (@Benioff) May 2, 2015
Devastated to hear about loss of @davegoldberg. One of kindest & most generous friends I've known. My heart goes out to Sheryl & his family

— Jeff Weiner (@jeffweiner) May 2, 2015
RIP @davegoldberg. I have never known a more kind individual. You will be missed.

— David Doc Sands (@Doc_Sands) May 2, 2015
One of the things I admired most about @davegoldberg was his ability to balance being a husband and father with his work.

— Chris Yeh (@chrisyeh) May 2, 2015
I never heard anyone say a disparaging word about @davegoldberg. Ever. Almost unheard of when it comes to successful people in S. Valley

— danprimack (@danprimack) May 2, 2015
Goldberg rose to prominence in the tech industry in the 1990s, founding a company by the name of Launch Media in 1994, which he sold to Yahoo in 2001. He stayed on at Yahoo for six years, and then joined Benchmark Capital, where he served as an entrepreneur in residence.
He met Sheryl Sandberg in 1996, though the two didn't start dating until 2002.
"We went out to dinner and a movie and hit it off. She fell asleep on my shoulder, which I thought was great," Goldberg recalled in an interview with the Los Angeles Times in 2013. "Turns out, I learned much later, she sleeps through every movie, on any shoulder that is available, but it worked on me at that moment of time."
In 2009, he headed to Survey Monkey and built it into a billion-dollar company, growing the staff from 14 to what is now 500, reports Business Insider. He had just celebrated his sixth anniversary at the company, calling it "one of [his] best decisions."
BEFORE YOU GO
PHOTO GALLERY
david goldberg