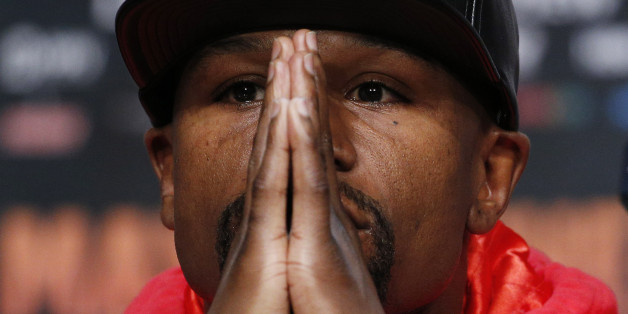 Floyd Mayweather has blocked CNN's Rachel Nichols and ESPN's Michelle Beadle -- both of whom have been critical of the boxer's history of domestic abuse -- from obtaining press credentials for his Saturday night fight against Manny Pacquiao, according to tweets posted by the two journalists.
I, along with @Rachel__Nichols, have been banned from the MGM Grand Arena for the fight tonight by the Mayweather camp. #TheFightGame

— Michelle Beadle (@MichelleDBeadle) May 2, 2015
No fight for me or @MichelleDBeadle. Mayweather's team told my producer the camp was blocking my credential. https://t.co/JTjjXadPp8

— Rachel Nichols (@Rachel__Nichols) May 2, 2015
Mayweather's publicist, Kelly Swanson, rebutted the claim that the journalists had been banned. She said in a phone conversation with The Huffington Post that CNN was offered one seat and it's up to the network to decide who gets it. And while Beadle is a reporter for ESPN, Swanson said she was credentialed through HBO Sports and therefore allowed in the arena.
"Nobody was banned from the arena, OK?" Swanson said.
A spokesperson for ESPN confirmed that Beadle's credential was through HBO Sports.
However, Beadle said in a later tweet that her HBO Sports credential was revoked.
After hearing my credential was pulled, I went home. Told this morning that HBO was able to get it re-approved late last night.

— Michelle Beadle (@MichelleDBeadle) May 2, 2015
In a separate interview with USA Today, Swanson said Nichols is credentialed for the fight and that the incident "was a misunderstanding by the credential office."
Both Nichols and Beadle have previously been critical of Mayweather's history of domestic violence. After announcing that she had been refused press credentials for the fight, Nichols tweeted a link to a tense interview she did with Mayweather in late 2014.
Here's my interview with Floyd Mayweather from this past fall, the same week the Ray Rice video was leaked: https://t.co/yFiBhEQhFb

— Rachel Nichols (@Rachel__Nichols) May 2, 2015
Last year, Beadle apologized for treating Mayweather "lightheartedly" in an interview with the boxer at the ESPYs, saying she "was not aware of just how horrible his record [with] women has been over the years."
Requests for comment to CNN and HBO Sports were not immediately returned.
Journalists spoke out on Twitter against Mayweather's decision to ban the two reporters, who are both greatly respected among their peers.
ESPN's Arash Markazi tweeted that the incident showed "why boxing is on life support."
There are many reasons why boxing is on life support. Banning legitimate reporters doing their jobs from covering it is just another one.

— Arash Markazi (@ArashMarkazi) May 2, 2015
They could have denied credentials but allowed reporters to come to Vegas, promote the fight for a week and then blocked them. What a joke.

— Arash Markazi (@ArashMarkazi) May 2, 2015
The Bleacher Report's Howard Beck put it more succinctly:
Dear Mayweather camp: You are cowards. https://t.co/0Ulv8B6ofs

— Howard Beck (@HowardBeck) May 2, 2015
UPDATE: 4:40 p.m. -- A number of additional pieces of information have surfaced since the original publication of this post. Among them:
-- It appears Martin Rogers, who has written at length about Mayweather's history of domestic violence, has been denied press credentials by Mayweather's camp, according to Sports Illustrated senior writer Chris Mannix.
In addition to banning @Rachel__Nichols and @MichelleDBeadle, Mayweather declined to credential @mrogersUSAT, who has written great DV stuff

— Chris Mannix (@ChrisMannixSI) May 2, 2015
-- Daniel Roberts of Deadspin says an anonymous source told him that Swanson said there was "no way" Nichols would be allowed into the arena. Roberts also reports that Beadle claims she has emails proving that Mayweather's camp pulled her credentials.
This story was previously updated to include comment from ESPN and further detail about the controversy.

BEFORE YOU GO
PHOTO GALLERY
Floyd Mayweather Jr. vs. Manny Pacquiao