Protests in Burundi entered their second week on Monday, as thousands of people filled the streets in opposition to President Pierre Nkurunziza's plan to run for a third term in office. The president's move has been seen by demonstrators as a violation of the Arusha Peace and Reconciliation Agreement signed to end the nation's brutal civil war, which stated that a leader can only serve two terms in office.
Nkurunziza's announcement and the clashes between police and protesters that followed have resulted in extremely tense times in Burundi. The country has for years been rebuilding from an ethnic conflict that devastated the nation between 1993 and 2005, killing an estimated 300,000 people. While the current demonstrations are politically motivated, observers have noted some worrying signs of ethnically based rhetoric seeping into the unrest.
As the protests continue, there is also increasing concern over the risk of greater political instability in the country, with the United Nations stating that over 20,000 people have fled to neighboring Rwanda to escape the violence. At least 11 people have been killed in the demonstrations thus far, which have involved shootings and grenade attacks.
These are the chaotic scenes from Burundi's current crisis: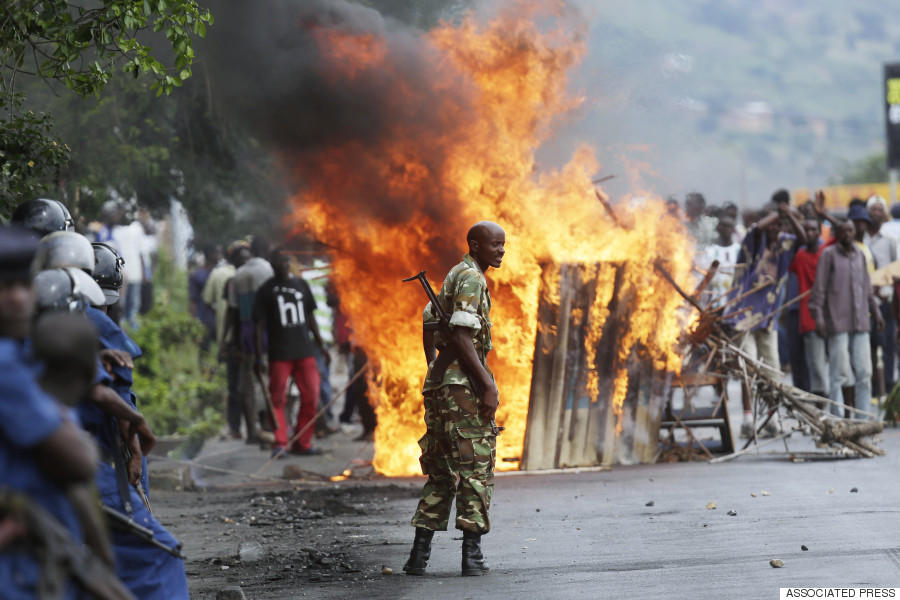 A soldier stands between demonstrators and riot police facing off in the Musaga district of Bujumbura, Burundi, Monday, May 4, 2015. (AP Photo/Jerome Delay)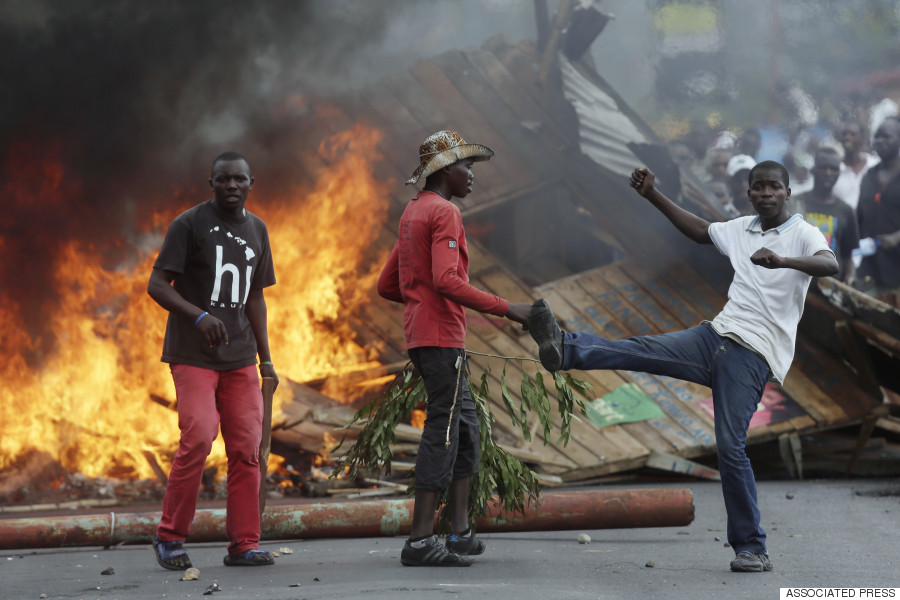 Demonstrators face off with riot police in the Musaga district of Bujumbura, Burundi, Monday, May 4, 2015. (AP Photo/Jerome Delay)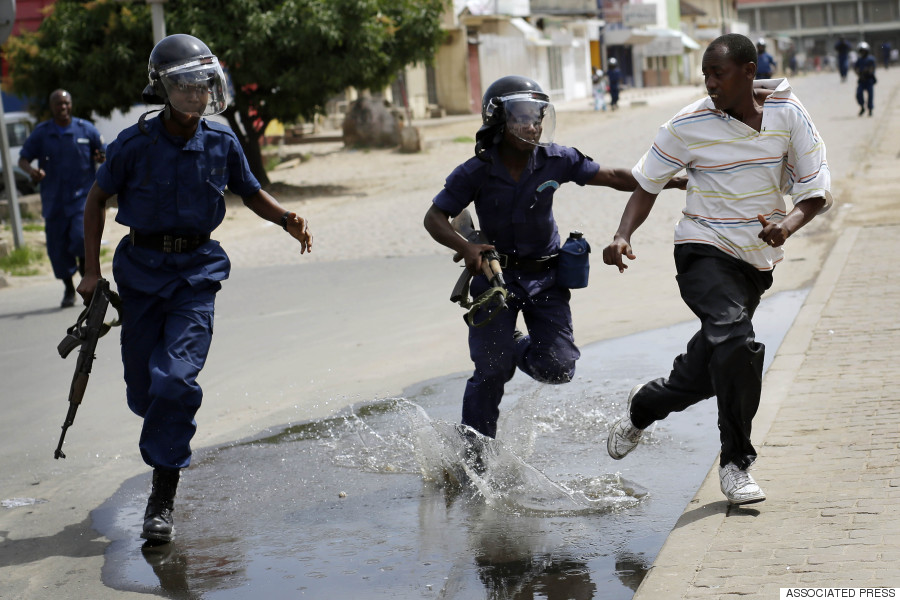 Riot police chase a demonstrator in Bujumbura, Burundi, Monday, May 4, 2015. (AP Photo/Jerome Delay)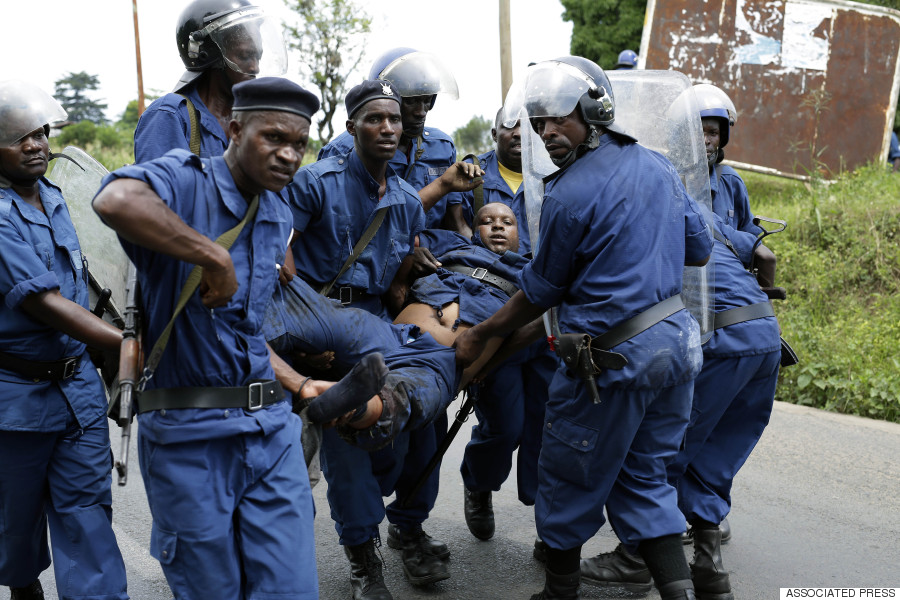 A police officer wounded by a grenade is carried to safety during clashes in the Musaga district of Bujumbura, Burundi, Monday, May 4, 2015. (AP Photo/Jerome Delay)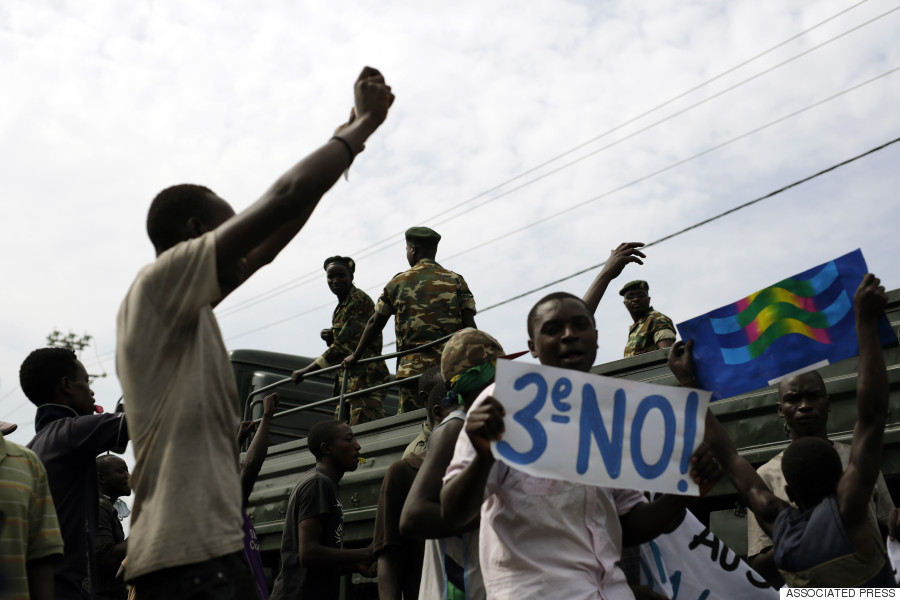 Demonstrators cheer at a passing military truck in the Musaga neighborhood of Bujumbura, Burundi, Friday, May 1, 2015. (AP Photo/Jerome Delay)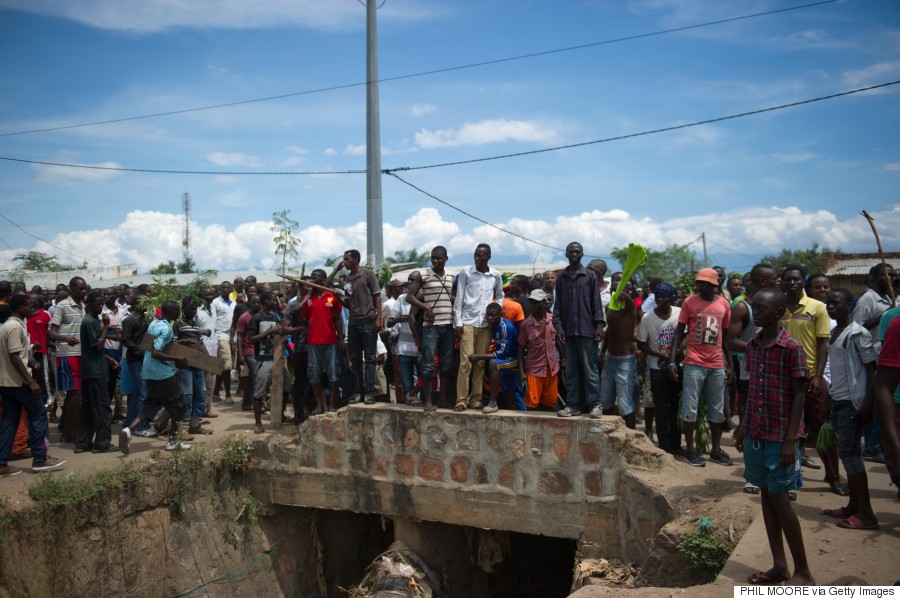 Protestors gather on a bridge in the Kanyosha neighborhood of Bujumbura, on May 4, 2015. (AFP PHOTO / PHIL MOORE)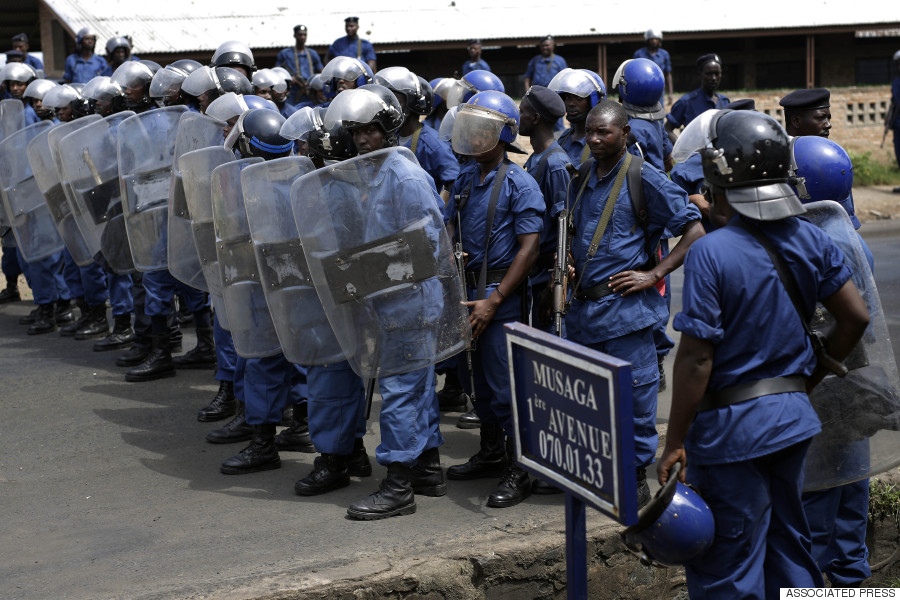 Riot police are deployed in the Musaga neighborhood of Bujumbura, Burundi, Friday, May 1, 2015. (AP Photo/Jerome Delay)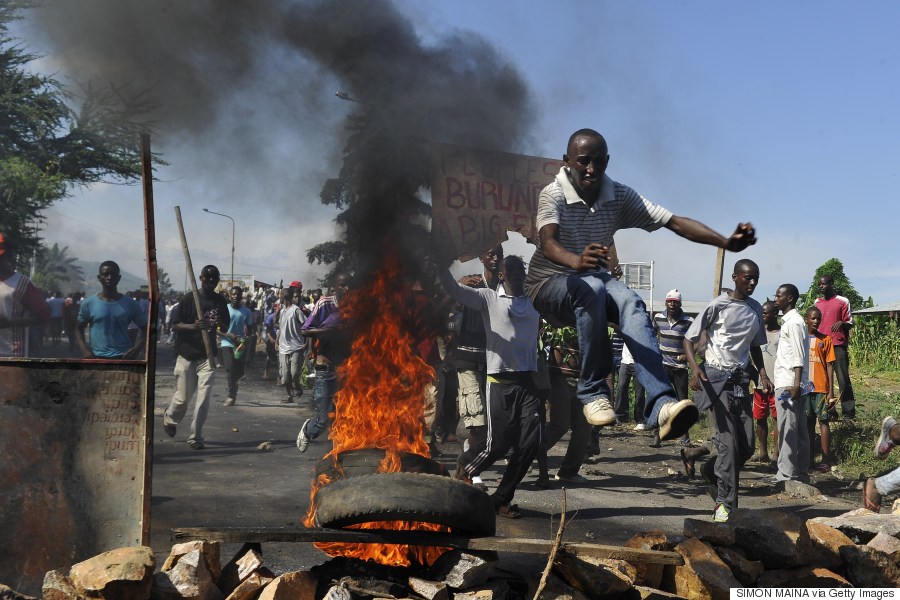 Burundian youth take to the streets as they demonstrate in Musaga, on April 28, 2015, on the outskirts of the capital Bujumbura. (Photo: SIMON MAINA/AFP/Getty Images)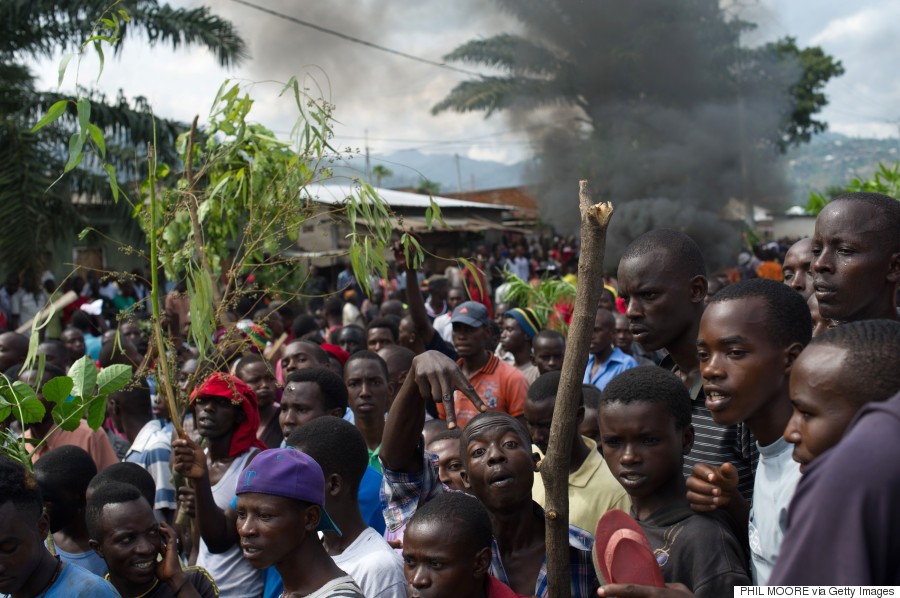 Protestors gather in the Musaga neighborhood of Bujumbura, on May 4, 2015. (Photo: PHIL MOORE/AFP/Getty Images)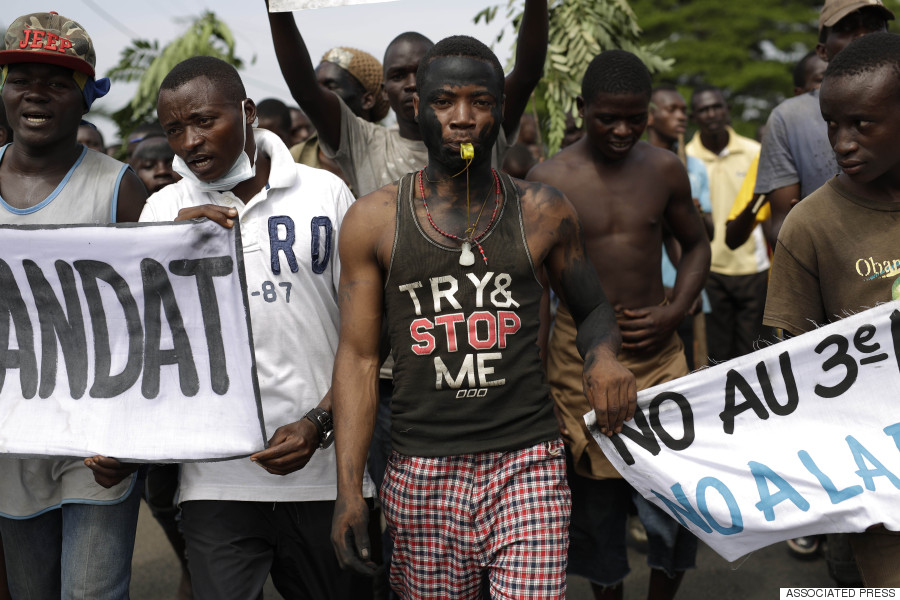 Demonstrators walk in the Musaga neighborhood of Bujumbura, Burundi, Friday, May 1, 2015. (AP Photo/Jerome Delay)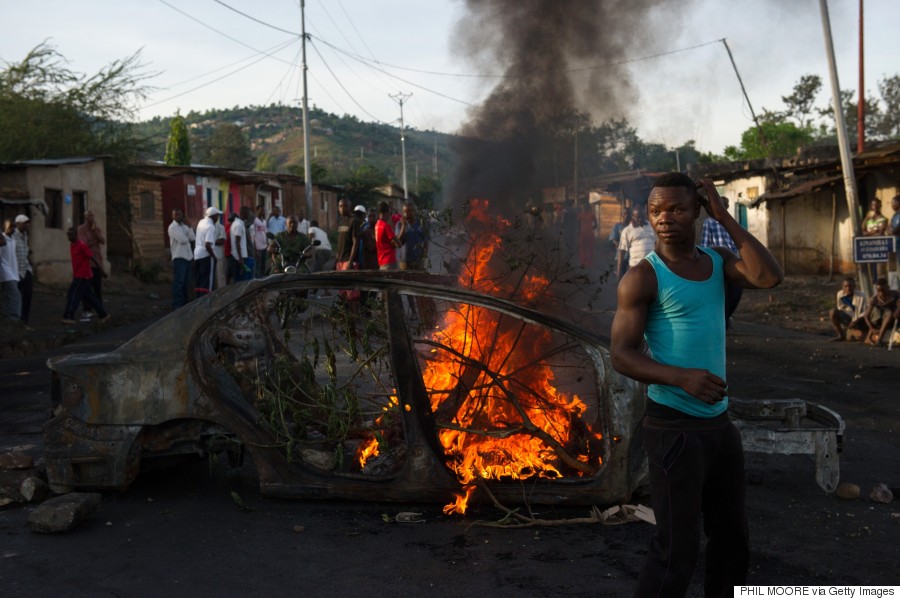 A protestor stands next to a burning car in the Musaga neighborhood of Bujumbura on May 4, 2015. (Photo: PHIL MOORE/AFP/Getty Images)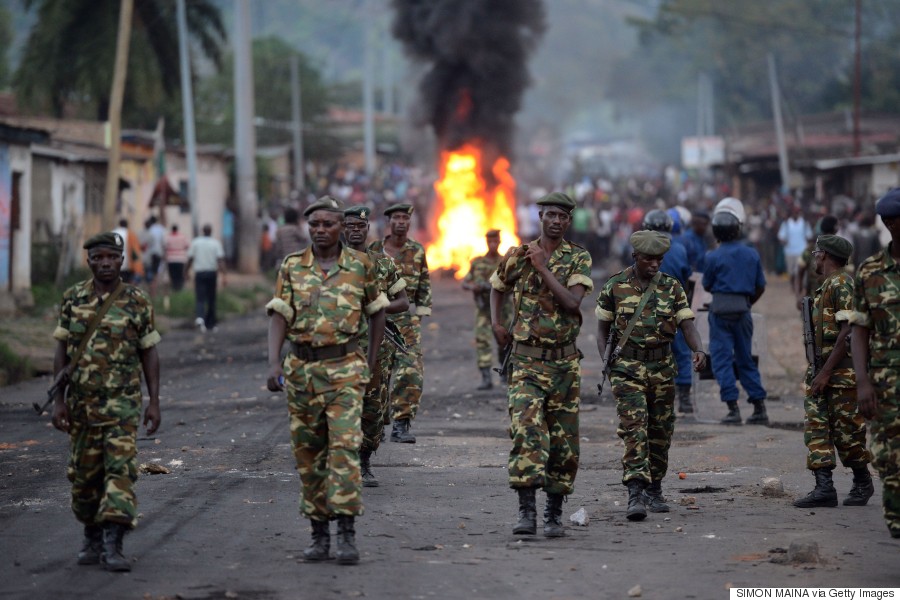 Burundian soldiers walk near a burning barricade erected by protesters as people demonstrate against the president's bid for a third term in power in Musaga, in the outskirts of Bujumbura, on April 27, 2015. (Photo: SIMON MAINA/AFP/Getty Images)
BEFORE YOU GO
PHOTO GALLERY
Protests Rock Burundi