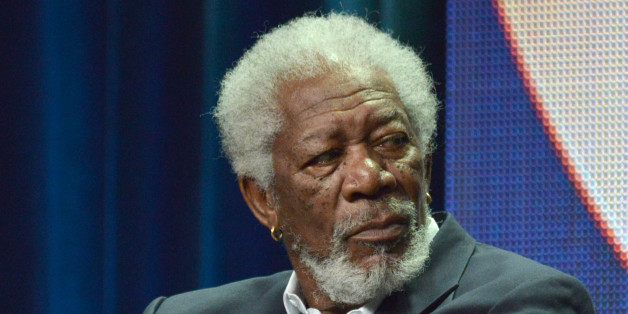 Morgan Freeman has three words to describe the coverage surrounding last week's protests in Baltimore, Maryland: "F*** the media."
During a recent interview with The Daily Beast, Freeman candidly expressed his thoughts on the unrest that has unfolded in the city since the passing of Freddie Gray. The 77-year-old actor said he was dissatisfied with the news reports that were released in the days following Gray's death and blasted the coverage produced by several major media networks.

"Look at MSNBC, Fox News, and CNN. Go between those three," Freeman said. "There's a take, there's a take, and there's a take. It's just commentary. CNN wants to be pure news, but the others are just commentary. They're just commenting on things."
Despite his criticisms, the Academy Award-winner did credit the media for the improvement he feels they've made since last year's coverage over the death of Michael Brown in Ferguson, Missouri. Particularly, Morgan took issue with the national conversation over Brown's killing, which seemed to focus on allegations that the 17-year-old had robbed a convenience store prior to being fatally gunned down by former police officer Darren Wilson.
"Now, they're getting more of the whole picture. Ferguson? No," the actor admitted. "Baltimore seems to be coming up with a different scenario in the background. People are saying, 'You were not all there when we were just talking and trying to make a point, but if we set something on fire, all of a sudden you're all here."
"Why is that? What's the difference?' And some young reporters are listening. That sort of observation is very useful."
Freeman's disapproval of the media's coverage in Baltimore adds to the growing list of public figures who have expressed similar sentiments, including comedian Larry Wilmore, who blasted Fox News for its "racial approach" in reporting last week's clash between police and protestors.
Read more of Morgan Freeman's Daily Beast interview here.

BEFORE YOU GO
PHOTO GALLERY
Baltimore Riots