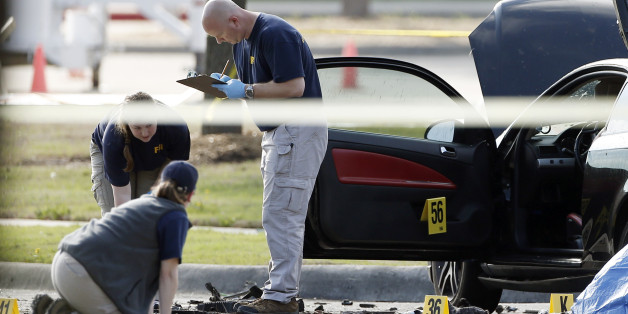 A day after two gunmen opened fire outside an event in Garland, Texas, authorities searched an apartment in Phoenix where at least one of the shooters lived to look for clues about what may have lead to the attack.
On Sunday evening, two men with assault rifles opened fire at the Curtis Culwell Center, where an event was taking place that offered a $10,000 prize for the best drawing of the Prophet Muhammad. Bruce Joiner, a security guard, was shot in the lower leg and suffered non-life-threatening injuries.
Various media outlets, including the Associated Press and The New York Times, cited anonymous federal law enforcement sources who identified one of the suspects as Elton Simpson, 39.
The Associated Press reported that Simpson has been on authorities' radar since at least 2006. He was the subject of a criminal investigation that year because of his association "with an individual whom the FBI believed was attempting to set up a terrorist cell in Arizona," a U.S. district judge wrote in her order convicting Simpson, according to the AP.
The Times and Washington Post identified the second gunman in the attack as Nadir Soofi. ABC reported Monday that John Iannarelli, the assistant special agent in charge at the FBI's Phoenix office, said Texas authorities had traced both shooters to the same Phoenix apartment and that the two may have been roommates.
The FBI searched the apartment on Monday, the Associated Press reported. FBI spokeswoman Katherine Chaumont told the AP that the bureau hoped the search would turn up clues about what sparked the attack. Chaumont said no other residences in Phoenix were searched.
According to the AP, Simpson was arrested in 2010, a day before he was scheduled to fly to South Africa. He was convicted in 2011 of lying to an FBI agent about whether he had discussed traveling to Somalia.
At a morning press conference on Monday, Garland Officer Joe Harn said the two men drove up to the event and started firing at police. An officer returned fire and killed both attackers, according to Harn.
"We were able to stop those men before they were able to penetrate the area and shoot anyone else," Harn said.
Police also searched the men's car but found no explosives or other weapons, according to Harn.
Texas Governor Greg Abbott said Monday that he has instructed state officials to investigate any potential ties between the shooters and terrorist groups.
Like Us On Facebook |

Follow Us On Twitter |

Contact The Author