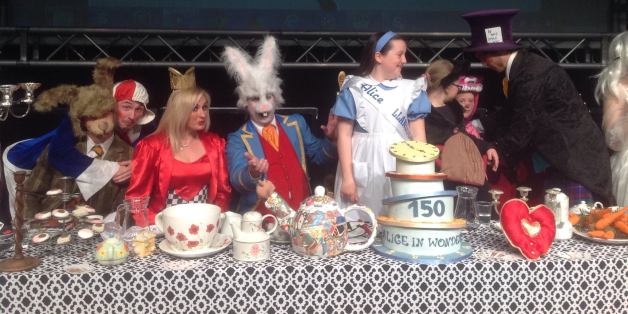 A Welsh village took a tumble down the rabbit hole last week, and returned with a delightfully sweet prize.
Llandudno, a seaside town in northern Wales, celebrated the 150th anniversary of the publication of Alice's Adventures in Wonderland on May 1 with an attempt to break the Guinness World Record for the longest line of jam tarts. And with 2,045 of the sugary little treats that extended approximately 442 feet, the town succeeded, and was crowned the queen of tarts.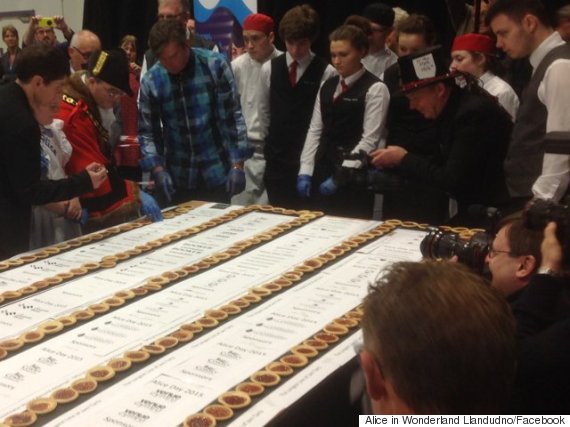 A group of catering students at Coleg Llandrillo in Llandudno were the bakers behind the celebratory operation. More than 121 pounds of flour went into the giant mix, Daily Post reports, with local businesses helping to provide some of the ingredients.
When the confections were complete, they were laid out in a continuous line -- all touching -- to meet World Record requirements. Once the operation was complete and approved, the tarts were promptly gobbled up.
"It is also required that the tarts are eaten," Alice LTD director and organizer of the record attempt, Simon Burrows, told The Huffington Post. "School children had to consume the jam tarts afterwards. We also donated leftover trays to local hospices."
Because of their prominent role in the story, jam tarts have been a popular dessert for the event. The record attempt took place at a celebration of the Alice in Wonderland story that takes place annually in the village.
BEFORE YOU GO
PHOTO GALLERY
Guinness World Records 2015