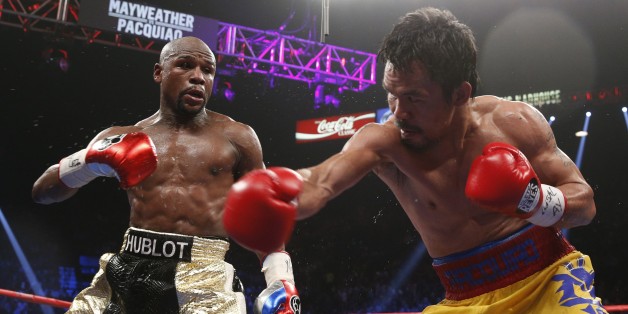 The Nevada State Athletic Commission is considering a suspension for one of the two boxers involved in Saturday's fight at the MGM grand in Las Vegas. But it isn't Floyd Mayweather, and it isn't because the man beat a woman in front of his own children.
The controversial governing body for Nevada boxing (and other types of unarmed combat) is reportedly considering a fine or suspension because Manny Pacquiao checked "no" in a box when asked on Friday whether he had a shoulder injury.
Pacquiao lost to Mayweather on Saturday, but said afterward that he had fought with a torn rotator cuff, a similar injury to the one that knocked Los Angeles Lakers superstar Kobe Bryant out for the season. People doled out serious money for the fight -- $100 for a pay-per-view viewing and thousands for an actual ticket to the event -- and the boxing commission is taking the issue seriously.
"We will gather all the facts and follow the circumstances," Francisco Aguilar, the commission's chairman, said Monday.
Of course, the seriousness with which the commission is taking the issue stands in stark contrast to its position on Mayweather, a man who has been accused of beating five women, found guilty of beating four and faced no repercussions from the boxing commission as a result.
The "Outside the Lines" segment on Mayweather. (Source: YouTube)
When recently asked about that lack of punishment by ESPN's "Outside the Lines," Pat Lundvall, one of the five members of the boxing commission, said that while she cares about the issue of domestic violence, she felt the commission did not need to punish Mayweather for his actions since he had served time in jail.
"Mr. Mayweather was punished by the criminal justice system. He served his punishment. He paid his debt to society," Lundval said at the time.
"You can suspend [boxing] licenses for somebody who is arrested for anything north of a traffic violation and you didn't do anything when a guy assaulted the mother of his children in front of his kids," ESPN's John Barr pushed back.
"I disagree with your characterization strongly … the criminal justice system had decided what this man's punishment was. A judge had made that decision and we paid respect to that decision," she said.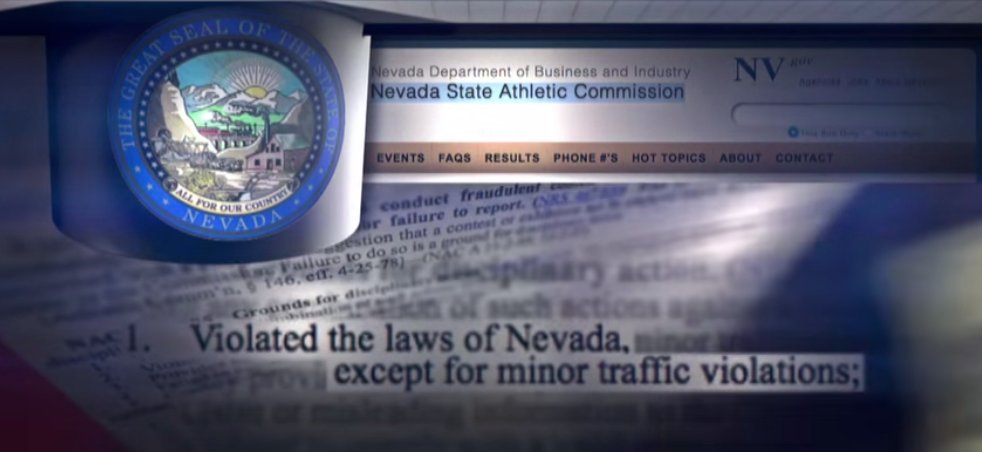 The commission's guidelines allow it to punish boxers for things much less serious than domestic violence. (Source: YouTube)
The commission has taken swift action for much less than failing to disclose an injury before -- and much, much less than beating a woman. In 2013, the commission fined former middleweight titlist Julio Cesar Chavez Jr. $900,000 and suspended him for nine months after he tested positive for marijuana. Eventually, the fine was reduced to $100,000.
"Our job is to protect the health and safety of fighters and the integrity of the sport," Aguilar said this week. "We expect our fighters to be forthright."