WASHINGTON, May 5 (Reuters) - President Barack Obama on Tuesday nominated Marine General Joseph Dunford as the next chairman of the Joint Chiefs of Staff, praising him as a leader who helped shape the changing role of U.S. troops in Afghanistan.
Obama urged the Senate to quickly confirm Dunford and his new pick for vice-chairman, Air Force General Paul Selva. He said he would rely on their advice on the fight against Islamic State militants, "rebalancing" U.S. military posture in the Asia Pacific region, and investing in cyber defenses.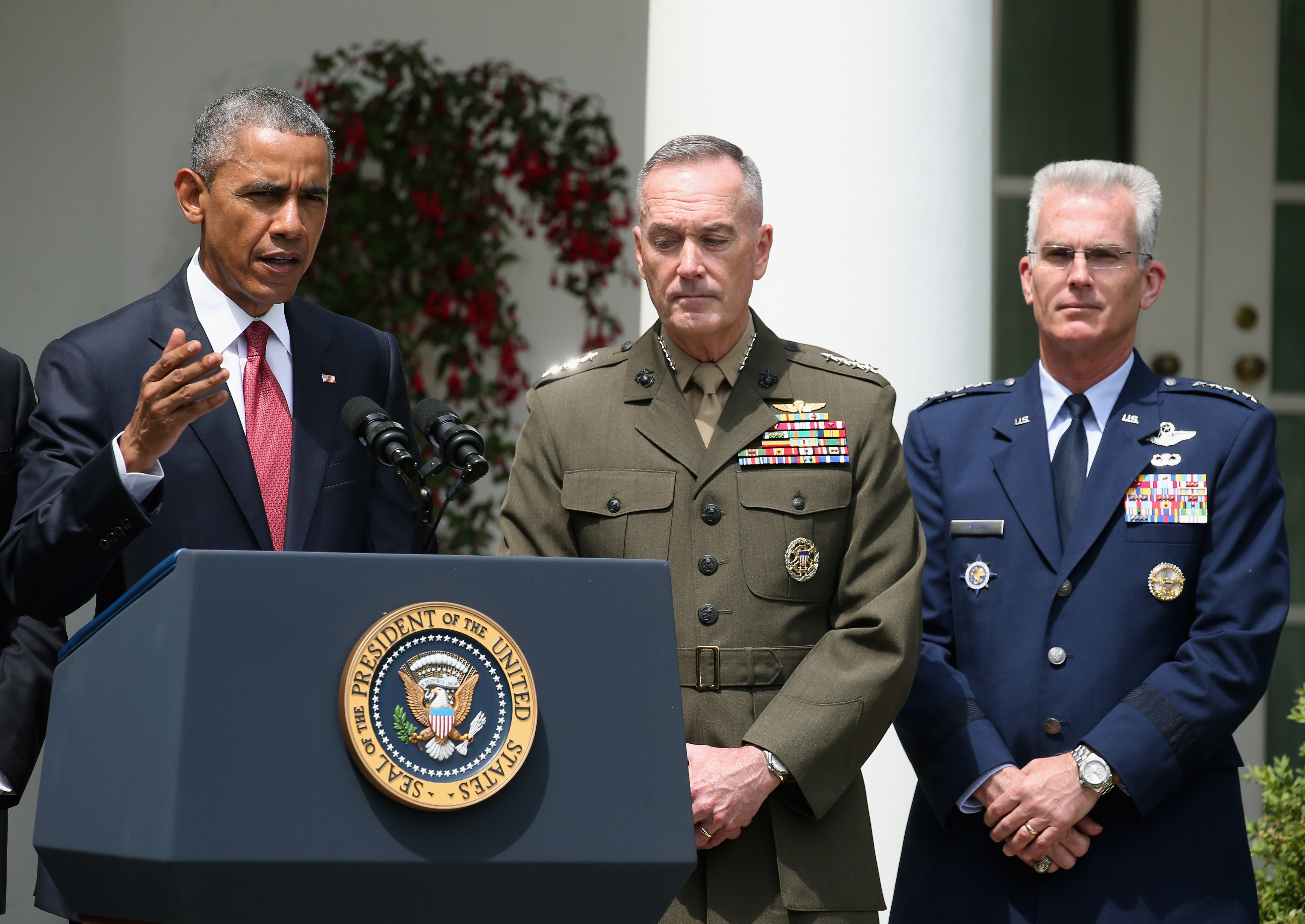 President Barack Obama nominates Marine Gen. Joseph Dunford Jr. (C) as the next chairman of the Joint Chiefs of Staff and U.S. Air Force Gen. Paul J. Selva (R) to be Vice Chairman, during an event in the Rose Garden at the White House May 5, 2015 in Washington. If confirmed by the U.S. Senate, Gen. Dunford will replace outgoing Chairman Gen. Martin Dempsey. (Photo by Mark Wilson/Getty Images)
"I know Joe. I trust him. He's already proven his ability to give me his unvarnished military advice based on his experience on the ground," Obama said, describing the general as "tireless."
"His staff has been known to carry around a voice recorder to keep up with his commands and new ideas," Obama said.
Dunford will replace Army General Martin Dempsey, who is expected to step down in September.
Obama said Selva, the commander of the U.S. Transportation Command, was military adviser to then-Secretary of State Hillary Clinton during the early years of his presidency.
"He's been committed to the partnerships that are a core principle of our national security strategy, whether it's supplying our joint force around the world in operations large and small, to supporting and keeping safe our diplomats and embassy personnel overseas," Obama said. (Reporting by Roberta Rampton; Editing by Grant McCool)