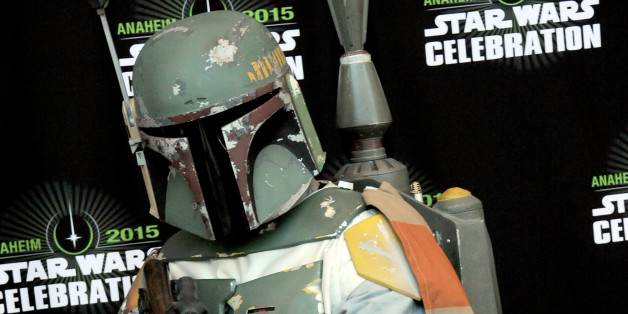 The Force has been strong with us this week. Adam Driver and Lupita Nyong'o's "Star Wars" characters were revealed and we got a look at Gwendoline Christie's "The Chrometrooper" and a slew of new photos from "The Force Awakens." But now we know more about one of those spinoffs.
The second "Star Wars" standalone film, which recently lost its director Josh Trank, will reportedly tell Boba Fett's origin story, according to The Wrap. Boba Fett, played by Jeremy Bulloch in "The Empire Strikes Back" and "Return of the Jedi," is the infamous bounty hunter who was hired by Darth Vader and captured Han Solo. Fett's return in the new standalone films has been in the rumor mill for quite some time, as The Wrap first reported that a new script involved the character's family.
The untitled second spinoff is expected to hit theaters in a galaxy far far away in 2018. Disney did not immediately respond to The Huffington Post's request for comment. In the mean time, we still have the first spinoff, Gareth Edwards' "Star Wars: Rogue One" to look forward to.
For more, head to The Wrap.
BEFORE YOU GO
PHOTO GALLERY
A Complete Ranking Of 'Star Wars' Characters