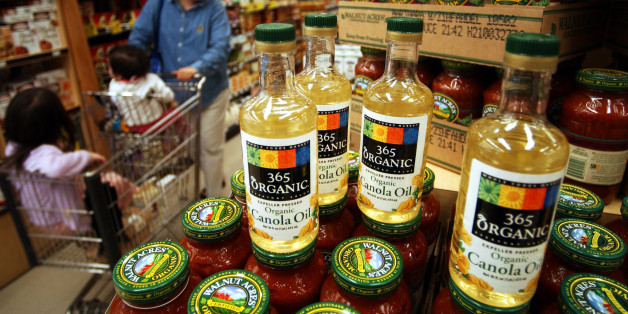 Organic food is one of America's great growth industries: sales are skyrocketing, increasing by double-digit percentage terms year after year as consumers embrace healthier, more environmentally conscious lifestyles. Nearly $40 billion's worth of organic food was sold across the country last year.
One key factor behind the explosion of organic produce has been the implementation, in 2002, of the National Organic Program that lays out uniform standards for the foods that can be labeled as USDA-certified organic. But the person in charge of that program, Miles McAvoy, seems not to be totally on board with the idea that buying organic is all that important, at least for human health.
In an interview with the Washington Post, McAvoy refused to affirm that organic foods offer any specific health benefits to those who consume them. Asked whether consumers are right to think that "the food is healthier and safer than conventional," he dodged the question.
"I am not going to be able to respond to that," McAvoy told the Post reporter. "It's just not ... We are a regulatory program that regulates the organic label, to ensure that anything that has that label meets the requirements."
McAvoy later clarified, in an email to the same reporter, that he doesn't see the specific merits of organic agriculture as relevant to his job as a certifier of the label.
"I can say that organic farmers and producers provide consumers additional food options," McAvoy wrote. "The National Organic Program supports the continued growth of the organic community by developing clear standards, enforcing a level playing-field, and expanding trade opportunities to create new markets for U.S. organic businesses."
To some extent, McAvoy's equivocation may be a symptom of the larger confusion surround the USDA's dual mandate to be both a watchdog and a cheerleader for American agriculture. Even if McAvoy agreed completely that organic foods were healthier eating then conventional foods, he might be reluctant to say so for fear of criticizing the practices of the majority of American farms.
It is also possible that McAvoy is genuinely critical of the notion that organic food, which is grown or raised without the use of synthetic chemicals, is healthier than conventional food. Some major studies of organic food have cast aspersions on the health benefits of organic food. And even diehard supporters of organic agriculture have been known to argue that it's more important for the environment than it is for health.
On the other hand, there's ample evidence that the ingestion of synthetic pesticides can lead to health problems in humans, and some studies have shown that organic produce is higher in cancer-fighting antioxidants than conventional produce. And if McAvoy's statement is a gaffe -- well, it wouldn't be the first time the USDA, or even the National Organic Program, has been linked to one.
BEFORE YOU GO
PHOTO GALLERY
EWG's 2015 List Of The 'Dirty Dozen' Types Of Produce With The Most Pesticides