As journalists, we dutifully report on what's going wrong, from scandals and corruption to natural disasters and social problems. But far too often the media fails to show the whole picture, neglecting to tell the stories of what is working. From scientific breakthroughs to successful crime-reduction initiatives, the What's Working Honor Roll highlights some of the best reporting and analysis, from a range of media outlets, on all the ways people are working toward solutions to some of our greatest challenges.
Good News Network: Art Therapy Helps Children in Nepal Cope After Earthquake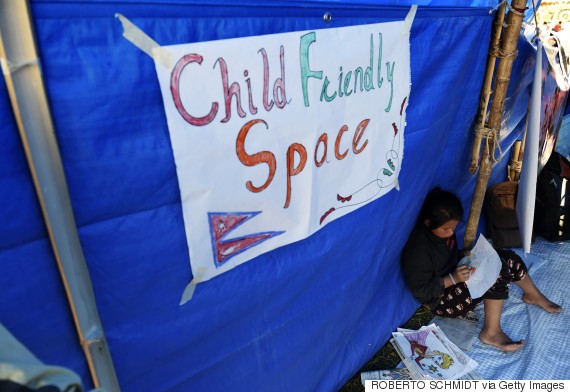 While the people of Nepal struggle to rebuild after last month's magnitude-7.8 earthquake, one thing is helping the country's children find some measure of calm: art.
"Over the years, art therapy has been used in disaster relief as a highly feasible means of reaching out to traumatized children and victims of natural catastrophes and war," Good News Network's Bibbi Abruzzini wrote. "Children put on paper the unspeakable – their fears, their emotions, their mourning. The creative process allows them to reveal their suffering, thereby relieving themselves of their psycho-emotional burden."
There are currently some 1.7 million children living in areas affected by the earthquake, and research shows that such natural disasters can lead to increased risks of mental health issues in young people. Organizations and volunteers are coming together to deliver art supplies to Nepal, provide teacher guidance and build creative spaces for children to not only express themselves, but also have some fun.
"We know that our role is going to be so vital over the next several years helping children cope with the disaster," said Sneha Shrestha, founder of Nepal's Children's Art Museum.
MORE:
California Magazine: The Prof and the Cons: How He Lost His Faith in Journalism—and Reclaimed it Behind Bars
Solutions Journalism Network: Women's Education Rises Faster Than Global Average In Botswana, Indonesia
Womens enews: In Detroit Hospital, Black Babies Are Latching On
Citiscope: How Adelaide revitalized itself through 'placemaking'
If you know a story you think should be on our Honor Roll, please send an email to our editor Catherine Taibi via catherine.taibi@huffingtonpost.com with the subject line "WHAT'S WORKING."