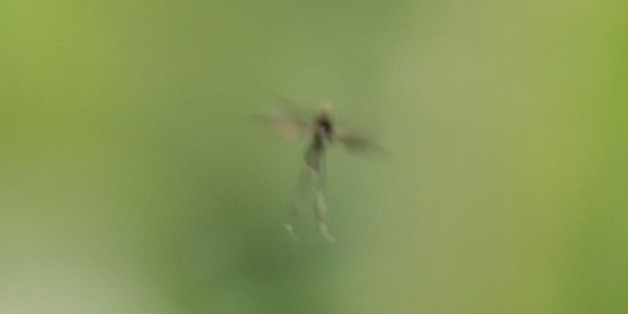 Is this a flight of fancy or just a fly out of focus?
Photographer Lisa Wildgoose says she wants to believe that this photo she recently took shows a real-life fairy, even if she knows better.
The mother of two, who works as a photographer based in Northampton, England, wrote in a Facebook post that she was baffled when she discovered she'd taken a photo of what looks like a small winged creature hovering in front of a flower in the woods on May 3.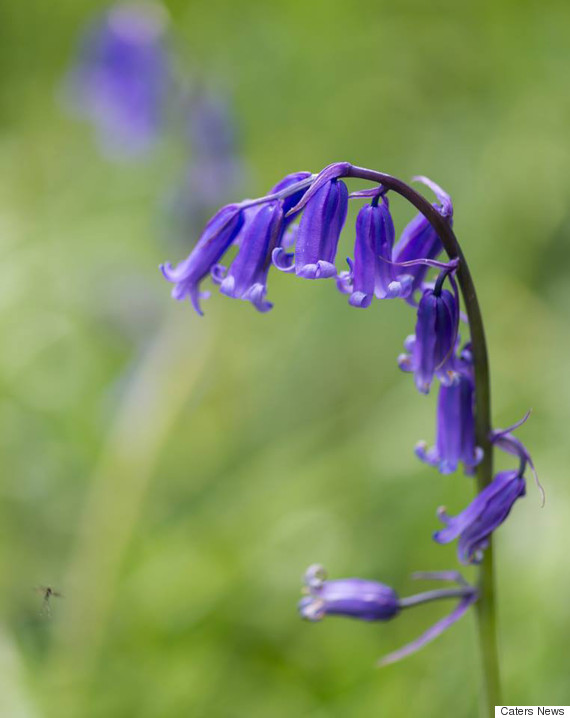 "When I got home I put the [photos] into Lightroom and was flicking through when I found this. I have a few different shots of this bluebell, but on this one there is a UFO. The girls and I think it looks suspiciously like a fairy," she wrote. "Can anyone identify what insect this may be before I think I've really lost the plot?"
Wildgoose told the Daily Mail that she thinks the creature in the photo looks like Tinkerbell. She recalled getting very excited when she saw the photo, because she's believed in fairies since she was a girl. Wildgoose told the outlet that the mysterious picture has also brought out the kid in some of her neighbors.
"I would love it [to] be a real-life fairy ... All the moms at the school have said it is a fairy. I think everyone just likes to believe in that bit of magic that reminds them of being a child," she said. "It certainly made my day capturing the image."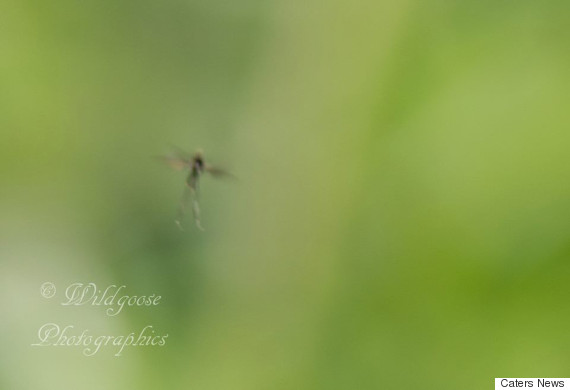 In an email to The Huffington Post, Wildgoose said that she edited the photo for brightness and contrast, but that the photo wasn't otherwise doctored.
"The image is true to what you see. It hasn't been digitally altered to make it resemble something else," she wrote.
Wildgoose's photo bears some resemblance to the so-called "Rossendale Fairies," a series of photos of small winged creatures captured by a photographer in Lancashire, England, in 2014. Those photos were taken by John Hyatt, who lectures on art research at Manchester Metropolitan University. In an email to The Huffington Post last year, he said that the photos weren't retouched other than being enlarged.
"It was a bit of a shock when I blew them up. I did a double take," Hyatt told the Manchester Evening News at the time. "I went out afterwards and took pictures of flies and gnats and they just don't look the same."
Hyatt never explicitly claimed that his photos were of fairies. One insect researcher said that the creatures were most likely small flies called midges.
"These tiny midges form mating swarms where the males will 'dance' around trying to attract the opposite sex," Entomologist Erica McLaughlin wrote in the British Natural History Museum's NaturePlus blog. "They have delicate wings and long legs which dangle down."
Although Wildgoose asked people on Facebook to help her identify what she called an "insect," she also noted that the blurry photo has some very unique characteristics.
"This thing actually looks like it has blond hair ... a jacket, trousers and little shoes," she wrote.
Like Us On Facebook |

Follow Us On Twitter |

Contact The Author
BEFORE YOU GO
PHOTO GALLERY
Cryptozoology