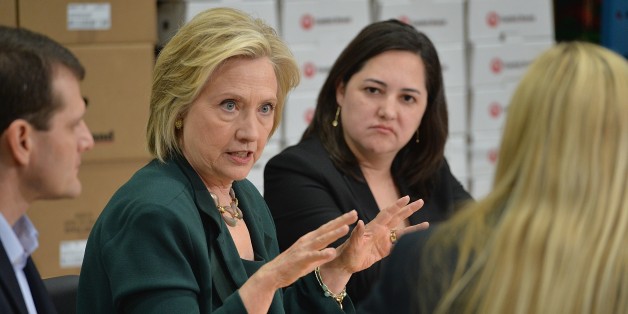 You've got a nasty head cold, or maybe your kid is home with the flu. If you're a waitress and you call in sick, should the law forbid your employer from withholding your day's wages?
A big debate over that question is taking place in Pennsylvania, pitting conservative state lawmakers in Harrisburg against liberal city officials in Philadelphia. It's the latest in a series of such clashes that have taken place across the country. Underscoring the high stakes of the outcome, the battle is also drawing attention from high-profile Democrats, including Hillary Clinton, in what could be the early stages of an argument that will play out during the 2016 presidential campaign.
Earlier this year, Philadelphia enacted an ordinance that will allow employees to earn up to five full days of paid sick time per year. Under its terms, employees can claim the days for their own illnesses or for those of direct family members, or they can use the days to deal with domestic violence incidents. The law goes into effect next week. Once it does, workers begin accruing paid sick time -- one hour for every 40 that they work -- as soon as they've been on the job for at least three months.

The law doesn't apply to seasonal employees or interns, or to companies where workers have unions. Companies with fewer than 10 employees must provide the time off, but not salary. Even so, as many as 200,000 Philadelphians who didn't have paid sick days before will now get them, according to the law's supporters. When Mayor Michael Nutter signed the measure in February, after vetoing two previous ones, these advocates were ecstatic.
"It's a great day for all of our workers and all of our businesses," said Marianne Bellesorte, an official with Pathways PA, a nonprofit service and advocacy group that works on issues for women, children and families.

But city officials may not have the last word on the matter. As far back as 2013, when Nutter was still blocking the ordinance, conservative lawmakers in the state were talking about passing a law that would invalidate local sick day laws altogether. The clear target of that effort was Philadelphia, since it was the only city considering such a measure and, because of a quirk in the state's constitution, it may be the only city that has the legal authority to do so.
"I think we have an inherent problem with government trying to tell private business what they should do with their employees," John Eichelberger, a Republican state senator, told The Huffington Post in an interview last year. Eichelberger co-sponsored a preemption bill that the Senate passed last month; a similar measure is now before the state's House of Representatives. Tom Wolf, the newly elected Democratic governor, has promised to veto such legislation -- and that's where things stand now. It's not clear whether Republican leaders in the legislature could muster the votes to override him.
A Familiar Fight With Familiar Faces
This isn't the first time conservatives have tried to leverage their superior numbers in state government to block or undermine paid sick days legislation in big cities, where liberals typically hold large majorities. Using a legislative template supplied by the conservative American Legislative Exchange Council (ALEC) and working closely with employers who oppose paid sick days mandates, conservatives have tried to enact preemption laws in more than a dozen other states. In Arizona, Georgia and nine other states, they have prevailed.

Infographic by Alissa Scheller for The Huffington Post.
Perhaps the most highly publicized fight took place in Florida starting in 2012, after organizers in Orange County obtained the 50,000 signatures necessary to put paid sick leave up for a countywide vote. They faced stiff opposition from local employers, including Disney and Red Lobster, as well as from the county commission, whose members refused to put the measure on the ballot.
Although a judge eventually forced the commissioners to back down, the delay gave the Republican-controlled state legislature a chance to pass a preemption law -- which it did in April 2013. The delay was apparently the plan all along: In a text message later made public through state disclosure laws and reported in the Orlando Sentinel, the head of the Orange County Republican Party had urged county commissioners to find some way of slowing the local initiative's progress, so that state lawmakers could deliver their "kill shot" first.
The Central Florida debate put the human impact of paid sick time into sharp relief, since so many people work low-paying jobs in or at least tied to the big theme parks there. Nationally, more than 40 million Americans -- or roughly four out of every 10 private-sector workers -- have no paid sick days, according to the U.S. Bureau of Labor Statistics. But it's people working in those low-paying hotel and restaurant jobs who by far have the least access to paid sick days.
That's rough on them, because they are the ones who can least afford to go without a day's pay. But it also has consequences for customers, who end up using the facilities and eating the meals these people are cleaning and preparing -- even while they may have contagious illnesses. In one survey sponsored by supporters of sick day legislation, more than 60 percent of cooks and waiters reported serving food while sick.



Infographic by Alissa Scheller for The Huffington Post.
If the restaurant and hospitality industries are worried about this prospect, they haven't shown it. In Pennsylvania, Florida and pretty much every other part of the country where this debate has come up, these two industries have led the charge against paid sick days laws. Along with their conservative allies, they've made their case primarily on economic grounds, arguing that paid sick days are too costly -- and too burdensome -- for many employers to administer.
The result of paid sick day requirements, business lobbyists and their conservative allies insist, will inevitably be some combination of higher prices and fewer jobs. Before New York City enacted its paid sick days law last year, opponents warned it would be a "de facto half-billion-dollar tax on small business."
Proving or disproving such claims is difficult because most of the available evidence on the economic impact of paid sick days consists of employer or employee surveys, which are frequently unreliable. But while there are certainly some for whom paid sick days create real problems, there's no sign of serious damage to business in cities like San Francisco, which has had a law requiring paid sick days in place for several years.
The evidence on the benefits of paid sick days laws is a bit clearer. One peer-reviewed study, published in the American Journal of Public Health, has shown that people with access to paid sick days are less likely to suffer on-the-job injuries -- perhaps because with prompt medical attention, nagging medical problems don't get worse. A 2012 study from the same journal found that during the H1N1 crisis of 2009, workers without paid sick days were more likely to go to work while feeling flu-like systems, exposing co-workers to whatever illnesses they had.
In 2014, the U.S. Centers for Disease Control and Prevention released a report on the sources of foodborne norovirus outbreaks -- and found that contamination from infected restaurant workers was a major cause.
Aron Hall, the study's lead author and director of viral diseases at the CDC, said, "Some food service workers understandably fear losing their job and also leaving co-workers short staffed if they don't go to work when they're sick. That's why it's so important that businesses consider using measures that encourage workers to stay home when they're sick. That includes paid sick leave and a staffing plan that includes on-call workers."
Coming Soon To The Presidential Campaign

Whatever the policy reality -- and whatever the outcome of the political fight in Pennsylvania, which will likely drag on for at least a few weeks while the House considers legislation -- the issue of paid sick days is unlikely to fade away soon. In November, Massachusetts voters approved a ballot initiative guaranteeing most workers paid sick leave, making it the third state -- after California and Connecticut -- to do so. Vermont may be next, since the state House just passed a bill and its Democratic governor, Peter Shumlin, has said he supports the measure.
Those are all liberal states. But, in Washington, D.C., President Barack Obama has called for a national paid sick days law that would cover all states. Last month, Sen. Patty Murray (D-Wash.) introduced a budget amendment designed to test support for the concept. It got 61 votes.
Murray's proposal wasn't an actual piece of legislation. A more detailed bill that made the costs and benefits explicit probably couldn't get through the Senate, let alone the (even more conservative) House. But paid sick days are likely to generate more discussion in the coming months -- maybe even in response to the Pennsylvania debate.
When Nutter signed that measure in his state, Hillary Clinton, the front-runner for the Democratic nomination, hailed it as an achievement. On Monday, campaign spokesman Josh Schwerin told HuffPost that Clinton was "disappointed to learn of the effort to overturn this hard-fought victory." Valerie Jarrett, senior adviser to President Obama, has also spoken out against the Pennsylvania preemption effort -- calling it "dreadful."
Clinton has hinted during the campaign that she will support a national paid sick days law, similar to what Obama has proposed. Sen. Bernie Sanders (I-Vt.), who is Clinton's lone declared Democratic rival, has already co-sponsored such a bill in the Senate. As for the Republicans, the three presidential candidates who had a chance to vote on Murray's amendment -- Ted Cruz, Rand Paul and Marco Rubio -- all voted no. Representatives of the campaign for Jeb Bush, the former Florida governor, did not respond to questions about paid sick days laws.
That leaves Wisconsin Gov. Scott Walker, who hasn't taken a public position on either Philadelphia's ordinance or a national proposal. But Walker has a history on the issue of paid sick days, and it's from an episode that looks a lot like the fight in Pennsylvania.
The very first statewide effort to preempt a local paid sick days law took place in Wisconsin in 2011, in response to an ordinance that voters in Milwaukee approved. Walker signed that law, saying "patchwork government mandates stifle job creation and economic opportunity." When asked to offer more detail on why he signed that bill -- or what he thought of the fight in Pennsylvania -- his press secretary, Laurel Patrick, said that Walker wanted "to ensure Wisconsin has a statewide standard for family and medical leave. This provides clarity and certainty for businesses operating across the state."
Of course, a national law guaranteeing paid sick days would eliminate the problem of "patchwork" regulations and provide the "clarity" that Walker and other opponents of local ordinances say they want. But it's possible that these conservatives will raise a more fundamental problem with legal requirements to provide paid sick days: They may oppose such laws on principle, no matter where the statutes apply. The 2016 campaign should help settle that question, maybe sooner rather than later.
BEFORE YOU GO
PHOTO GALLERY
Potential 2016 Presidential Contenders