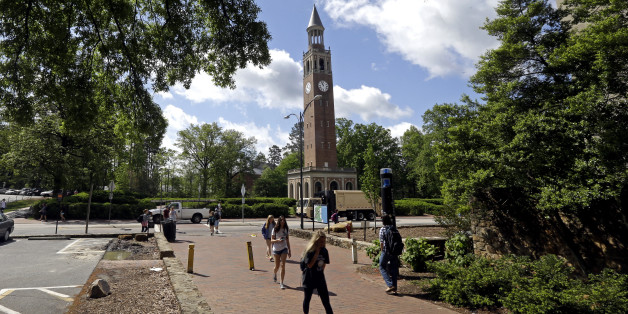 America's college students have become less religious, more stressed and overwhelmingly in favor of marriage equality over the past decade. Campus life has grown more complicated, with soaring complaints of sexual violence and students so captivated by social media that they're hanging out less with friends. And, with many students now burdened by a lifetime of student loan payments, graduation no longer provides a tidy passage from school to career.
For The Huffington Post's 10th birthday, we looked at how life for college students has changed over the past decade, digging deeper than last year's look at how pop culture has changed on campus since 2005. Here are some of the big developments:
College Students Are Less Religious
UCLA's massive annual Cooperative Institutional Research Program survey shows a growing number of students have no religious preference -- a trend that extends to religious schools. The survey typically includes responses from about 150,000 first-time, full-time students at more than 200 colleges and universities.
The number of freshmen who select "none" for their religious preference increased to about one in four in 2014, from about one in six in 2005. At the same time, the proportion of students at Catholic colleges not identifying with any religion rose to 14.9 percent in 2014 from 10.6 percent a decade earlier, the survey showed. At other religious colleges, the number nearly doubled, to 17.4 percent.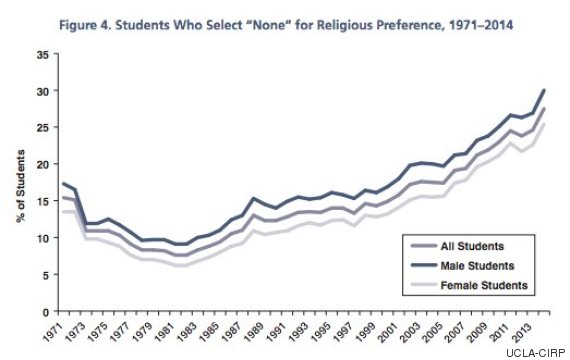 Students Are More Stressed, Depressed And Alone
The proportion of freshmen saying they "occasionally or frequently feel overwhelmed" by all they had to do jumped to 34 percent last year, from 24 percent in 2005. Only half of last year's freshmen consider themselves "above average or better" in emotional health, continuing a skid from 63 percent in 1985 and 54 percent in 2005.
Denise Hayes, president of the Association for University and College Counseling Center Directors in 2011, theorized at the time that the declining emotional health was connected to financial pressures.
"College tuition is higher, so they feel the pressure to give their parents their money's worth in terms of their academic performance," Hayes said then. "There's also a notion, and I think it's probably true, that the better their grades are, the better chance they have at finding a job."
Kevin Eagan, director of the UCLA program, told HuffPost this year that he sees a link between declining emotional health and time students' spend socializing. Students are more stressed, Eagan said, "because they're not allowing themselves to find the release from all of the stress." The proportion of students who said in the UCLA survey that they spent 16 or more hours a week socializing with friends dropped by nearly half, to 18 percent in 2014.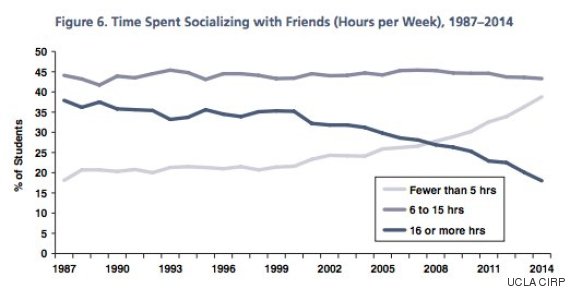 Schools Are Finally Offering Drug Treatment
Colleges have greatly expanded their approach to drug addicts on campus. The number of on-campus drug recovery programs has grown from 10 a decade ago to 135 in 2015, according to the nonprofit Transforming Youth Recovery. The vast majority started in the past five years.
These collegiate recovery initiatives are designed to support students who have sobered up and are looking for a support community. Transforming Youth Recovery said that by June 2014, it had "provided toolkits, assistance and $590,000 in seed grants to 59 colleges and universities striving to find and mobilize collegiate recovery assets that already exist."
Colleges Are Now Forced To Address Sexual Violence On Campus
The number of complaints alleging colleges and universities mishandled sexual violence on campus has soared since 2013, following a wave of student activism and increasing attention from federal officials. The Education Department's Office for Civil Rights has opened a record 120 investigations into 110 colleges, as of May 7, 2015 -- up from 55 schools under review a year earlier. A decade ago, sexual assault was obviously happening on campus, but there was virtually no national conversation about it.
An Education Department official said its Office of Civil Rights did not identify sexual violence as "a distinct subset of sexual harassment cases in its database until FY 2009," when the Obama administration took charge. Education Department data shows the annual number of complaints to the Office of Civil Rights nearly doubled to 9,989 in 2014 from 5,533 in 2005. The office received 854 complaints of sexual violence, harassment and gender discrimination in 2013 and 2014.
"I hope we will look back at these days as the bad old days, where our kids were too regularly raped, and when sexual violence was too much a part of the coming-of-age experience," Catherine Lhamon, assistant secretary for civil rights at the Education Department, told The Huffington Post in an interview. "I'd like very much for my two daughters, who will be in college in 10 years, to be able to focus on the life of the mind, as distinct from the life of the body."
With the growing number of allegations that colleges failed rape victims, accused students are fighting back with lawsuits, claiming they were falsely accused or denied due process. At least two Office of Civil Rights investigations have been prompted by grievances from students accused of sexual violence.
"We have to said to schools in our guidance that all students involved needed to be treated fairly -- that means respondents as well as accusers," Lhamon told HuffPost, adding, "I hope very much that no one glosses over that. It's very important."
Some students say schools still too often punish offenders with a wrist slap, or allow them to transfer to a different college. Activists said they hope that as the country pays more attention to campus sexual assault, reforms will hold schools accountable and improve the criminal justice system.
College Enrollment Swings With The Labor Market
The raw number of college students enrolled each year has continued to increase, but the percentage of high school graduates going straight into higher education has not.
The percentage of high school graduates moving immediately to college has mostly hovered between 61 percent and 69 percent since 1993. The number has slumped in recent years, and some experts suspect that may be due to an improving labor market.
Latino and Hispanic students have made the biggest increases in the proportion of students enrolled in higher education, increasing to 2.9 million in 2012 from 1.8 million in 2005, according to the latest figures from the U.S. Department of Education.
The portion of students who say getting a better job was an important reason for college jumped to 86 percent in 2014 from 72 percent in 2005, according to the UCLA survey. This response had been mostly stable for decades, but rose significantly after the Great Recession began.
The Debate Over Whether College Is Still Worth It
Over the past decade, mounting student debt and a tough economy have fueled conversations about whether college is worth it.
Billionaire investor Peter Thiel started the Thiel Fellowship program, which provides thousands to students younger than 20 to drop out of school and pursue an entrepreneurship venture. Governors -- especially Republicans -- have been pushing schools to show graduates are career-ready, or to do more to push students away from liberal arts degrees that don't promise high salaries. President Barack Obama weighed into the debate in 2014, noting that "folks can make a lot more potentially with skilled manufacturing or the trades than they might with an art history degree. … You can make a really good living and have a great career without getting a four-year college education."
However, the data on earning potential still says going to college is almost always worth it over the long term.
Struggling Borrowers
A growing number of graduates with student loans feel they have no other option than to go on strike against making their loan payments.
In 2005, Congress narrowly approved a financial services reform package that made it nearly impossible to discharge private student loans in bankruptcy. Federal student loans can't be cleared by bankruptcy under a 1976 law. What's more, nothing caps monthly payments on student debt.
As student loan debt now tops $1.2 trillion nationally, up from less than $400 billion in 2005, borrowers still can't refinance their loans to make repayment easier. And with the recent collapse of the large for-profit chain Corinthian Colleges resulting in thousands of students with debt to pay but no school to attend, the pressure is mounting for the government to intervene.
Changes In College Textbooks, For Worse And For Better
The cost of college textbooks has skyrocketed almost as fast as tuition, according to the Government Accountability Office. Textbook prices soared 82 percent in the decade that ended in 2012, roughly three times the rate of inflation, GAO said.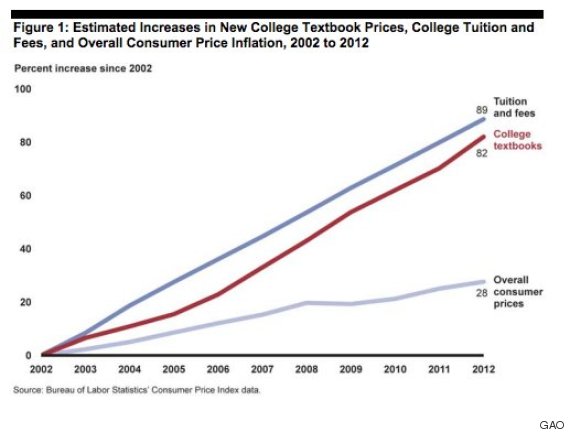 Student Public Interest Research Groups are pushing back, advocating open-source electronic textbooks they say could save students hundreds of dollars per semester. Electronic versions have already been adopted by more than 3,000 faculty nationwide, according to the Student PIRGs. Electronic textbooks could save students $1.42 billion each year.
Open-source textbooks cut the need for glossy print editions and can erase big publishing houses from the picture. The cost to produce them is far less, and updates can be made when needed. Essentially, it's like switching from printed encyclopedia collections to Wikipedia.
Pilot programs at some large universities have showed that converting classes to "open educational resources" can yield tremendous savings for students. One program at UMass-Amherst that cost $60,000 saved an estimated $851,530 for students. Another at Kansas State University that cost $96,250 up front resulted in $1.11 million in student savings.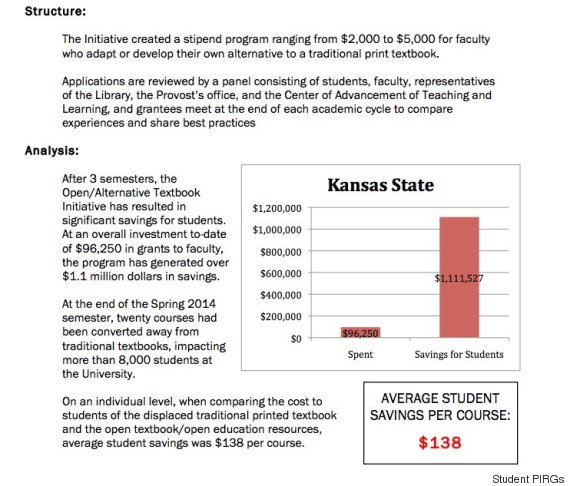 Gay Marriage, Global Warming Are Settled Issues
Only "far right" students still believe same-sex marriage should be illegal, according to UCLA's survey. But even among that group, 44.3 percent either "agreed somewhat" or "agreed strongly" in marriage equality. Eighty-four percent of "middle-of-the-road" and 93.9 percent of "liberal" students believe in same-sex marriage rights.
"There are so few students in that far right group that they're not having a huge effect on the overall number -- it's largely not even an issue for today's college students," Eagan said. He predicted the survey will stop asking that question soon because students have become so overwhelmingly supportive of LGBT marriage rights.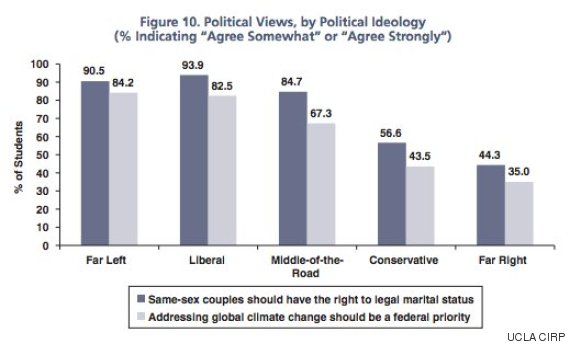 A similar trend plays out for global warming. A majority of college students think it's an important issue the federal government should address, but not to the same extent as same-sex marriage.