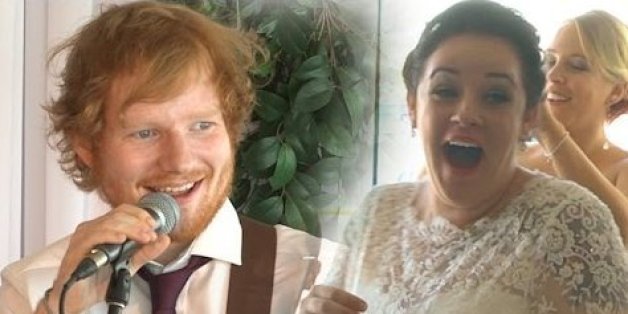 At this point, it's fair to say that Ed Sheeran and romantic gestures go hand-in-hand.
The singer-songwriter has been involved in quite a few of his fans' marriage proposals, wedding plans and other acts of sweetness. Not to mention that his song "Thinking Out Loud" is unofficially the first dance song of the year (and most likely the next several years to come). Below are five times Sheeran proved he is and will forever be the red-haired king of romance.
1. On Wednesday when he helped this man propose onstage in Austin (and got a little teary-eyed doing so):
proposal tonight in austin, i might've welled up, but don't say anything - https://t.co/3fGty49rNX

— Ed Sheeran (@edsheeran) May 7, 2015
2. And when he congratulated four couples on their engagements after they proposed during his song "Give Me Love" at a London concert. Then he invited all 18,000 concertgoers to their weddings. Thanks, Ed.
Turns out, there were actually five proposals that night -- another man popped the question during his song "Tenerife Sea."
Soooo cute watching @edsheeran and a couple behind me get engaged... Listening to Ed singing Tenerife Sea 💚

— Alexandra O'Connor (@alexoconnorx) October 13, 2014
3. When he surprised a struggling bride and groom at their wedding with a tear-jerking performance of "Thinking Out Loud":
4. When he made an appearance (and several baby-making jokes) in session drummer Jim MacAulay's proposal video:
5. And last but not least, when he sent a sweet congratulatory wedding message to a terminally ill fan. Of course, he joked about sex again because that's just the kind of guy he is:
Oh, Ed. We love you.
via
The Odyssey
Keep in touch! Check out HuffPost Weddings on Facebook, Twitter and Pinterest. Sign up for our newsletter here.
BEFORE YOU GO
PHOTO GALLERY
Ed Sheeran's 11 Most Lovable Moments