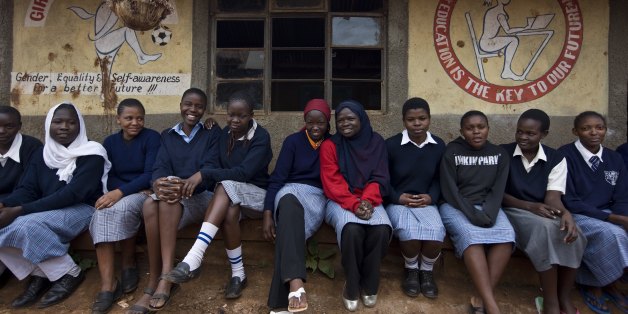 In cooperation with our longstanding partner Crowdrise, The Huffington Post is celebrating its 10 year anniversary by focusing on the promise of the next 10 years. We're highlighting causes that are near and dear to our ethos -- causes where we believe meaningful progress can be made in the coming decade -- and empowering readers to act and take part. Join us!
Any serious conversation about combating global poverty must also be a conversation about empowering women.
Consider the following:
Thankfully, creative problem solvers are chipping away at the structures that keep women in poverty. And from family planning to labor force participation, they're employing one common strategy: education.
In 2014, a report from the United Nations Development Programme found that educating women -- especially women with children -- is key to creating a more equitable world.
Several organizations are already operating on that principle.
Days For Girls International's #GearUpForGirls campaign, for example, focuses on young women during the delicate phase of puberty. For many, a lack of basic feminine hygiene products means attending school is out of the question. Days For Girls International addresses this problem by providing washable cloth pads to thousands.
In Ethiopia, where 57 percent of girls and young women are illiterate, a nongovernmental organization called Girl Up has built female-only bathrooms to make schools safer by reducing gender violence.
The Women's Global Empowerment Fund launched a program to boost literacy rates among Ugandan women, so they can read and pass national exams.
And from Haiti to Tanzania, PCI Global is providing entrepreneurial training to help women start their own businesses and better manage their finances.
Learn more about organizations helping women around the world below.
<!— Start Widget Code —>
| | | |
| --- | --- | --- |
| | | |
| | Supporting the causes that will shape the next decade | |
| | | |
| | | |
<!— End Widget Code —>