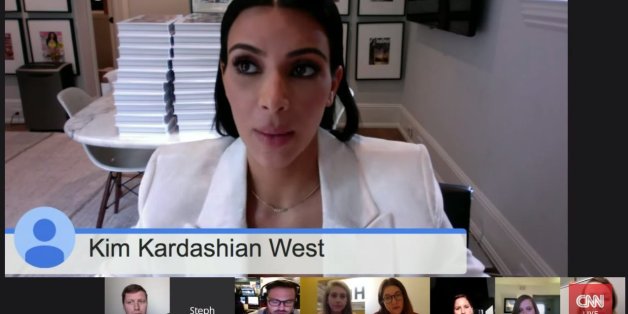 Somehow, over the last eight years, between all the bandage dresses, the endless selfies and tabloid covers, the Kardashians have become proponents of social change.
In his recent "20/20" interview where he came out as transgender, the Kardashian sisters' stepfather, Bruce Jenner, told Diane Saywer, "We're going to change the world. I really firmly believe that we're going to make a difference in the world." And the thing is, they really just might.
Next week, "Keeping Up with the Kardashians" will air a two-part special revealing the intimate conversations that Jenner had with his family, in which they discussed his transition. While the Kardashians live their entire lives in front of the camera for financial gain, this time it feels less promotional.
"It was important for him to capture these moments so that people can understand," Kim Kardashian explained to E! News at a signing for her new selfie book on Tuesday. "I think people will learn a lot and understand it's okay to have every emotion. We just filmed it to help other families going through what we're going through."
Similarly, while Kardashian's selfie book may be called Selfish, these days, she's actually pursuing more selfless endeavors.
On Wednesday, the 34-year-old participated in a Google hangout, where she chatted with fans about why she's become passionate about mental health issues, two days after "#RedFlag," the documentary she produced about mental health in the social-media age aired on HLN.
"For me, I have experienced so many friends who have suffered from depression and other mental illnesses. And because I've never experienced it, I don't understand it. I wanted to really inform myself because it's not just something that you can snap out of," she explained during her nearly 14-minute hangout.
"I just started to see too many people around me suffer, and I couldn't give them advice for where they should go to get help," she said. "And so I wanted to really inform myself and try to help inform other people and bring awareness to [the issue]."
Kardashian also noted that there's still a stigma surrounding mental illness, which is something she wants to use her massive platform to end.
"It's something that I feel is a little bit taboo," she said. "I also think it's hard for people to admit they have a mental illness and I want them to know it's okay. And there is help available."
Note: Considering that Jenner has identified as, "for all intents and purposes, a woman," but has not yet indicated that he would like to be known by a new name or female pronouns, this story uses male pronouns.
BEFORE YOU GO
PHOTO GALLERY
The Kardashians