Standing behind the pulpit of St. James Roman Catholic Church in Seaford, New York, on Friday, New York City Police Commissioner William Bratton choked back tears.
"I posthumously promote police officer Brian Moore to detective first grade, New York City Police Department," Bratton said, causing mourners to burst into applause. Several thousand people, many of them police officers, gathered in and around the church to pay their respects.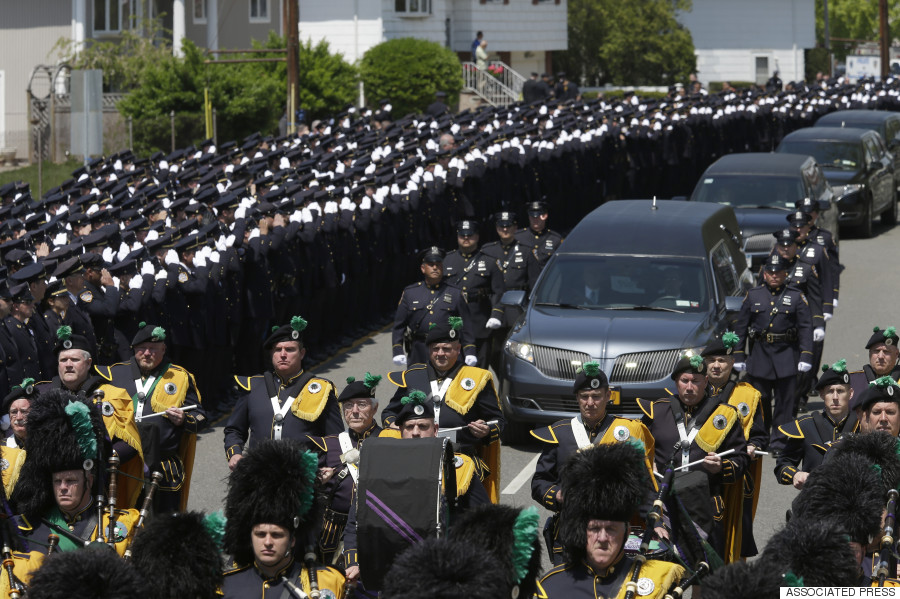 Police officers salute as the procession for police officer Brian Moore passes after his funeral mass. (AP Photo/Mary Altaffer)
Tens of thousands of police officers are paying their respects to fallen NYPD cop #BrianMoore http://t.co/cM9wpu4pQG pic.twitter.com/MoeMuo4pwA

— New York City Alerts (@NYCityAlerts) May 8, 2015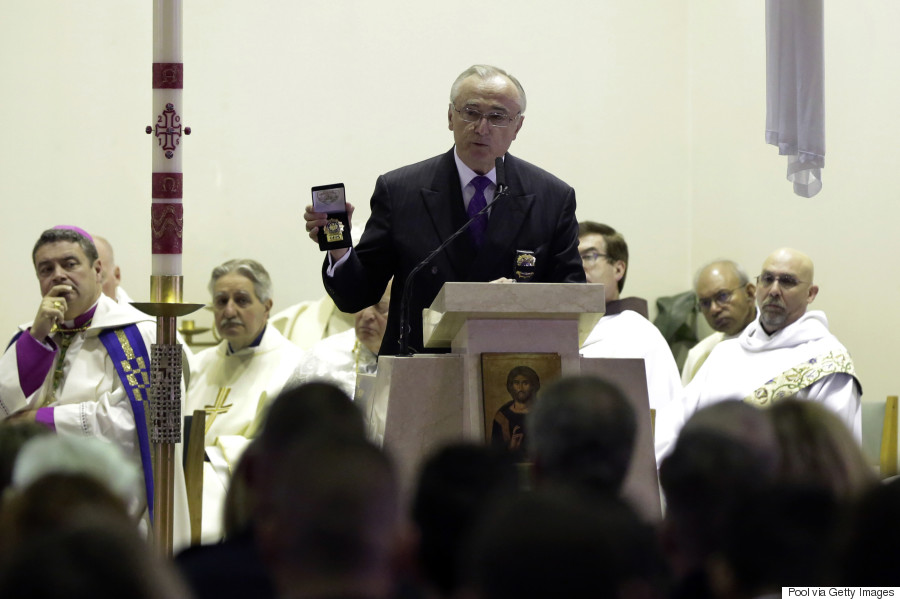 Commissioner Bratton holds up the Detective shield that will be given to Moore's family. (Photo by Richard Drew - Pool/Getty Images)
Moore -- who was 25 years old when he was shot and killed while on patrol last week in Queens -- was a "cops' cop in every way," Bratton said.
"He had an eye for the street," Bratton remembered. "He could smell a gun. He had the gift."
Moore was a member of the NYPD's elite anti-crime unit in the 105th Precinct. He made over 150 arrests, Bratton said, and was "decorated many times."
"We need more like him," Bratton said. "We all need to be more like him."
Especially, Bratton continued, "at a time of great challenge for police" across the country. "We are increasingly bearing the brunt of loud criticism… but we can't be defined by that criticism."
"A handful of incidents, less than a dozen, have wrongfully defined" what police officers do, Bratton said, referring to recent outrage in South Carolina, Baltimore, Cleveland, New York City and Ferguson, Missouri -- where unarmed black men and boys have died at the hands of police officers.
Bratton said that in all the recent "shouting and rhetoric," people forget about officers, like Moore, who "offer security and bravery and compassion."
"Let us say farewell to detective Brian Moore as he begins a new assignment ... as a guardian angel at the gate of heaven," Bratton said in his closing words. "God bless him, and God bless his family, God bless the NYPD, and God bless all of us."
New York City Mayor Bill de Blasio also spoke at the funeral. He noted that Moore's family was "so devoted to the NYPD."
"His father and uncle are retired sergeants," de Blasio said. "His three cousins, one is in NYPD, and two in police forces in Long Island."
Moore, de Blasio added, took the NYPD entrance exam when he was just 17. "He just couldn't wait to be old enough to join the force," de Blasio said.
"He loved many many things... loved everything about the life he had created," de Blasio continued. Those things included the Baltimore Orioles, sending his friends homemade videos of him acting out songs and his German shepherd, Smokey.
"But nothing mattered more than his family," de Blasio said. "Clearly nothing mattered more than his family."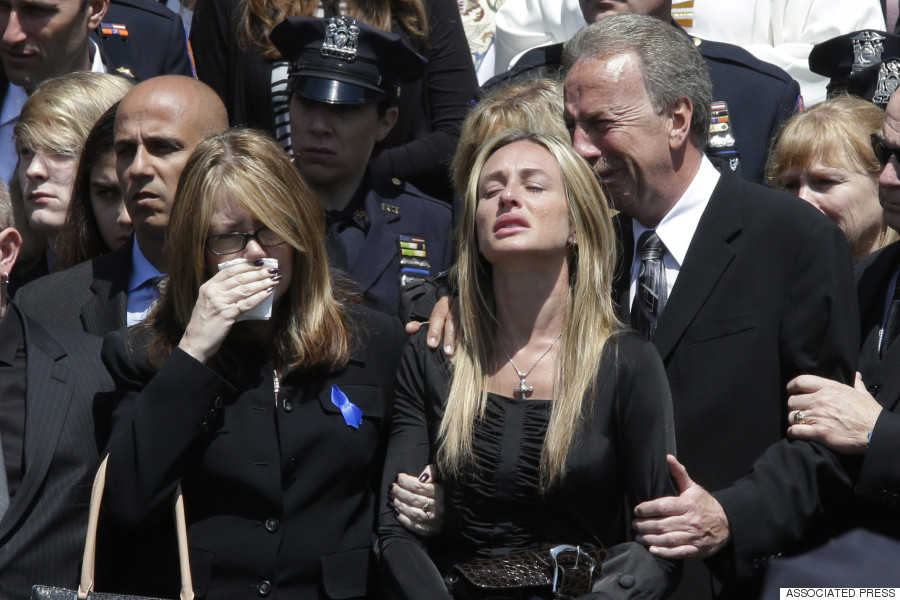 Police officer Brian Moore's mother Irene, left, sister Christine, center, and father Raymond react as his casket is placed in the hearse after his funeral mass. (AP Photo/Mary Altaffer)
It was not long ago that both de Blasio and Bratton spoke at a police funeral. Both attended the funerals of officers Wenjian Liu and Rafael Ramos, who were killed in December by a lone gunman in Brooklyn.
At those ceremonies, officers turned their backs on the mayor when he spoke. The mayor, some police alleged, hadn't supported law enforcement strongly enough during protests over the death of Eric Garner, who died after being put in a chokehold by an officer in July.
Reportedly, no officers turned their backs on the mayor Friday.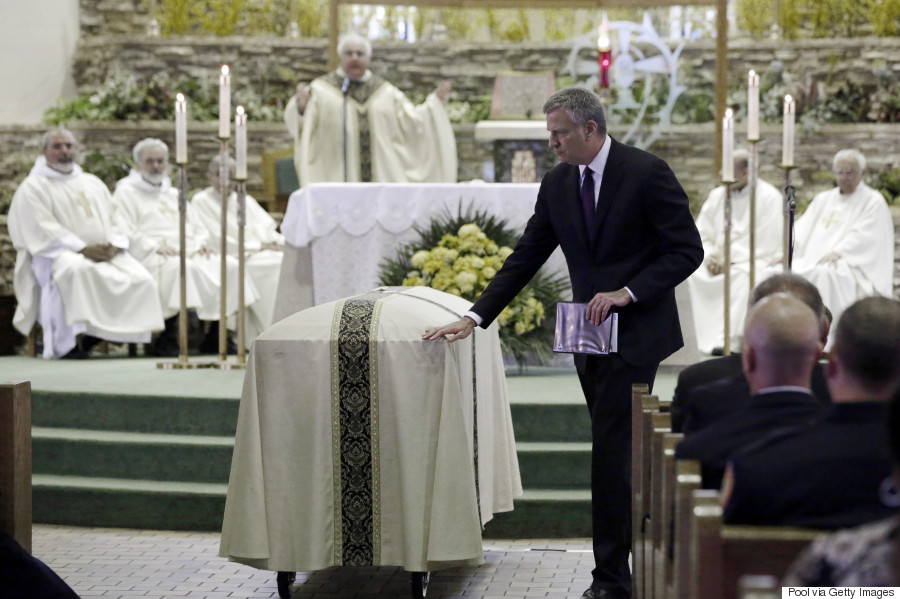 De Blasio touches Moore's casket Friday during the funeral service. (Photo by Richard Drew - Pool/Getty Images)
On his last patrol, police say Moore and his partner saw a man walking on the sidewalk adjusting something in his waistband. When the two officers asked the man, 35-year-old Demetrius Blackwell, what he was carrying, Blackwell pulled out a handgun and shot Moore in the face.
Moore was taken to the hospital and died on Monday. Blackwell was arrested, and is now facing murder charges.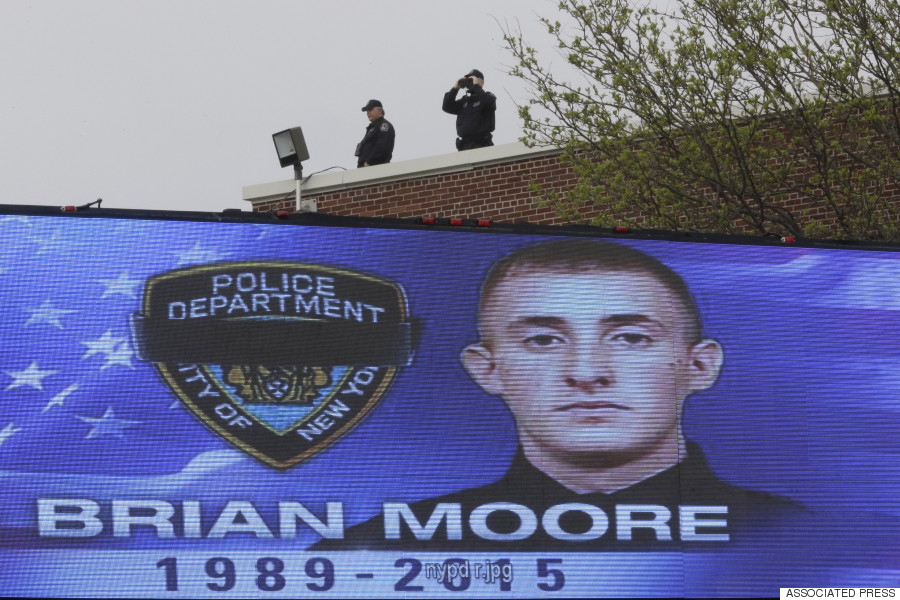 Police snipers survey the area from the roof of an elementary school before the funeral mass of New York City police officer Brian Moore at Friday. Here, a digital billboard atop a truck shows a photo of Detective Brian Moore.
"Due to these cowardly actions, a mother and father are left without their son, a sister is left without her brother, and his family and friends are left with emptiness in their hearts that can never be filled," the Moore family said in a statement, according to The New York Times.
Tens of thousands of officers -- from the NYPD and from departments across the country -- stood in silence outside as Moore's casket was lifted into the hearse. Wearing white gloves, they gave their fallen comrade a final salute.
Moore will be buried at St. Charles Cemetery in Farmingdale.