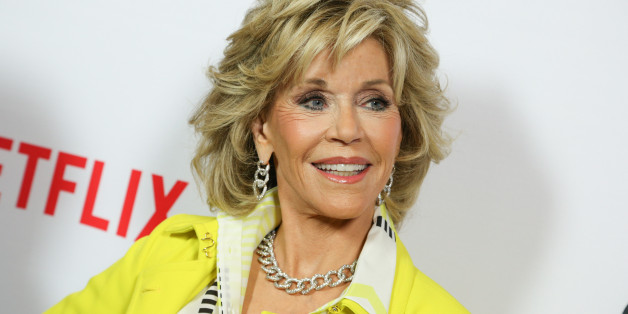 Jane Fonda says she's not only dated her share of gay men, she received a marriage proposal from one.
The 77-year-old Oscar-winning actress opened up about the experience in a PrideSource interview promoting her hotly anticipated new Netflix series, "Grace and Frankie."
"When I was young, I was the female that gay guys wanted to try to become heterosexual with," she quipped. "A very famous actor who's gay -- and I will not name names -- asked me to marry him. I was very flattered, but I said, 'Why?' This was 1964."
As it turns out, it wasn't Fonda's first intimate experience with a gay man: "He wasn't the only one. It's very interesting. And I lived for two years with a guy who was trying to become heterosexual."
Fonda also looked back on her time campaigning with Harvey Milk, whom she described as "joyous" and "lovable," in California.
"He was always smiling and laughing, and he was beloved and he was funny," she recalled. "I was so happy when I was with him. And it was just so much fun going into those gay bars with him -- oh my God!"
"Grace and Frankie" sees Fonda reuniting with Lily Tomlin, her co-star in 1980's "Nine to Five," which has become a cult favorite among many gay fans.
As to the love they continue to receive from the gay community, Tomlin, who is a lesbian, noted, "Well, we're women of a certain age, and maybe we're considered more audacious."
Fonda echoed those sentiments, adding, "[Older women] are bigger and bolder and, God knows, gay men love big and bold, right?"
Head here to check out the full PrideSource interview with Jane Fonda and Lily Tomlin.
BEFORE YOU GO
PHOTO GALLERY
Jane Fonda: Evolution of Style