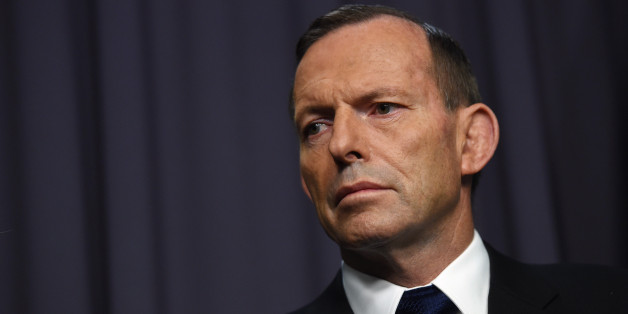 "We have been subjected to extravagance from climate catastrophists for close to 50 years."
So begins a scathing opinion piece about climate change written by Australian Prime Minister Tony Abbott's chief business adviser.
In an op-ed published in The Australian this week, Maurice Newman, chairman of Abbott's business advisory council and an unabashed climate change denier, accused the United Nations of using climate change as a pretense for establishing a "new world order."
"This is not about facts or logic," Newman wrote in the op-ed, which is behind a paywall. "It's about a new world order under the control of the U.N. It is opposed to capitalism and freedom and has made environmental catastrophism a household topic to achieve its objective."
Newman's piece comes during a visit to Australia by Christiana Figueres, the head of the U.N. Framework Convention on Climate Change. Figueres has been urging the country to move away from coal, Australia's second-largest export. Abbott has said coal is "good for humanity."
Newman has made similar remarks in the past, calling climate change a "myth" and a "delusion." In his op-ed in The Australian, he questioned data released by weather monitoring services and scientists and urged resistance against "job-destroying climate change treaties."
"Resisting will be politically difficult. But resist we should," Newman wrote. "We are already paying an unnecessary social and economic price for empty gestures. Enough is enough."
Contrary to Newman's objections, 97 percent of scientists who have released peer-reviewed studies on the issue agree that not only is climate change happening, humans are the primary cause. The planet has hit some frightening milestones of late: Average global levels of carbon dioxide stayed above 400 parts per million through the whole month of March 2015, and last year the world experienced the warmest year since record-keeping began.
Under Abbott's tenure, Australia has become markedly environmentally unfriendly. In July 2014, the country scrapped its wide-ranging carbon tax, and the government has actively tried to discourage international dialogue on climate change.
Abbott's efforts have not received much support, and have instead drawn the ire of politicians who hope to push for sweeping reforms at the upcoming United Nations Climate Change Summit in Paris. President Barack Obama criticized some in the Abbott administration last year, saying "nobody has more at stake when it comes to thinking about and then acting on climate change" than Australia.
BEFORE YOU GO
PHOTO GALLERY
Awesome Animal Photos