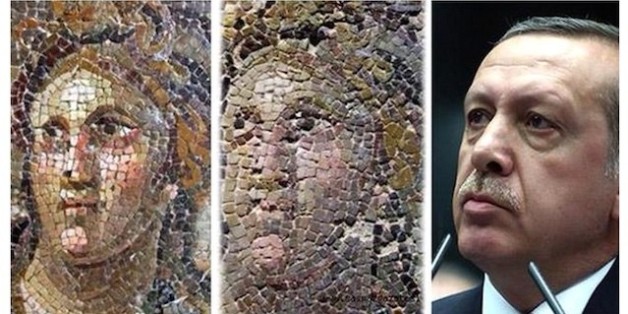 Art restoration: The kind of art that, if done well, doesn't draw attention to itself. When art restoration is in the news, it's rarely good, and this is no exception. The Hurriyet Daily News reports that multiple mosaics at the Hatay Archaeological Museum in Turkey have undergone a botched restoration that left them damaged and disfigured.
A local artist, Mehmet Daşkapan, brought the bizarre changes in the mosaics to the attention of a local newspaper, stating, "Valuable pieces from the Roman period have been ruined. They have become caricatures of their former selves."
Remember that nightmarish amateur fix-up of a Spanish church fresco? This art restoration fiasco not only strikes a similar chord of fear among art lovers, but at least one of the restored mosaic faces actually looks rather similar to the mouthless visage that was christened "Beast Jesus."
Turkish cartoonist: Ancient mosaic looks like Erdoğan's face after botched restoration http://t.co/un8hQy9ELw pic.twitter.com/GoJtTTk1Tt

— Simone Wilson (@simone_electra) May 5, 2015
Other commentators have made similar, mocking comparisons -- the above tweet points out the resemblance the restored mosaic bears to Turkey's president, Recep Tayyip Erdoğan.
@rockanroldie @Independent reminds me of Ecce Homo's transformation into Ecce Mono ("behold, the monkey") pic.twitter.com/Mqf1Q477J7

— Meg Wise (@megamywise) May 6, 2015
Concerns about the mosaics have prompted an investigation by the Turkish Culture Ministry. According to The Independent, the governor of Hatay province, Ercan Topaca, stated that "eight or nine" pieces had been damaged, and that the current probe aims to pinpoint the culprits. He reportedly told Anadolu Agency, a state-run news service, that the ministry had called a halt to the restoration and opened an inquiry in March, when the ruined panels were first brought to its attention.
The question of art restoration remains controversial -- largely because of episodes like the blundered Turkish mosaic conservation. Seeing great artwork disintegrate inspires us to act, to return the piece to the artist's original vision. Yet many critics argue that repairing and restoring art risks permanent damage to priceless pieces. After some of the recent scandals, their point is well taken.
Restorers erased all of this Roman boy's misgivings, leaving him only mildly bemused by life. http://t.co/nz5vBTD1w0 pic.twitter.com/91U9iMWFI2

— Elif Batuman (@BananaKarenina) May 5, 2015
While the experienced, highly credentialed team behind the botched rehabilitation must be having a quite unpleasant week, the restorer reportedly claims that their work actually returned the mosaics to a state close to the original after an intrusive French restoration in the 1930s. "According to the restorer, the mosaics' new muted tones, pronounced contours, and missing sections are more accurate," wrote Hyperallergic.
But few are convinced that the distorted, disarrayed mosaics represent the original artistry. It takes some chutzpah to argue that your allegedly clunky reworking of a classical mosaic recaptures its true aesthetic, but it's a difficult argument to disprove. And there's another concern held by critics of aggressive art restoration: While conservators have access to technology and mountains of research to inform their repairs, some interpretation is inevitable with large-scale overhauls of older works. When the Sistine Chapel's decade-long restoration was unveiled, the surprising brightness of the murals drew commentary; the team had concluded that Michelangelo only worked on wet clay and stripped pigments and smoke residue that had been added to the fresco after drying. Perhaps this was more true to Michelangelo's vision, or perhaps their studied conclusion about his technique wasn't quite accurate. Such a debate cannot be definitively resolved.
From #reddit: Roman mosaics damaged during botched restoration, Turkish officials say, 2015 … pic.twitter.com/BsY5NB6uQD

— @TheLetter10 (@Letter10Media) May 6, 2015
As for the damaged Turkish mosaics, which reportedly include several notable pieces, including a depiction of the sacrifice of Isaac, the investigation is still underway. Kenan Yurttagül, a former head of Turkey's Monuments and Museums General Directorate, told Hurriyet that whether the mosaics have actually been ruined is still being examined. "Errors, if there are any, will be reported and then fixed," he said.
H/T Hyperallergic
BEFORE YOU GO
PHOTO GALLERY
25 Beautiful Mosaics