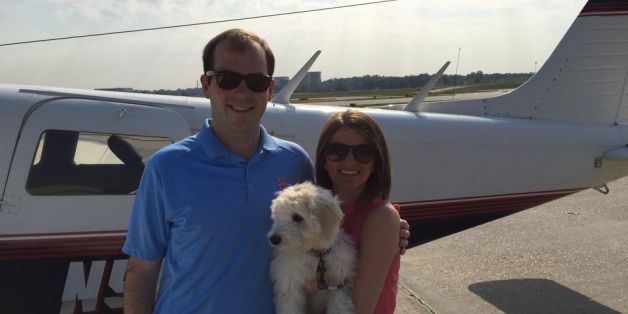 A North Carolina reserve sheriff's deputy and members of his family died Friday morning when their small plane crashed and exploded on an Atlanta interstate.
The plane belonged to Buncombe County reserve deputy Grady "Greg" Byrd, 53, who died in the crash, WYFF reports. Also killed were his two sons, Phillip, 26, and Christopher, 27, and Christopher's fiancée, 27-year-old Jackie Kulzer. The couple were to be married Oct. 17. Greg Byrd was piloting the plane, WGHP reports.
Witnesses who saw the family at the airport told the Atlanta Journal-Constitution that the Bryds and Kulzer were on their way to a college graduation at the University of Mississippi in Oxford.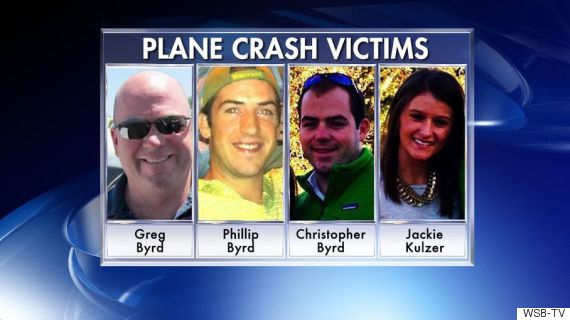 Nicholas Bowman, who worked with Christopher Byrd at a real estate firm, said Byrd's brother was graduating from Ole Miss.
"It was his on-call weekend and he was excited to go to his brother's graduation. They had this trip planned so I swapped with him to be able to make the trip so he wouldn't have to be bothered with work," Bowman told WSB-TV.
A pet dog was also aboard the single-engine, six-seat Piper PA-32, and died in the crash.
It is not yet known what caused the plane to go down, but the Federal Aviation Administration and the National Transportation Safety Board are investigating, an FAA spokesperson told The Huffington Post.
Byrd's plane took off from a Buncombe County, North Carolina, airport shortly after 8 a.m. Friday. It landed safely in Atlanta, where Byrd picked up additional passengers and the dog, Pat Epps, whose company fueled the plane, told the Atlanta Journal-Constitution.
The plane left DeKalb-Peachtree Airport in good weather conditions, but crashed on I-285 shortly after 10 a.m.
Greg Byrd was reportedly heard saying, "We're going down," according to a separate AJC report.
The plane clipped a truck and exploded onto the highway, WYFF reports. Photos of the burning wreck emerged on social media Friday.
Greg Byrd was a 16-year veteran of the Buncombe County Sheriff's Office, retiring as a detective in 2006. He became a reserve deputy immediately on retirement, a spokesman said in a statement obtained by WYFF.
"Greg was a very professional, dedicated public servant that continued to serve his community in a Reserve Deputy role after his full time employment with the Sheriff's Office. This is a tremendous loss for his family, this Sheriff's Office and the community," Buncombe County Sheriff Van Duncan said.
Like Us On Facebook |

Follow Us On Twitter |

Contact The Author
BEFORE YOU GO