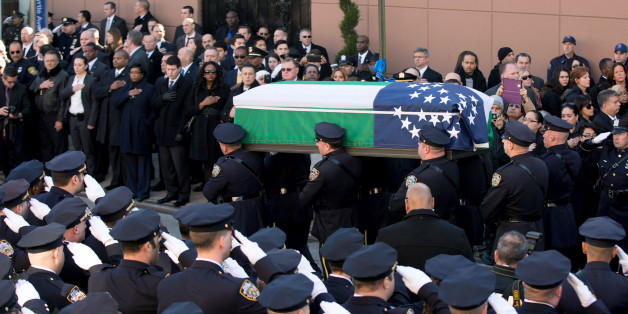 The nation focused its attention last year on deaths resulting from some police officers' controversial use of force. But just as tensions rose between law enforcement and citizens in 2014, so did killings of officers.
The FBI released preliminary statistics on Monday showing that 51 law enforcement officers were feloniously killed in the line of duty in 2014. That's an 89 percent increase in felonious cop slayings compared to 2013.
However, the number of officers killed has been declining in recent years. The 2014 figure is well below the 64 officers who were killed on average each year between 1980 and 2014. The year 2013 actually saw the lowest number of officers killed in action in the last 35 years. Only 27 officers were killed feloniously that year, which means that while 2014's number appears to be a spike, it's actually lower than the average figure from the past several years.
Some key statistics from the report include:
46 of the 51 officer killings involved offenders using guns;
Of those 46 incidents, 32 of the incidents involved handguns, 11 involved rifles and three involved shotguns;
35 of the 51 officers were wearing body armor at the time;
17 officers were killed in the South, 14 in the West, 8 in the Midwest, 8 in the Northeast and 4 in Puerto Rico;
An additional 44 officers were accidentally killed in the line of duty;
Of those 44 officers, 28 died in vehicular collisions, and only 15 of them were wearing seat belts.
The report comes shortly after the funeral of NYPD Officer Brian Moore, who was shot and killed on patrol in Queens. Thousands of cops traveled to New York City Friday to mourn Moore's death.
The FBI isn't able to accurately compile a list of citizens killed by officers in any given year. There are a number of reasons for this. Officer-involved shootings and uses of force aren't statistics that can be accurately gathered nationally, and even if they could be, internal investigations are handled and reported differently -- if at all -- in almost every jurisdiction.
The FBI's most recent report on "justifiable homicides" by police officers shows that 461 felons were killed by a cop in the line of duty in 2013. According to The New York Times, however, the figures are incomplete and widely contested:
Federal experts have long acknowledged that that estimate is too low, and a handful of more recent, unofficial reports — online databases compiled and fact-checked by volunteers — place the toll much higher, at about 1,100 deaths a year, or three a day. Yet they do not suggest that the pace of police killings or the racial composition of victims as a group has changed significantly in the last two years or so.
Like Us On Facebook |

Follow Us On Twitter |

Contact The Author