When Ben Moser was in fourth grade, he made a promise. He told his mom that someday he would ask his friend Mary to the prom.
Mary Lapkowicz has Down syndrome, and according to a moving story about their friendship in The Patriot-News, she and Moser have long shared a special bond.
"He watched over her constantly," the duo's fourth grade teacher Tracey Spogli told the news outlet last week. "If she was looking like she wasn't having fun, he would go over and talk to her. He would pull her in to whatever activity they were doing. He just always watched out for her."
The teens no longer attend the same school, but that didn't stop Moser, a quarterback on the football team at Susquehanna Township High School in Harrisburg, Pennsylvania, from fulfilling his childhood vow. On Friday, the 17-year-olds attended Moser's prom together.
As news of their prom date went viral on Reddit this weekend, netizens celebrated the friendship that Lapkowicz and Moser share.
"I know Mary and can sincerely say that she is the sweetest girl ever. She always brings me a smile in the hallway and never fails to give the greatest hugs," one Redditor wrote on the social news site.
In a video filmed by the Patriot-News, Moser said that Down syndrome should never be a "barrier" to friendship.
"You should just be who you are, and do what's right. Simple," he said.
This prom season, many other teens have also lived by these words.
In April, CNN reported that a high school basketball star named Trey Moses asked Ellie Meredith, a freshman with Down syndrome, to prom. The teens had reportedly met through the school's Best Buddies program which connects students with and without developmental disabilities.
"She's great," Moses told CNN when asked why he'd decided to take Meredith to prom. "She listens and she's easy to talk to."
Also in April, Mikenzy Snell and her best friend Matt Pliska, who has Down syndrome, made headlines for sharing a powerful message about friendship at their prom.
The BFFs were photographed holding a sign with the words: "Real friends don't count extra chromosomes." The photograph promptly went viral.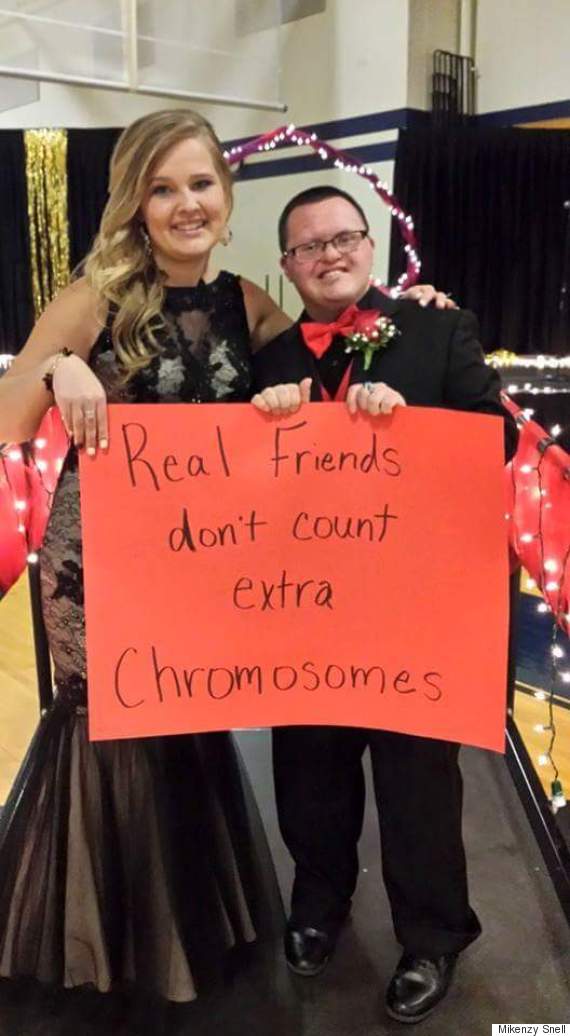 BEFORE YOU GO
PHOTO GALLERY
Teen With Cancer Rides To Prom In Police car