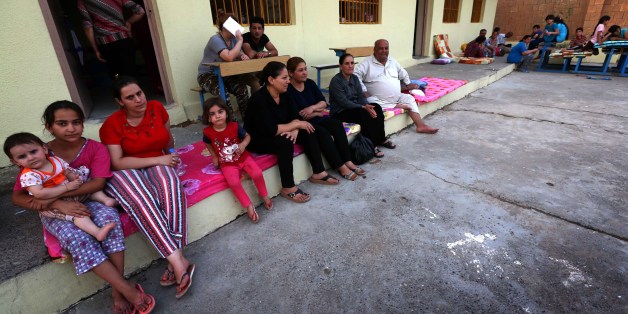 When militants from the Islamic State group seized the Iraqi city of Mosul last June, they reportedly painted the Arabic letter "nun" (for Nazarene, or Christian) outside Christians' homes. Then, ISIS, as the Islamic State group is often known, issued a fearsome ultimatum to all non-Muslims: convert, pay a tax, or be killed.
Many non-Muslims, particularly Christians, fled the city located in the Nineveh Plains that had been home to their ancestors for millennia. Their story of desperation spread throughout the world.
People and institutions of various faiths rushed to show their support for these victims of sectarian strife. Many turned to social media to do so: The Church of England and the Southern Baptist Convention's Ethics & Religious Liberty Commission were among those that changed their social media avatars to the Arabic letter nun and used the hashtag #WeAreN to show their solidarity.
Nearly a year later, the persecution hasn't stopped for Iraq's religious minorities. They've been displaced from their homes, kidnapped and sold into slavery.
Although many institutions have quietly switched their social media avatars back, people of faith haven't stopped trying to help. Archbishop of Canterbury Justin Welby, Pope Francis and other faith leaders are still demanding action -- not just for Christians, but for all of Iraq's minorities.
Here are three ways that activists are still working to help Iraq's religious minorities.
1. Creating A 'Safe Haven' For Religious Minorities In The Nineveh Plains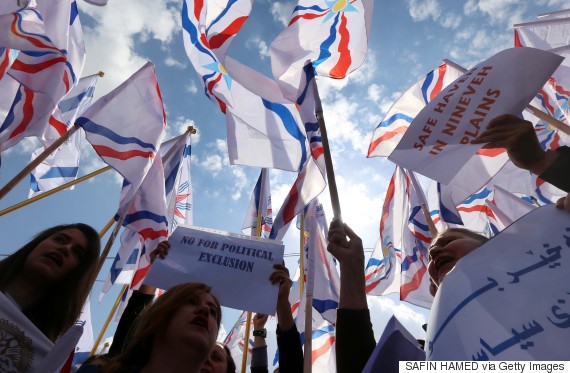 Iraqi Christian Assyrians demonstrate outside the United Nations office in Arbil, the capital of the autonomous Kurdish region, as they celebrate their New Year (Aketo) on April 1, 2015.

The oil-rich province of Nineveh has long been home to Iraq's Christians, Yazidis, Shabak and Turkmen, according to the BBC. When Islamic State militants captured Ninevah's capital city, Mosul, thousands of religious minorities and Sunni Muslims fled to villages in the Nineveh Plains or to Iraqi Kurdistan, a semi-autonomous region in the north.
There have been calls among some Iraqi activists to establish a "safe haven" in the Nineveh Plains by creating an autonomous region, similar to Iraqi Kurdistan, or a separate country altogether. Creating a safe haven in Nineveh would be an important symbolic move, especially for a group of Iraqi Christians who identify as Assyrians.
Assyrians Christians in Iraq, supported by members of the diaspora around the world, stress their ancestors' ties to the ancient Assyrian Empire and to Nineveh. Mistreated under the Ottomans, the Assyrian Christians formed a partnership with the Allied forces during World War I, hoping to be granted an independent homeland. That plan failed to come to fruition, but the nationhood aspirations of the Assyrian people haven't disappeared.
Bishop Mar Awa Royel is a secretary for the Assyrian Church of the East's Holy Synod who now serves as leader of the church's California diocese. Although he was born and raised in America, he says he and other members of his congregation feel a deep spiritual connection to Iraq.
"We always have looked to Iraq, which is the ancient cradle of civilization, as being our ancestral homeland," Royel said. "We still look to the Middle East and Iraq as being our aspiration, for our own country and for our homeland."
Recently, the European Union's Parliament approved a non-binding resolution to create a protected zone in the Nineveh Plains. A non-binding resolution allows the E.U. to present its stance on an issue, without being legally required to act on it.
However, experts agree that a safe haven would be a complicated move that may not be possible without getting foreign troops on the ground.
The international community has also not been sympathetic to the idea of Iraq splintering along ethnic lines; and such a feat would be tricky in a country where ethnicities and religions are often intermixed. Turkey has long opposed Iraqi Kurds' dreams of a separate state, since that might encourage its own Kurdish population to break away and join with the Iraqi Kurds.
Splitting up Iraq may mean only further displacement of civilians.
Still, Assyrian activists remain hopeful about this solution.
2. Making It Easier For Those Seeking To Leave The Country To Get Refugee Status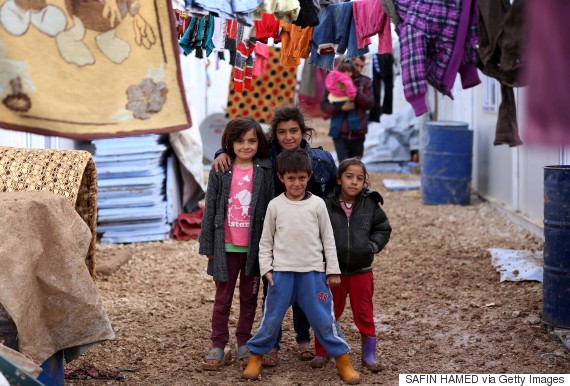 Displaced Iraqi children from the Yazidi community, who fled violence between Islamic State (IS) group jihadists and Peshmerga fighters in the northern Iraqi town of Sinjar, pose for a photo at Dawodiya camp for internally displaced people in the Kurdish city of Dohuk, in Iraq's northern autonomous Kurdistan region, on January 14, 2015.
The number of Iraqis seeking asylum or refugee status in other countries is increasingly rapidly. According to the United Nations High Commissioner for Refugees (UNHCR), more than 400,000 Iraqis have fled as refugees to other countries or territories.
Some Iraqi activists are trying to make it easier for people who want to leave the country to get all the help they can.
Mark Arabo, a Chaldean human rights activist from San Diego, is championing a bill that would allow Iraq's religious minorities to apply directly to the U.S. Refugee Admissions Program. A bipartisan group of representatives has already introduced it in Congress.
The Protecting Religious Minorities Persecuted by ISIS Act (H.R. 1568) would give people facing persecution from ISIS priority 2 admission, placing them in a special group of applicants that the State Department has identified as "of special humanitarian concern." As a result, they wouldn't need to be referred to the refugee admissions process by the UNHCR.
Bill Frelick, director of the Human Rights Watch's Refugee Rights Program, wonders if the priority 2 designation would really help, since the main impediments for refugees seeking to come to the United States are the hurdles they have to pass to get security clearance to enter the country. Plus, he worries whether designating these minorities as a special class would further highlight the differences between them and other displaced people or local communities in Iraq.
There's also a long-term problem -- whether relocating these minorities would in essence wipe these groups from the Middle East. Some minorities in Iraq have insisted on staying in the land of their forefathers to preserve their family's roots, despite the risk.
Fiona McCallum, a scholar of Christian communities in the Middle East, called the idea of creating a swift passage for refugees to other countries a "short-term" solution. It's an approach that relieves a difficult situation for some individuals, but at a cost to the cultural diversity of the region.
But Arabo, whose parents immigrated to America in 1979 from Baghdad, thinks there is no time to wait. His organization, Minority Humanitarian Foundation, is encouraging Americans to sign up to adopt or temporarily house displaced families or individuals.
He's also produced a list of 70,000 Christians and other minorities who are desperate to leave Iraq and Syria. He's slowly matching that list with 70,000 Americans who want to act as sponsors.
3. Providing Humanitarian Aid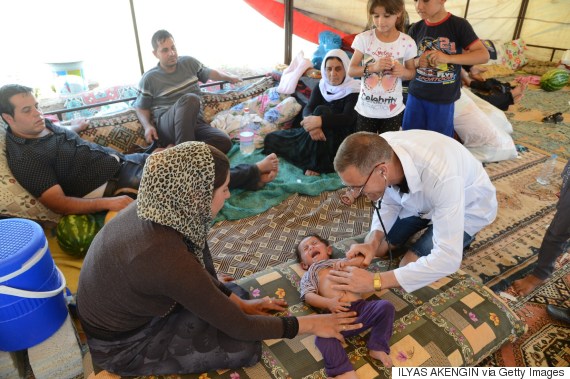 A doctor checks a Iraqi baby from the Yazidi community in a refugee camp near the Turkey-Iraq border at Silopi in Sirnak on August 14, 2014.
Humanitarian aid is a short-term solution to a systemic problem. But it is a crucial and very present need for Iraq's religious minorities.
Nearly 2 million people have been internally displaced in Iraq as of July 2014, according to the UNHCR.
Forced from their homes, families often walk for days to seek safer places to live. Many have been taken in by relatives and friends in safer areas, or in refugee camps. A significant number of others have been living in unfinished buildings, or makeshift, inadequate shelters. Some families cram into churches, mosques, or cheap hotels. The increasing cost of food and accommodation is straining the finances of recently displaced people.
And then, there is the psychological damage that is sure to come from ISIS' reign of terror -- particularly on the young girls and women who have been abused.
The Obama administration recently pledged to give Iraq $200 million in humanitarian assistance, although the amount reportedly wasn't as large as Iraqi Prime Minister Haider al-Abadi had hoped it would be.
Both governments and private funders have been increasing their spending on humanitarian assistance. Even though global aid spending reached a record $22 billion in 2013, over one-third of needs weren't met that year, according to Development Initiatives, an organization that keeps data on poverty. Need is calculated based on the amount of humanitarian aid requested by each country, along with the number of proportion of people in each country affected by crises.
Diaspora leaders are raising money through specific Iraqi Christian denominations, McCallum reports.
"Some Iraqi Christians in the diaspora feel that aid collected in the UK and elsewhere through government channels doesn't reach Iraqi Christians," McCallum said. "Instead, they work directly through their own churches."
Some church-based organizations providing relief in Iraq are the Assyrian Church of the East Relief Organization, the Assyrian Aid Society, Iraqi Christians in Need, and the Catholic organization Aid to the Church in Need.
Sandra Miniutti is vice president of Charity Navigator, a website that measures the effectiveness of non-profits. She pointed to two organizations working in Iraq that are highly rated on their site. The International Rescue Committee works specifically with refugees, while Global Giving highlights grassroots efforts that bring relief to the area.
Sophia Jones, The Huffington Post's Middle East correspondent, contributed reporting to this piece.
BEFORE YOU GO
PHOTO GALLERY
Yazidi And Other Minorities Flee ISIS