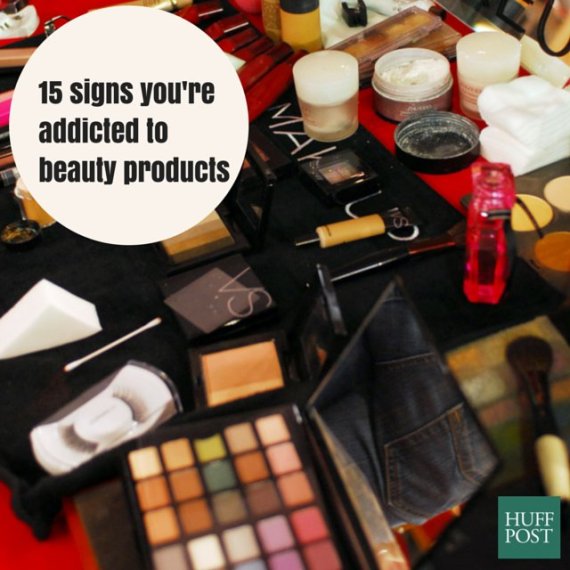 Photo credit: Damon Dahlen, AOL
The first step in solving a problem is admitting that you have one. And when we took a peek inside our cosmetic bags, we realized we are addicts. Beauty addicts, that is.
We own more mascara than we need in a lifetime, have a lipstick color for every possible occasion, and shop at Sephora so much, people might think we work there. And we have a feeling we're not alone in our addiction. Behold, 15 signs you, too, may be obsessed with beauty products:
1. Your beauty bag has become a beauty suitcase.
2. You're contributing way too much plastic to local landfills.
3. You would rather eat ramen noodles for dinner just to have the extra cash to score a new tube of YSL concealer.
4. All the sales associates at the beauty counter know you by your first name... and know the names of your family members, too.
5. You've reached VIB status at Sephora.
6. You Instagram beauty products like it's your JOB.
7. You're subscribed to more beauty boxes than magazines.
8. All your friends come over to your house to get ready to go out, since you have the best makeup.

9. You live in constant fear that your favorite lipstick shade will be discontinued.
10. You could probably wear a different nail polish color every day for a year, given the number of bottles you own.
11. You have four of the same color of lipstick so you always have one at home, one at work, one in your purse and one in your gym bag.
12. You're constantly getting email alerts from Sephora telling you a product has returned back in stock.
13. You are the first one to try any weird beauty trend.
14. The makeup aisle at the drugstore is your personal form of heaven.
15. One day your beauty addiction could very well bankrupt you.
But at the end of the day, you're like...
Because you know you look better than everyone else.
BEFORE YOU GO
PHOTO GALLERY
Our Favorite Drugstore Beauty Products