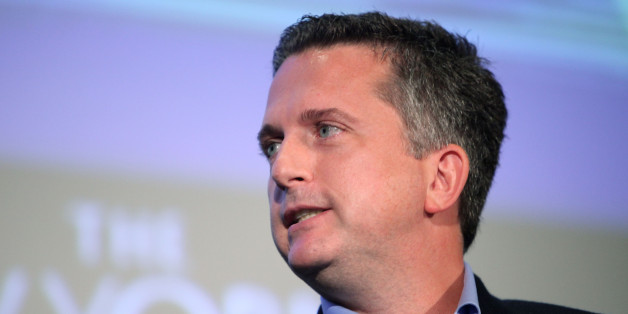 ESPN President John Skipper has confirmed that Bill Simmons basically found out he got de facto fired through Twitter, The New York Times or maybe by text message if a friend was able to whip out a phone fast enough on Friday to text him.
Skipper told reporters on Tuesday, albeit in a roundabout sort of way, that the company gave Simmons no official word that they had decided not to renew his contract before he released the coldest statement we've seen in some time:
I decided today that we are not going to renew Bill Simmons' contract. We have been in negotiations and it was clear it was time to move on. ESPN's relationship with Bill has been mutually beneficial – he has produced great content for us for many years and ESPN has provided him many new opportunities to spread his wings. We wish Bill continued success as he plans his next chapter.
"The narrative that you read is accurate," Skipper said on Tuesday when asked about whether he just let that statement fly before notifying Simmons. "I know I kind of dodged that, but I am going to."
Publicly embarrassing Simmons just once more wasn't enough for Skipper either. The president, a former Simmons defender, also burned his former buddy one more time on Tuesday, saying it wasn't about the money, after some speculated the decision had to do with Simmons wanting much more than what is reportedly a $5 million salary.
Instead, it was about something related to Simmons himself.
"Look, we're a big company. If it was just dollars and cents, we would have figured something out," Skipper said. "It's about ultimately what he wants to do, what value that creates, what we could do together and deciding if it was going to be a match, and we decided it wouldn't be."
ESPN is a monstrously large media network beneath the even larger and more powerful company known as Disney, a powerhouse that pulls in billions of dollars in profit every quarter. More importantly, ESPN is a titan of a television company, a force in the sports industry and a much more profitable product than a low-trafficked but well-regarded website. Oh, like Simmons' Grantland.
As such, it's very possible Simmons overestimated his value within that environment and underestimated the issues that were reportedly arising as a result of one employee periodically acting above the rules in such a well-oiled machine of a company.
Either way, the confirmation of his public firing puts Simmons' silence, minus a few defiant Patriots-related tweets, into perspective. After more than a decade at the company where he made his name, he was out just like that.
Simmons appears to have been left speechless, just like the rest of us.
BEFORE YOU GO
PHOTO GALLERY
15 Of The Biggest LGBT Sports Moments