Francesca Marina came into this world on a ship in the Mediterranean Sea after her mother was rescued by the Italian navy while trying to cross from North Africa to Europe.
Her 24-year-old Nigerian mother, Stephanie Samuel, hopes the hazardous journey will give her daughter a chance at a better life.
Samuel went into labor last week on board a boat carrying migrants from Libya to the southern shores of Europe, a perilous journey that has already claimed hundreds of lives this year.
"I just wanted to leave Libya. Italy is better than Libya and Nigeria is the worst," Samuel told Reuters. Samuel said she fled via Libya looking for safety and a better life, amid a brutal campaign of violence by Nigerian extremist group Boko Haram.
Heavily pregnant, she hoped to make the crossing quickly before her baby arrived. But the vessel carrying Samuel across the Mediterranean stalled, and the young mother had gone into labor by the time an Italian naval vessel came to their rescue.
Francesca Marina was eventually delivered safely on board Italy's Bettica naval ship. Her mother named her after St. Francis and the Italian navy, Reuters reported.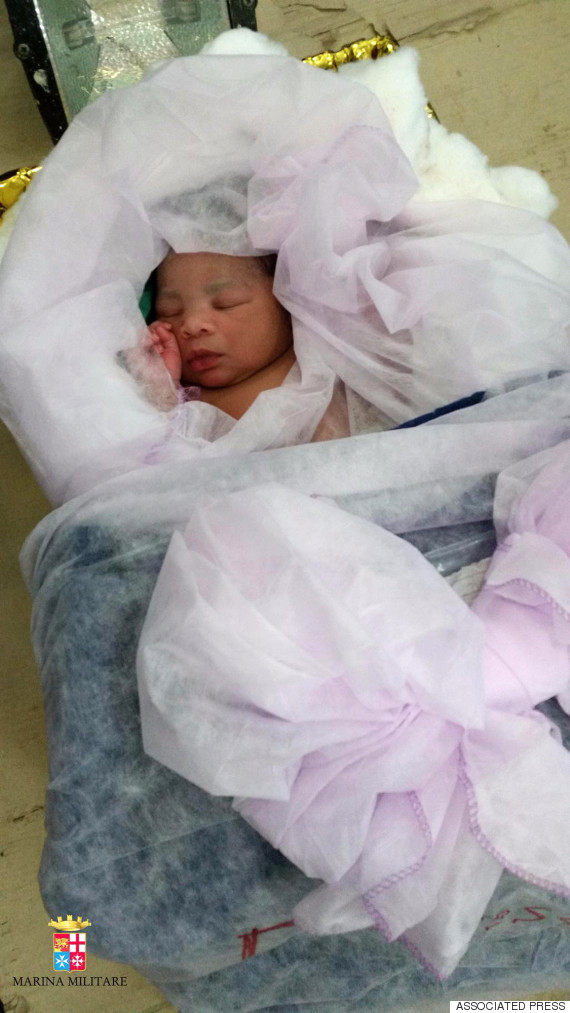 A photo of the newborn girl from the Italian navy's Press Office, May 4, 2015. (Italian Navy via AP)
Both mother and daughter are recovering in a Sicilian hospital, and doctors told the news agency they would likely be transferred to an immigration center this week.
"God decides, not me ... but I believe she will have a more good future in Europe," Samuel said.
Record numbers of migrants have already made the deadly voyage this year, many of them fleeing violence and poverty in Eritrea, Somalia, Afghanistan, Syria and Nigeria. The United Nations refugee agency says over 1,800 people have already drowned in the Mediterranean in 2015.
Europe has struggled to cope with the crisis, and was criticized for rolling back rescue operations last year. After a string of tragedies in recent months, the European Union is trying to formulate new policies to tackle the humanitarian crisis on its borders. A senior EU official told The Associated Press on Tuesday that the group will seek a U.N. Security Council resolution to allow European countries to capture and destroy migrant smugglers' boats before they set sail for Europe.
BEFORE YOU GO
PHOTO GALLERY
Tragedy in the Mediterranean