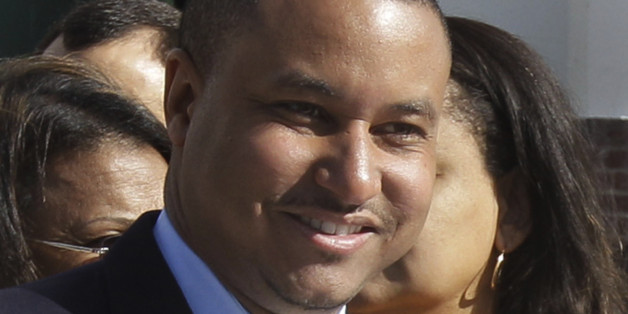 A Michigan lawmaker was arraigned on assault and other charges Tuesday after he allegedly assaulted his ex-wife and fired multiple shots at her car.
State Sen. Virgil Smith (D) was charged with felonious assault, malicious destruction of personal property, domestic violence, assault and battery and the use of a firearm while committing a felony. The charges stem from an incident that took place Sunday at 1 a.m. According to the Wayne County Prosecutor's Office, Smith's ex-wife came to his home, where another woman was present. Smith then allegedly physically assaulted his ex-wife and shot at her Mercedes with a rifle several times.
Senate Minority Leader Jim Ananich (D) said in a statement that Smith had been removed from his committees and relived of his caucus responsibilities.
Michigan's Legislative Black Caucus denounced violence but called for due process.
"Like any other individual, Senator Smith remains innocent until proven guilty," the group said in a statement. "While some are calling for his resignation, it is the opinion of this body that any punitive action taken at this time would be premature."
During Smith's arraignment, his attorney, Godfrey Dillard, argued that Smith's ex-wife was "obviously the aggressor," according to MLive. Dillard said the woman, whose name has not been released, "forced her way in his home and attacked the defendant as well as the other person who was with the defendant."
According to the Detroit Free Press, Smith told police that firing the shots was the stupidest thing he had done in his life. He reportedly told investigators that he tried to get his ex-wife out of his house and that he fired his weapon after seeing her throw a chair at his window.
In a police report obtained by The Detroit News, Smith's ex-wife said she arrived at Smith's house at his invitation and that he was naked when she arrived. They began arguing, she said.
"At some point during the argument (Smith) grabbed her by the back of her head and shoved her face first into the carpet," the police report reads, according to the News. "Victim stood up and was struck by (Smith) 4-5 (times) in the face with closed fist causing cheeks on both sides of her face to swell."
She alleges that Smith then chased her and began firing at her.
Prosecutor Kym Worthy said the initial warrant requested by the Detroit Police Department Monday was returned for further investigation.
"The alleged actions of Senator Smith cannot and will not be tolerated," said Worthy in a statement. "We let the facts and evidence guide our charging decision and nothing else."
A plea of "not guilty" was entered on Smith's behalf. He was released Tuesday afternoon after posting the required 10 percent of his $25,000 bond.
Smith recently introduced a joint resolution to the Michigan Senate to reinstate the death penalty in Michigan for individuals convicted of murdering a law enforcement officer in the line of duty.
BEFORE YOU GO
PHOTO GALLERY
Outspoken State Lawmakers