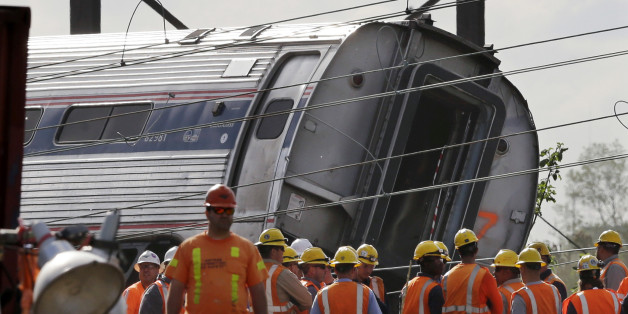 The CEO of a tech company and an Associated Press staffer are among the eight confirmed dead after an Amtrak train traveling from Washington to New York City derailed in Philadelphia on Tuesday night.
Rachel Jacobs, 39, a New York-based CEO of the Philadelphia company ApprenNet, was on board the Northeast Regional Train 188 and confirmed dead by her family Wednesday evening. Up until then, she had been reported missing by coworkers.
Family confirms Rachel Jacobs was killed in the #Amtrak188 crash pic.twitter.com/uCclWFhCVl

— Bradd Jaffy (@BraddJaffy) May 13, 2015
Also on Wednesday, The Associated Press confirmed one of its video software architects, Jim Gaines, was killed in the crash:
Jim Gaines, a 48-year-old father of two, had attended meetings in Washington. He was returning home to Plainsboro, New Jersey, when the train derailed Tuesday night. His death was confirmed by his wife, Jacqueline.
U.S. Naval Academy midshipman Justin Zemser, 21, of Rockaway Beach, New York, was on his way home when he was killed in the derailment, his mother told NBC 4 New York.
The USNA in Annapolis, Maryland, also confirmed his death.
"The Naval Academy is deeply saddened to report that a midshipman was named as one of the passengers who lost their life in the Amtrak train," USNA spokeswoman Jennifer Erickson said in a statement. "The midshipman was on leave and en route to their home of record when the accident occurred."
WUSA9 identified Abid Gilani, a Senior Vice President at Wells Fargo, as the derailment's third confirmed death on Wednesday afternoon.
Late Wednesday night, Medgar Evers College at CUNY confirmed that Dr. Derrick Griffith, the school's dean of students, was also killed in the derailment. The 42-year-old Brooklyn man was a founding principal at the school, PIX11 reported.
JUST IN: 5th victim of #Amtrak188 derailment ID-ed as Dr. Derrick E. Griffith, 42 of Brooklyn http://t.co/89tFhQexM1 pic.twitter.com/9QEUErcPaG

— Eyewitness News (@ABC7NY) May 14, 2015
"Derrick was one of the most important people to not just the college as a whole but to student life," college president Rudy Crew said in a statement obtained by the Wall Street Journal. "He supported and advocated for students in times of crisis."
Amtrak passenger Bob Gildersleeve, 45, vice president of accounts for the energy technology company Ecolab, was confirmed dead Thursday afternoon. The Towson, Maryland father and husband was originally reported missing by his family on Wednesday.
Ecolab, where he had worked for 22 years, confirmed his death.
We are deeply saddened by the loss of friend & colleague Bob Gildersleeve. Our thoughts are with his family & friends http://t.co/0iRNpnqBKk

— Ecolab (@Ecolab) May 14, 2015
Laura Finamore, another passenger aboard the train, was confirmed dead by her family on Thursday afternoon. She was 47.
In a statement, her family recalled her 20-year career in real estate and cherished role as an aunt.
Born and raised in Douglaston New York, Laura was a devoted daughter to her parents Cynthia and Richard and caring sister to her three brothers Michael, Paul and Peter. However, it was her loving dedication and loyalty to her family and friends, which truly defined her as a person. Her favorite role was being an aunt to her seven nieces and nephews, who will all cherish memories of the special times they spent with her. Most telling about her commitment to the people in her life were the strong bonds that she kept with her childhood friends many of whom she had known since elementary school.
Giuseppe Piras, an Italian citizen aboard the train, was confirmed dead by the Ambassador of Italy to the U.S. on Thursday, CBS Philly reported.
The National Transportation Safety Board said in a statement that it is investigating the cause of the derailment and has a team at the scene of the accident.
This is a developing story. Check back for updates.
BEFORE YOU GO
PHOTO GALLERY
Amtrak Train Derailment Causes Mass Injuries In Philadelphia