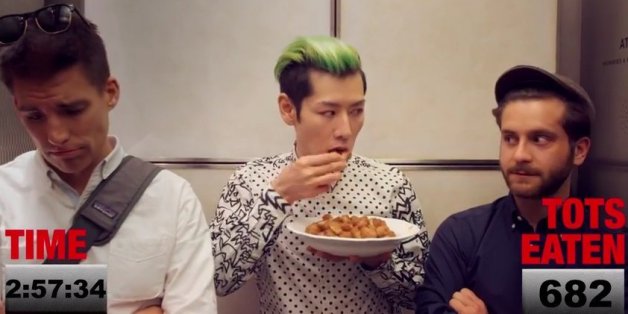 Takeru Kobayashi's fall from grace is hard to swallow.
It's known that the legendary eater was kicked out of Major League Eating years ago, and that he now spends his curdling career shilling for food companies, eating at bars, and claiming world records that aren't official in anybody's books. His latest public shaming, however, gives us a tummy ache.
Kobi -- who once set a world record by eating nearly 54 hot dogs in 12 minutes at the Nathan's Hot Dog Eating Contest -- has been relegated to eating tater tots for Terminix. That's right -- one of the most hungry athletes of our time now works for a pest control company.
Take a look:
Terminix reps told The Huffington Post that the commercial proves Kobi beat Sonya "Black Widow" Thomas' previous tot-eating record of 250 taters in 5 minutes. But there's one big difference between Thomas and Kobi -- She's the fifth best eater in the world according to Major League Eating, and Kobi is a retired great who lost control of his destiny.
We're sure Derek Jeter could break every home run record from his back yard, but he's not in Major League Baseball anymore.
It's depressing to see our favorite gustatory goliath hide under the table instead of doing what he was born and bred for: Taking on the World Eating Champion, Joey "Jaws" Chestnut, in an official Fourth of July hot-dog smackdown.
Even if Kobi has decided to trade the Beef for the Benjamins, he and Major League Eating stand to make a lot of money together. MLE's chief executive officer, George Shea, told The Huffington Post that Chestnut made $232,000 off his gut last year, and admitted that he's holding seat at the Big Table for Kobi should he decide to come back.
"MLE and Nathan's are completely open to working something out and having him come back -- We've always been open to it," Shea said. "Kobi belongs on stage on the Fourth of July. He belongs at real events with real eaters. As a fan of the sport who has watched Kobi eat and grow over the years, to me it's a tragedy that he's out doing unverified events."
Kobi's camp didn't respond to calls for comment by press time. The world wants to know why he won't finally negotiate a contract to rejoin MLE, why he can't stand the heat of Coney Island's hot sun, and why he's gone from iron stomach to talking head.
So we'll ask him ourselves, right here, for the love of all things good and hot dog: Where are you, Takeru Kobayashi, and why won't you return to the big leagues?