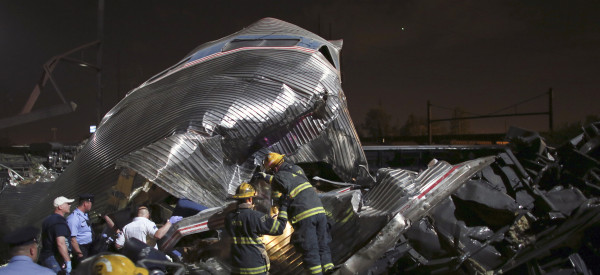 TOP STORIES
To get The Morning Email, HuffPost's daily roundup of the news, in your inbox, sign up here.
SIX DEAD, DOZENS INJURED IN AMTRAK DERAILMENT A train carrying 243 people from Washington, D.C. to New York City partially derailed in Philadelphia last night, killing at least six people and injuring dozens more. Philadelphia Mayor Michael Nutter declared the disaster, which has been labeled a Level Three Mass Casualty Event, "an absolute disastrous mess." Take a look at tweets and photos from the crash site. And despite this deadly crash, rail safety has been on the rise in recent years. [Andrew Hart, HuffPost]
SENATE DEMOCRATS BLOCK FAST TRACK FOR TRADE DEAL "Democrats, including several who favor Obama's trade agenda, banded together to prevent the Senate from considering legislation that grants the president so-called Trade Promotion Authority, which would bar Congress from amending or filibustering trade agreements negotiated by the administration." And Sen. Sherrod Brown called out President Obama for his treatment of Sen. Elizabeth Warren in the debate. [Michael McAuliff, Laura Barron-Lopez, Zach Carter and Dana Liebelson, HuffPost]
DOZENS KILLED IN KARACHI BUS ATTACK Gunmen killed over 40 people in a bus headed for a Shiite community center in Pakistan. [AP]
TRACES OF CHEMICAL WEAPONS FOUND IN SYRIA "International inspectors have found traces of banned toxic chemicals in at least three military locations in Syria, four diplomats and officials said, less than two years after President Bashar al-Assad agreed to dismantle the country's chemical arsenal. Traces of sarin, a nerve agent, were found in drainage pipes and in artillery shells in two places, and traces of another banned toxin, ricin, were found in a third location, a scientific research center, according to a United Nations diplomat, who spoke on the condition of anonymity to discuss confidential reports from the inspectors." [NYT]
U.S. CONSIDERING DEPLOYING TROOPS TO SOUTH CHINA SEA The move would be seen as a check to China's growing dominance in the disputed region. Here's a primer on the artificial islands China has been building in the area, as well as the risks inherent in escalating this conflict. [Reuters]
FDA RECOMMENDS LIFTING BAN ON GAY MEN DONATING BLOOD Gay men who have had one sexual partner or more have been banned from donating blood since 1985. For more news from Politics Managing Editor Amanda Terkel, get her newsletter here. [Amanda Terkel, HuffPost]
TOYOTA AND NISSAN RECALL 6.5 MILLION VEHICLES Over faulty Takata airbags. [AP]
WHAT'S BREWING

FACEBOOK DIRECT NEWS PUBLICATION BEGINS TODAY The site will host nine news publishers' content internally to decrease load times. [NYT]
UVA DEAN SUES ROLLING STONE FOR DEFAMATION The $7.5 million dollar lawsuit was inevitable after the fraternity gang rape story fell apart. [WaPo]
YOUR NEWEST SHONDA RHIMES OBSESSION We finally have the first trailer for Shonda Rhimes's newest show, "The Catch," which promises to make catching fraud stylishly sexy. [HuffPost]
YOU CAN NOW ORDER PIZZA VIA EMOJI Since dialing a phone is so 1999. [HuffPost]
SANDRA LEE, RECENTLY DIAGNOSED WITH BREAST CANCER, WANTS YOUNG WOMEN TO GET MAMMOGRAMS Cue the health debate. [HuffPost]
EDDIE REDMAYNE HEADS TO THE HARRY POTTER UNIVERSE He's set to star as Newt Scamander in "Fantastic Beasts and Where to Find Them," and we're already swooning. [Vanity Fair]
MEET THE 'WOMAN-CHILD' "Annie from 'Bridesmaids' and Ruth from 'Preggoland' are just two recent embodiments of this 'difficult' female character. There's Mavis from 'Young Adult,' Donna from 'Obvious Child,' Jenny from 'Happy Christmas,' Frances from 'Frances Ha,' Abbi and Ilana from 'Broad City' and Hannah from 'Girls,' to name a few more. They are all women in their 20s and 30s, experiencing a liminal period between adolescence and adulthood." [HuffPost]
THE PLANT THAT WON'T DIE That's Alaska's new supercrop hope. [Atlas Obscura]
THE BEST WORKOUT FOR YOUR MOOD Couch-ready is not a mood. [HuffPost]
WHAT'S WORKING
THE INFLATABLE HOSPITAL DEPLOYED TO NEPAL "An inflatable hospital in rural Nepal is bringing much needed relief to earthquake victims. The 20-bed, 1,000-square-foot temporary structure has begun admitting patients, Doctors Without Borders told The Huffington Post, after the facility was erected last week." [HuffPost]
ON THE BLOG
'THANK YOU, CANCER' "I realized that had I not been through all that I have been through in the past few months, I would have never come face to face with death and had to reflect and rethink about my priorities, the purpose of my life and of life in general. Had I not been pushed to this limit, I would not have cultivated a deep appreciation of the beautiful gift of life and of everything around me." [HuffPost]
BEFORE YOU GO
~ The author "On Writing Well" William Zinsser has died. He was 92.
~ You're having a good birthday when you blow out your dentures while blowing out your birthday candles.
~ Americans want Harriet Tubman to replace Andrew Jackson on the $20 bill.
~ A true "throw and shoot" camera.
~ You'll be typing to your own beat in no time.
~ All that hullabaloo over Sarah Jessica Parker's mystery Instagram is solved: No "Sex in the City 3," but the superstar's shoe line is headed to Bloomingdale's.
~ Jay Z bought Beyonce a dragon egg from "Game of Thrones" because we're all clear on who is the true queen.
~ Forget about the mancave -- it's all about the "she shed."
~ And why the price of eggs is skyrocketing.
Send tips/quips/quotes/stories/photos/events/scoops to Lauren Weber at lauren.weber@huffingtonpost.com. Follow us on Twitter @LaurenWeberHP. And like what you're reading? Sign up here to get The Morning Email delivered to you.