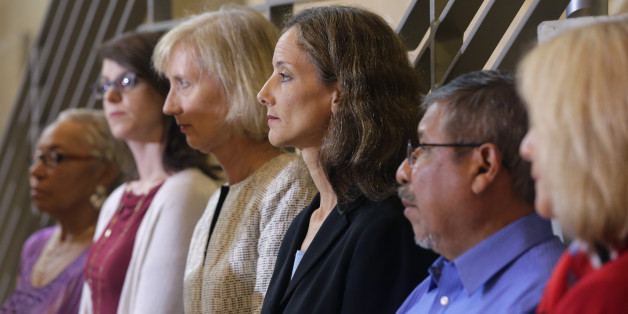 According to a March training session for Austin, Texas, city employees -- on the topic of female leaders -- women "don't want to deal with numbers," "act on emotions" and "ask lots of questions."
After video of that training surfaced this week, women certainly did have a lot of questions. In particular, why on Earth did city manager Marc Ott think that employees needed a two-hour workshop on how to deal with people who are not men?
Ott had set up the training after Austin achieved a majority-female city council for the first time. On Wednesday, he apologized -- but not before plenty of those question-firing women took to Twitter, using the hashtag #WhatWomenAsk, to point out how offensive and backward-thinking the workshop was.
Here's what the city training could have covered: why do we feel the need to question women's leadership? #whatwomenask

— BrittyYell (@BrittyYell) May 13, 2015
Since when does "cultural competency" include antiquated gender stereotypes? http://t.co/N0PpENrQH9 #whatwomenask

— Ellen Ray (@eekayray) May 13, 2015
@austintexasgov what're you going to do to make sure that tax $ and staff time aren't wasted on sexist training in the future #whatwomenask

— LMW (@lmwatx) May 13, 2015
I'm great at math AND ask a lot of questions. Shouldn't everyone that's in a leadership role ask a lot of things?! #whatwomenask

— Joy P. | Founder (@WOWWCampaign) May 13, 2015
@ameseh "Am I expected to bring food to city council meetings, AND to clear your plates afterwards?" #whatwomenask

— Brady San Jacinto (@BradySanJacinto) May 13, 2015
#WhatWomenAsk How is it that @Austintexasgov allowed the continued institutionalization of #MalePrivilege by #stereotyping how #Women think?

— AngelaJoTM (@angelajotm) May 13, 2015
How long before we take over this show?#whatwomenask

— Lisa Choate McGovern (@lmcgov) May 13, 2015
@HGerbracht This woman's asking what decade this is! #whatwomenask

— Murder club austin (@Atxmurder_club) May 13, 2015
Austin removed the video from its government website on Wednesday evening, but NPR affiliate KUT Austin had archived the footage and posted it to YouTube.
BEFORE YOU GO
PHOTO GALLERY
18 Funny Women You Should Be Following On Twitter