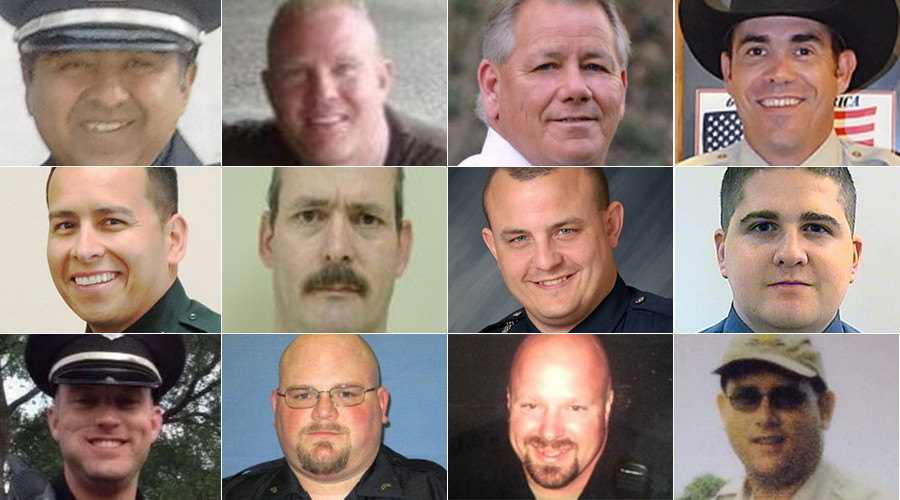 Twelve of the officers killed by guns that were not their own in 2013. From left to right, starting at the top, Cuauhtemoc Estrada, Paul Kenyon Butterfield, Eugene Crum, Lance Allen McLean, Gary Morales, Frederick Albert Riggenbach, Rod. L Bradway, Sean Collier, Robert Deckard, Kevin Gale Stauffer, Jamie Daniel Buenting, and Billy F. Kennedy
More than half of the fatal shootings of American law enforcement officers in 2013 were committed by people who were prohibited from possessing guns in the first place, according to a new report obtained first by The Huffington Post.
In 2013, there were 25 incidents in which officers were shot and killed with guns that weren't their own, according to FBI data. The report -- set to be released Thursday by the Major Cities Chiefs Association and the gun control group Everytown for Gun Safety -- shows 13 of those murders, or 52 percent, were committed by men who were barred by law from either purchasing or possessing a gun because of prior criminal convictions, mental illness or other factors.
"Police officers are on the front lines protecting our communities each and every day -- we owe it to them to close the loopholes that make it easy for criminals to dodge background checks and easily get their hands on guns," John Feinblatt, president of Everytown for Gun Safety, said in a statement Thursday.
The report goes case by case, highlighting how each man should have been forbidden by law from buying or carrying a firearm.
There was 19-year-old Eric John Knysz, who fatally shot 47-year-old Michigan State Trooper Paul Kenyon Butterfield during a traffic stop. In 2008, Knysz pleaded guilty to first-degree felony of home invasion and was convicted as an adult, which prohibited him from possessing firearms.
There was 40-year-old Mario Edward Garnett, who shot and killed 38-year-old Sgt. Kevin Gale Stauffer during a bank robbery in Tupelo, Mississippi. Garnett, too, was barred from having a gun because of a conviction three years earlier for threatening the president of the United States.
And there's 37-year-old Tennis Melvin Maynard, who shot and killed Mingo County Sheriff Eugene Crum in a West Virginia parking lot. Maynard had previously been institutionalized for mental illness, and was therefore barred from possessing a gun. But in December 2010, he managed to buy one anyway, as the state of West Virginia had been too slow in submitting his mental health records to the FBI database of prohibited buyers. Once his name was in the database, background checks prevented him from buying two more firearms.
The list goes on, and includes the Boston Marathon bombers -- brothers Dzhokhar and Tamerlan Tsarnaev. Neither could have legally bought a gun in Massachusetts, but nonetheless illegally acquired a black, Ruger P95 handgun from Maine, which they ended up allegedly using to kill 26-year-old MIT Police Officer Sean Collier.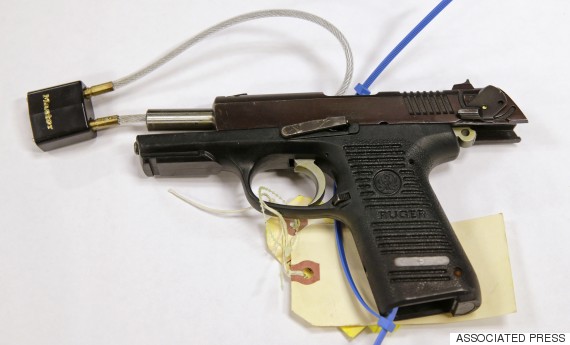 The Ruger handgun, as shown at Dzhokhar Tsarnaev's sentencing trial. (AP Photo/Charles Krupa)
While Feinblatt, the president of Everytown, told The Huffington Post "no law will make gun violence go away completely," he said Thursday's report highlights yet again how background checks can prevent a significant amount of that gun violence. Officers, he said, are "vulnerable because of the weak gun laws in our country."
"Just last week, four police officers in Idaho, Mississippi and New York were murdered by people -- by felons -- who shouldn't have had guns," he said.
Feinblatt pointed to a previous report from Everytown that found in states that require background checks for unlicensed sales of handguns, law enforcement officers are 48 percent less likely to be killed with handguns. (That same report also showed that states with expanded background checks see 46 percent fewer women murdered with guns by intimate partners, and 48 percent fewer gun-related suicides.)
Federal law requires licensed gun dealers to perform background checks on prospective buyers. It does not, however, require unlicensed gun dealers -- typically at gun shows or on the Internet -- to perform background checks.
Feinblatt calls this a "loophole big enough to drive a Mack truck through."
Only eight states have closed this loophole completely, requiring "universal" background checks for all gun purchases. Another 18 states require background checks for some, but not all, gun purchases.
The loophole, combined with the disparity in state laws, fuels what's often referred to as the "Iron Pipeline" -- the trafficking of illegal guns from states with more lax gun laws to states with stricter gun laws. This, Feinblatt said, allows more felons, as well as people with mental illness, to get their hands on weapons.
In New York City, for example, which has more stringent gun control laws, 90 percent of guns recovered from crime scenes in 2011 were traced to out-of-state sources.
New York City Police Department officers Wenjian Liu, Rafael Ramos and Brian Moore were all killed this year by guns that were traced back to Georgia.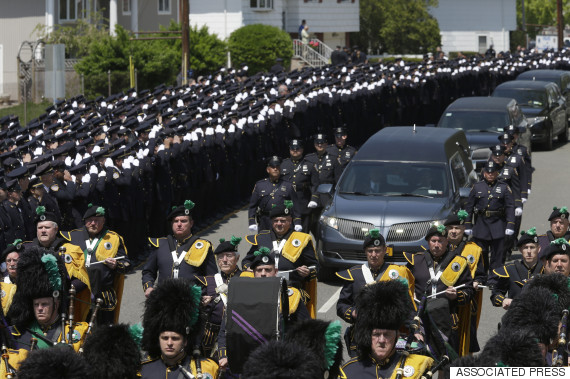 Police officers salute during the procession for slain NYPD officer Brian Moore on May 8, 2015. (AP Photo/Mary Altaffer)
The National Rifle Association is opposed to universal background checks. In a statement sent to HuffPost Thursday afternoon, NRA spokeswoman Jennifer Baker called the Everytown report a "so-called study" that is a "Michael Bloomberg funded public relations stunt that exploits the tragic deaths of law enforcement officers in order to further Bloomberg's own political agenda."
(Bloomberg, the billionaire former mayor of New York City, founded Everytown last year to push for background checks across the country.)
"It proves the point that no law -- including the capital offense of murder of a police officer -- is going to prevent the worst elements of society from committing the worst sort of evil," Baker continued. "In the majority of the cases cited it was already illegal for the assailant to possess a firearm and to suggest that more gun control would have stopped any of these crimes is at best naive."
Feinblatt anticipated the NRA would say gun control measures don't prevent violence because criminals continue to acquire guns anyway.
"Laws don't matter?" Feinblatt told HuffPost on Wednesday. "That's a remarkable thing to say to police officers who everyday put their lives on the line to uphold our laws."
Chief J. Thomas Manger, president of the Major Cities Chiefs Association -- which represents the 67 largest metropolitan police agencies in the country -- said in a statement that Thursday's report "shows that background checks can keep guns out of the hands of persons who are legally prohibited from obtaining a firearm."
"Officers were killed by persons who under current law were supposed to be barred from buying guns," he continued. "As we open Police Week, we must pledge to do more to protect both police officers and the public from gun violence in the communities we are sworn to protect."
Monday marked the beginning of Police Week, an annual event honoring law enforcement officers killed in the line of duty. A candlelight vigil was held Wednesday night at the National Law Enforcement Officers Memorial in Washington, D.C., where officers from across the nation gathered to pay their respects.
Tonight, candles filled up the darkness at the National Law Enforcement Memorial @wusa9 pic.twitter.com/uqwpLWgP7R

-- Ellison Barber (@ellisonbarber) May 14, 2015
The latest data from the FBI show that 51 law enforcement officers were killed in the line of duty in 2014, 46 of whom were killed by firearms. Although that's an 89 percent jump from 2013, the FBI notes that 2013 marked an all-time low for law enforcement deaths. From 1980 to 2014, an average of 64 officers were killed each year.
This post has been updated with comment from the National Rifle Association and John Feinblatt's reaction to the NRA's position.

BEFORE YOU GO
PHOTO GALLERY
13 Officers Were Killed By People Who Shouldn't Have Had Guns