There's a reason Air New Zealand is considered one of the best airlines in the world.
While many airlines have made entertaining safety videos, Air New Zealand has turned them into an art form, transforming the mandatory announcements into highly produced, viral marketing strategies.
Their elaborate Hobbit-themed video, "The Most Epic Safety Video Ever Made," has more than 14 million views on YouTube, and they've used both Richard Simmons and Betty White as hosts in other videos.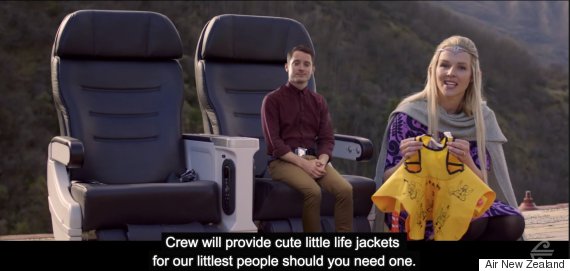 While last year's "Safety in Paradise" video may have gone too far (it drew criticisms for objectifying the Sports Illustrated swimsuit models it featured), the company's most recent video seems to have found a more acceptable way to feature attractive celebrities and models.
Entitled "Surfing Safari" and just released this week, the video stars several pro surfers, including Laird Hamilton, Mick Fanning, Anastasia Ashley and Alana Blanchard. It doubles as an advertisement for kiwi adventure, often feeling more like a tourism commercial than an airline safety video.
In addition to pro athletes telling us that we can't smoke e-cigarettes on the flight, the video shows viewers scenes from "some of the most stunning surf breaks and beaches [Air New Zealand flies] to," including Malibu, California, Australia's Gold Coast and Piha and Raglan, New Zealand.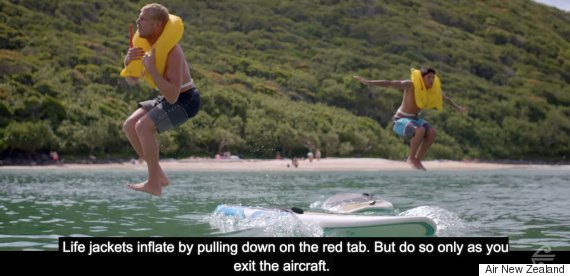 Beyond just bolstering the company's strong social media presence and advertising its destinations, the video also serves as a very sly strategy for effecting the bottom line.
By featuring Masatashi Ohno, a popular Japanese surfer, and Gabriel Medina, the current world champion from Brazil, Air New Zealand is indirectly appealing to potential customers in those regions. According to the New Zealand Herald, the airline considers Japan to be a growth market and will begin services to Argentina later this year.
"What we've learned over the past six years," Mike Tod, the airline's marketing director, told the New Zealand Herald, "is that the safety video can do a fantastic job of supporting the market development team to drive revenue."
What we've learned is that we want to go to New Zealand.
BEFORE YOU GO
PHOTO GALLERY
Celebrity Tourism Ads