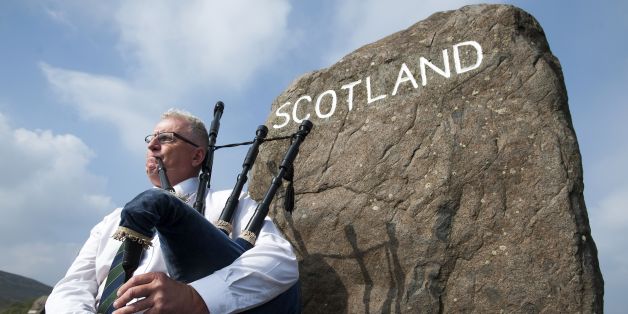 An online petition calling for the north of England to join Scotland if it wins independence from the United Kingdom has been gathering signatures quickly in the wake of last week's British election.
"The northern cities feel far greater affinity with their Scottish counterparts such as Glasgow and Edinburgh than with the ideologies of the London-centric south," the petition explains, including a suggested map of an independent "Scotland plus the north."
The Scottish Nationalist Party won a landslide victory in Scotland at Thursday's national election. While the center-right Conservative party took the most parliamentary seats and was able to form a new majority government, the left-leaning Labour party kept many seats in its northern heartland.
The petition was first launched last year amid Scotland's independence referendum, The Guardian notes. While the SNP lost the referendum by about 10 percent of votes, their popularity has soared amid a rise in Scottish patriotism. The SNP is not currently pushing for another referendum, but insists that the U.K. government cannot rule out a future vote if Scottish voters demand it.
The BBC reports that the petition resurfaced this week as Twitter users shared jokes of northerners fleeing to Scotland after the election, using the hashtag #TakeUsWithYouScotland. Scottish Twitter users responded enthusiastically, and helped the petition trend on Twitter. By Thursday, it had gathered over 17,000 signatures.
"I think people need a place to go where they can say 'not in my name! This is not the England I want,'" the petition creator, who gave the name Stu Dent, told the BBC.
The A1 earlier today. #TakeUsWithYouScotland pic.twitter.com/EPwPy7Sny4

— Stuart McGregor (@The_Stuey) May 10, 2015
We r gonna need a bigger bus #TakeUsWithYouScotland pic.twitter.com/3WYseRHgUh

— lainey d (@lainembd) May 10, 2015
Aye come on up the weather is crapbut...we like a parttyyyy and your invited #TakeUsWithYouScotland

— Julz (@JulesKitching) May 10, 2015
The north-south divide in England is not just political. The north was hard-hit by the long decline of Britain's industrial sector, and a recent study showed the economic gap between northern and southern cities has grown dramatically in the last decade. Aware of the sense of alienation in the north, the Conservative government appointed a minister for its "Northern Powerhouse" initiative this week, which seeks to draw investment and stimulate economic growth in northern cities.
BEFORE YOU GO
PHOTO GALLERY
Scottish Independence Referendum