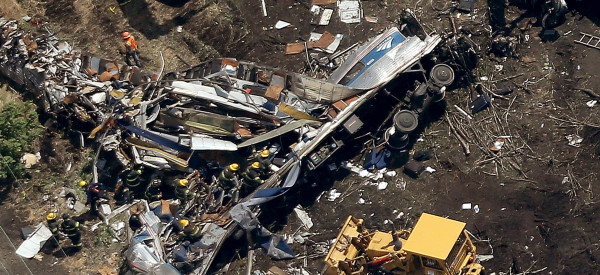 TOP STORIES
To get The Morning Email, HuffPost's daily roundup of the news, in your inbox, sign up here.
DERAILED TRAIN WAS GOING TWICE THE SPEED LIMIT At least seven people were killed in the deadly Amtrak derailment Tuesday night, and crews are still looking for missing passengers in the wreckage. According to the National Transportation Safety Board, the train was traveling at 106 mph at a curve in the tracks where the speed limit was 50 mph. Technology known as "positive train control" that could have prevented the crash was not installed on that stretch of track. Take a look at a map breakdown of the derailment. And here's what it was like riding Amtrak the day after the crash. [Steven Hoffer, HuffPost]

VA MISSPENT $6 BILLION "The Department of Veterans Affairs has been spending at least $6 billion a year in violation of federal contracting rules to pay for medical care and supplies, wasting taxpayer money and putting veterans at risk, according to an internal memo written by the agency's senior official for procurement." Take a look at the most explosive reveals in the report. [WaPo]
JEB BUSH IS HAVING A ROUGH WEEK First, he said he'd have invaded Iraq, Then a college student declared during a Q & A that his brother had created ISIS. And he accidentally announced he was running for president. [Marina Fang]
SENATE WORKS OUT TRADE BILL COMPROMISE But the concessions may doom any hope the bill has of passing in the House. [Michael McAuliff and Jessica Schulberg, HuffPost]
AMERICAN KILLED IN AFGHANISTAN SIEGE Five are dead and 54 hostages rescued after an hours-long siege by gunmen in a Kabul guesthouse. [AP]
BURUNDI FACES POTENTIAL COUP "Gunfire and explosions were heard Thursday morning in Bujumbura, the capital of Burundi, a day after an army general announced a takeover, but it was not clear who was in control of the central African country." [NYT]
AT LEAST 72 KILLED IN PHILIPPINES SHOE FACTORY FIRE Authorities believe workers may have been trapped on the second floor when the blaze broke out. [CNN]
WHAT'S BREWING
FIRST TRAILER FOR 'SUPERGIRL' RELEASED And we're fangirls already. [Entertainment Weekly]
THE DEADLIEST JOBS IN AMERICA Fishing and logging take the top spots on the list. [Bloomberg]
THE FUTURE OF REALITY TV Sofia Vergara will star on her own reality show that will debut on Snapchat. [HuffPost]
THIRD EYE BLIND COVERED BEYONCE'S 'MINE' So many 90s flashbacks. [HuffPost]
THE RATS ARE STILL WINNING "The rat's future looks bright. Trade is accelerating, and cities are expanding as their infrastructure decays. But in a few places, people are bringing new tactics and technology to the war on rats. Scientists, city planners, exterminators, engineers, pilots, and ordinary citizens are all enlisted in these new campaigns, which offer hope of finally pushing back the rat, at least for a while." [The Verge]
THE BREAST CANCER SCAN THAT MIGHT BE BETTER THAN MAMMOGRAMS "A new large-scale study shows that a 3-D screening method called digital breast tomosynthesis (DBT) is significantly better at detecting the potentially fatal disease. It's also less painful than mammography -- the breast doesn't have to be compressed as much -- and exposes women to less radiation." [HuffPost]
WHAT'S WORKING
PROVIDING ACCESS TO MEDICATION AFTER PHARMACIES SHUT DOWN IN BALTIMORE "After the rioting, which occurred after the death of Freddie Gray while in police custody, 13 pharmacies in the city closed due to looting or fire damage, according to the Baltimore City Health Department. In response to the pharmacy closings, the Baltimore City Health Department set up aspecial medication hotline at 311 that residents could call to seek assistance in getting their medications. The department went door to door in affected neighborhoods advertising the hotline." [HuffPost]
ON THE BLOG
VALERIE PLAME WILSON: THE DANGERS OF NUCLEAR PROLIFERATION "As a former covert CIA operative, specializing in counter-proliferation, I still believe that the spread of nuclear weapons and the risk of their use is the greatest existential threat we face. Twenty-six years after the end of the Cold War, the world still has more than 15,000 nuclear weapons." [HuffPost]
BEFORE YOU GO
~ What's happened on Earth since you've been born.
~ Congrats, you have an all-male panel!
~ Meet Clash, which creates sentence mash-ups from popular songs.
~ Talk about skyhigh rent: there's a secret apartment at the top of the Eiffel Tower.
~ All the beautiful gowns at Cannes.
~ In case you still care, they named another "American Idol" last night.
~ Honeybees keep dying in droves.
~ Australia is threatening to kill Johnny Depp's dogs and cited his sexiest man status, saying it did not entitle him to break the rules.
~ Gameshows in Japan involve blowing cockroaches into contestants' mouths.
~ Bradley Cooper is headed to network television.
~ Broga -- it'll be a thing.
~ The definition of hell for your Myers-Briggs personality type. But actually, total hell.
Send tips/quips/quotes/stories/photos/events/scoops to Lauren Weber at lauren.weber@huffingtonpost.com. Follow us on Twitter @LaurenWeberHP. And like what you're reading? Sign up here to get The Morning Email delivered to you.