The mobile site for The Washington Post was hacked briefly on Thursday, and the Syrian Electronic Army claimed responsibility.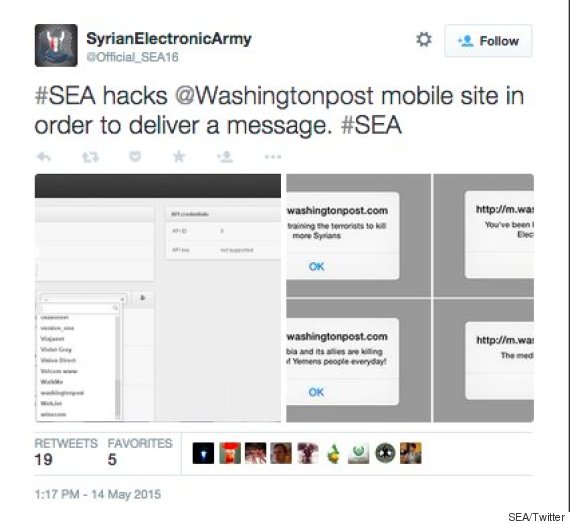 Users who attempted to access the site saw pop-up windows with messages like "The media is always lying" and "US govt is training the terrorists to kill more Syrians":
Washington Post's mobile site has been hacked by the Syrian Electronic Army. This happens if you go there pic.twitter.com/jRM3pJIGyy

-- Andrew Griffin (@_andrew_griffin) May 14, 2015
"The Washington Post's mobile homepage and some section fronts on the mobile site were redirected to a site that claimed to be run by the Syrian Electronic Army," the news organization said in a statement. "The situation has been resolved and no customer information was impacted."
Thursday's hack was not the first time the group has targeted The Washington Post or other big media outlets.
The SEA, considered a collective of mostly young hackers that supports Syrian President Bashar Assad, has claimed responsibility for at least 70 attacks on media organizations. The group has previously targeted The Associated Press' official Twitter account, The Telegraph, NBC and the Canadian Broadcasting Corporation.
BEFORE YOU GO
PHOTO GALLERY
Worst passwords