Corn may not be the first food you think about in the morning, but this subtly sweet, versatile ingredient is surprisingly perfect for pancakes. Inspired by the ground maize flatbread popular in many Latin American cuisines, Lisa Skye, author of I Love Corn, created a sweet and savory breakfast version with fresh ricotta cheese and chopped walnuts. It all comes together in just 20 minutes.

Corn Flapjacks with Fresh Ricotta Cheese & Chopped Walnuts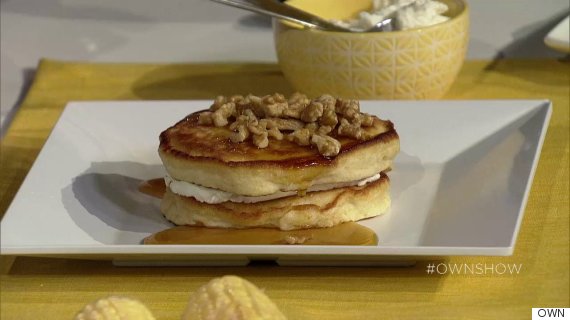 Ingredients
3 cups of self-rising white corn flour
1/2 cup yellow cornmeal
1/2 cup sugar
Dash of salt
1/2 teaspoon baking powder
1 large egg
2 1/2 cups whole milk
2 tablespoons melted (unsalted) butter
1/2 teaspoon pure vanilla extract
1 cup cut corn kernels
2 tablespoons extra virgin olive oil (or enough to cover bottom of frying pan)
2 cups ricotta cheese
1 cup chopped walnuts
Maple syrup
Directions
In a large bowl, combine corn flour, cornmeal, sugar, salt and baking powder. Stir in eggs, milk, butter and vanilla extract until well combined. Then add corn kernels and mix well.
Heat the oil in a medium frying pan over medium high heat. Pour batter and cook evenly on both sides (about 2 minutes per side).
Stack three at a time, adding approximately 2 to 3 tablespoons of the ricotta and 1 tablespoon of chopped walnuts between each flapjack. Top with chopped walnuts and hot maple syrup.
More corn for breakfast: A delicious quiche recipe made with roasted corn and goat cheese.
BEFORE YOU GO
PHOTO GALLERY
Pancakes, Glorious Pancakes